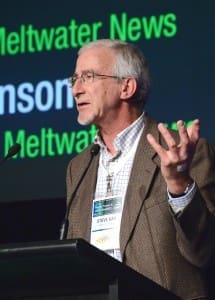 A monthly column written exclusively for Beef Central by Steve Kay, publisher of US Cattle Buyers Weekly
AUSTRALIAN cattle producers, like their counterparts all over the world, know how a disease outbreak in their herds can lead to heartbreak and financial loss they might not recover from.
Australia is fortunate to have until now avoided an outbreak of foot and mouth disease (FMD) or had a single case of BSE – diseases that have wreaked havoc in other countries.
For example, a 2001 FMD outbreak in the United Kingdom caused losses of more than 8 billion pounds (about A$19 billion). Australian producers, though, have suffered financial losses at times, when diseases such bovine johne's disease (BJD) and Theileria have been discovered in herds. The threat of disease is an ever-present dark cloud hanging over all producers.
I have observed the global livestock industry close up for many years and have seen how FMD and then BSE severely impacted the livestock sectors in the UK, in Europe and then in Canada and the US. Incidentally, is it just a coincidence that these two diseases, plus BJD, are commonly known by three-letter acronyms?
While working for Farmers Weekly magazine in London, I witnessed FMD's march through the UK's cattle, sheep and hog population in 1981. I don't remember how many animals had to be slaughtered to halt the disease's spread. But I will never forget the sight of huge pyres of dead cattle being incinerated for disposal on the Isle of Wight off the south coast of England.
I also had the dubious privilege of reporting on the UK's first BSE case just before I left to go to the US. BSE then spread to most countries in Europe and the devastating impact on livestock farming and all of agriculture was immense. Little did I know that in May 2003, I would be reporting on another BSE case, this one in Canada. Or that in December that year, I would be writing about the first case in the US.
This case was one of the most traumatic events in the history of the US beef industry and cost the industry more than US$16 billion, mostly in lost exports. It took years for the US to persuade key markets like Japan and South Korea to reopen their markets to US beef. Today's booming beef exports reveal just how crucial it is that the US industry does not have another trade-threatening disease outbreak.
New Zealand cattle industry tackles mycoplasma
I grew up on a dairy and beef farm in New Zealand, and watched my Dad over many years improve his herd through genetic selection and other means. He didn't just take pride in his cows, he loved them almost as much as us kids. So it was with a heavy heart that I learned a week or so ago that New Zealand plans to cull as many as 150,000 dairy and beef cows in the first attempt by any country to try and eradicate the cow disease, Mycoplasma bovis.
The cull will be the largest mass animal slaughter in the country's history and will cost an estimated NZ$886 million over ten years. The move is an attempt to save the national dairy herd and protect the long-term productivity of the farming sector, which is New Zealand's second biggest export earner. New Zealand is the world's largest exporter of dairy products, producing 3pc of the world's milk. It has 6.6 million dairy cows and 3.4 million beef cows.
This is a tough call as no one ever wants to see mass culls, says Prime Minister Jacinda Ardern. But the alternative is to risk the spread of the disease across New Zealand's national herd. The country has a real chance of eradication to protect its more than 20,000 dairy and beef farms but only if it acts now. Total eradication of the disease was possible as it was not yet widespread and had presented in only one strain, says Ms Ardern.
Officials say they plan to kill all cows on any farms where the disease is found. Many of the cows will be slaughtered at processing plants and used for beef but some cows will have to be killed and buried on the farms or dumped in approved landfills, say officials. The disease is classified as "active" on 37 farms and computer modeling suggests this number will increase to at least 142 farms.
M. bovis, a bacteria, was first detected in New Zealand in July last year and manifests in mastitis in cows, severe pneumonia, ear infections and other symptoms. Despite initially being contained to farms in the South Island, the disease continued to spread and reached the North Island earlier this year.
Since it was first discovered, 26,000 cows have been culled. Of the total cost, NZ$16 million is loss of production and is borne by farmers and NZ$870 million is the cost of the response (including compensation to farmers).
The government expects to do most of the eradication work in one to two years. Government will meet 68pc of this cost and producer groups DairyNZ and Beef+Lamb New Zealand will meet the other 32pc. Government forecasts estimate if the disease was allowed to spread unchecked, it would cost the industry NZ$1.3 billion in lost production in ten years.
Stories have already emerged of dairy farmers having to cull 1000-cow herds because just one cow tested positive for the bacteria. That's about as heartbreaking as it gets.