A monthly column written exclusively for Beef Central by US market analyst and commentator, Steve Kay, publisher of US Cattle Buyers Weekly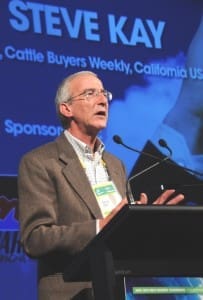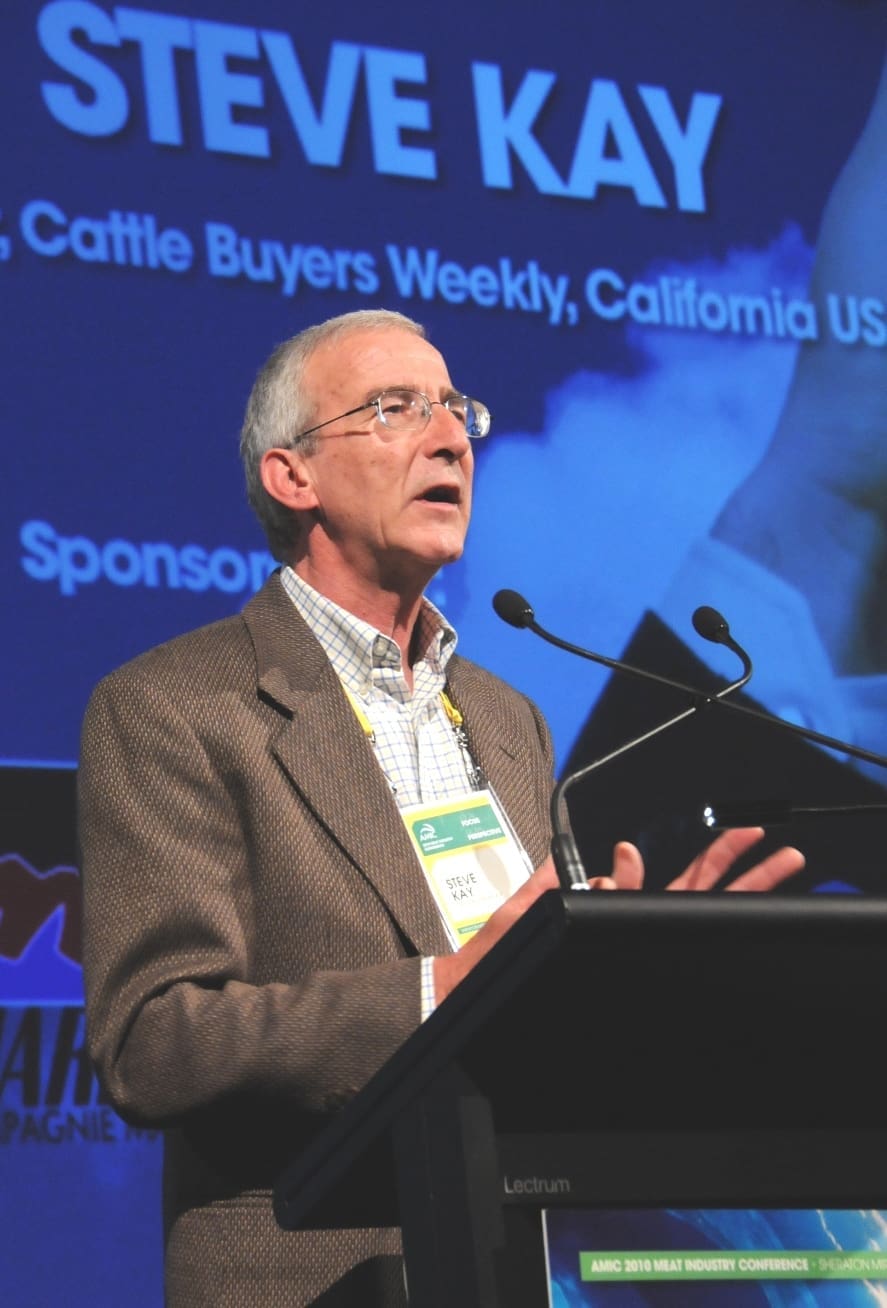 ALL wealth to the beef industry, whether the North American or Australian, comes from consumers, wherever they live.
How they respond to high prices for everything from ground beef (mince) to leather goods affects the industry's ability to make money, whatever the supply is.
Right now, softer than expected demand globally has come as a result of the high wholesale price of all classes of beef and cattle-related products.
It's never been easy for the industry to match supply and demand, in part because of its extremely long breeding cycle. It can take 39 months in the US from the time a cow-calf producer retains a heifer to the time it is bred and its calf is born, raised and harvested.
Compare that with the chicken business, where it takes nine months to alter supply once a decision is made to increase or decrease production. The hog cycle is longer at 20 months, but is still far shorter than the beef cycle.
Throw in the ravages of drought and then heavy rains, as has occurred both in Texas and in parts of Australia, and the supply side of the industry gets even more up and down. In contrast, hogs and chickens are seldom impacted by weather because of the controlled indoor environment in which they are raised and finished.
Supply in these sectors is more likely to be impacted by disease, and the US has recent graphic examples of this. The hog industry from April 2013 to August last year lost at least six million piglets to the PED virus. The poultry industry from last December has seen a strain of avian influenza kill 48 million turkeys, laying hens and chickens in 15 states.
Pork production, however, has recovered rapidly from these pig losses, which reduced US hog slaughter last year to nearly 107 million head from 112m in 2013. Hog producers last year improved their productivity in terms of piglets saved per litter, and they replenished their breeding herds.
So hog slaughter so far this year is up 6.4pc or 3.193m head over the same period last year. Conversely, cattle slaughter is down 7.4pc or 1.047m head.
The contrasting slaughter numbers reveal why pork this year has caused considerable headaches for the US beef complex. Wholesale pork prices earlier this year were historically low relative to beef. This resulted in retail pork prices being well below beef prices as well. USDA's April retail pork price was US$3.77 per pound, which was down 4.6pc from April 2014.
Conversely, April's All Beef price was US$6.05 per pound, up 10.4pc on the year before.
Chicken's average price was only US$ 2.00 per pound. So consumers could buy three times more chicken than beef with each of their food dollars. Americans will eat 63pc more chicken than beef this year, although this is more a function of available supply than the price differential.
Impact on trim, by-products
High beef prices and much lower pork prices are having an impact in another way.
One of the by-products of grainfed steer and heifer processing is fatty trimmings, known as 50CL. Its price is running far below last year.
The price the week before last averaged US$78.31 per cwt. This was 39.7pc below the same week last year and its lowest weekly level since the start of March, 2013. The price of 50CL put in a record weekly high of US$159.08 the week ended March 15 last year.
But it fell below US$100 per cwt at the end of April this year and has not recovered despite sharply-reduced steer and heifer slaughter.
The primary reason is that high retail fresh ground beef (mince) prices have led to fewer sales than expected. Retail ground beef prices continue to run 10-15pc above year-ago levels, while the price of steak items have been up only 2-3pc from a year ago and sometimes down by that percentage.
There is also more pork trim on the market at low prices, so pork has been used more in meat product formulations. Moreover, retailers are featuring more ground pork than ever before and some hamburger chains are using as much as 20pc ground pork in their patties when they don't have to claim it is a 100pc beef patty.
Price and demand have also impacted the most valuable by-product from cattle – the hide.
USDA's daily price for a steer, butt brand, hide, reached its highest-ever level last fall of well over US$100. This was due to a surge in speculative buying by Chinese tanners and traders. But this demand bubble then burst and hide prices have tumbled. The same hide was priced as low as US$76.50 last week.
The US made itself vulnerable to this kind of price volatility because it now exports more than 60pc of its hides to China.
But Australian packers likely face the same problem of a lack of Chinese buying. I'm told the hides market will remain under pressure at least into August, when China starts making shoes again for its New Year. That's when people often get new shoes as part of celebrating the holiday.
It's a measure of how global the beef industry is when one realises that part of the value of a cattle beast is dependent on how much leather China uses to make shoes.