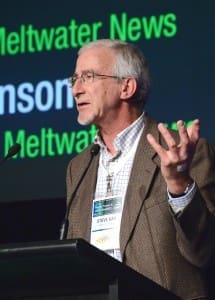 A monthly column written for Beef Central by US beef industry commentator Steve Kay, publisher of US Cattle Buyers' Weekly
AS I write this, the northern half of the United States is shivering because of the lowest temperatures in 50 years or more. In some places, the mercury has fallen below levels seen in Antarctica.
In contrast, I've also just read that Australia had its hottest January since records began in 1910.
Such extremes seem to be the new norm when it comes to weather. The weather in the two countries has also produced another extreme of sorts. Favourable grazing conditions in most of the US meant that the national cattle herd continued to expand in 2018, albeit only slightly, for the fifth year in a row.
The federal government partial shutdown delayed USDA's publication of its annual cattle inventory report. Due out on January 31, it will now be released February 28.
The report will show that US beef cattle numbers grew much more modestly in 2018 than in the prior four years, but that herd expansion continued. The herd total on January 1 was 94.825 million head, up 0.5 percent on a year earlier, according to estimates from Katelyn McCullock at the Livestock Marketing Information Center. The beef cow herd was up 0.3pc while the dairy cow herd was down 0.5pc.
Using her estimate suggests the US national herd grew by 6.3 million head or 7.1pc from its cyclical low at the start of 2014.
Expansion of the beef cow herd might actually pick up again this year because of excellent grass conditions in the major cow-calf states, say analysts. This would reduce the number of cattle available to be placed on feed and thus tighten the fed steer and heifer supply, they say.
In sharp contrast, Australia's beef industry cannot get a break from the ravages of drought. Herd rebuilding after a 2013-2015 drought has given way to more drought-related contraction of the country's beef cattle herd, as Beef Central readers know well.
The herd is expected to fall to its lowest level since the mid-1990s as ongoing dry conditions persist across many key cattle production areas. Its total will be only 26.2 million head in mid-2019, down 3.8pc from a year ago, according to Meat & Livestock Australia.
US cattle feeders meanwhile have had their share of the ravages of winter. Wet and now bitterly cold winter weather conditions since early December are impacting cattle feeding conditions and causing carcase weights to fall well below year ago levels. As noted, much of the last week of January saw extremely low temperatures over much of the US, from the northern states to the South.
This impacted cattle performance and further limited weight gains, say analysts. The reduced out-weights have offset much of the near-term increase in front-end cattle supplies. But the supplies will remain and cattle will still have to come to market at some point, they say.
One anomaly in the live cattle market is that the futures market in January carried a weather premium. But cash prices struggled to gain any momentum after a price advance the second week of January.
Carcase weights declined sharply in mid-December and have likely fallen more than seasonally since then. Analysts expect to see more declines.
Feeding performance for many cattle on feed will be down at least half a pound (0.23kg) per day, with daily gain costs running US$0.10 per pound or more above initial estimates, says Andrew Gottschalk, HedgersEdge.com. The marketing window for many cattle has been expanded at least 15 to 30 days. The latter is negating the impact of those total numbers calculated on the current front-end supply, he says.
Prime, Choice grades hit record
The weather, however, has not impacted quality grading at all. Cattle graded a new combined record of 82.38pc USDA Prime and Choice for the week ended January 18. Cattle graded 9.16pc Prime, the 11th week in a row above 9pc, and 73.22pc Choice (roughly equating with AusMeat marbling scores above 2+). They graded 14.60pc Select (the third quality grade). Cattle in all of 2018 graded 7.98pc Prime and 71.39pc Choice, up 1.46 percentage points from 2017.
These are phenomenal numbers when one considers that only five years ago, cattle graded 4-5pc Prime and around 67pc Choice.
Yet cattle feeders and packers expect grading percentages to remain high this year for several reasons. The US beef cow herd now contains its highest quality genetics in the industry's history. That is because cow-calf producers forced to reduce their herds because of drought from 2010 to 2012 sold their poorest cows and then rebuilt their herds with cows with much better genetics.
Another reason is that feedlot operators are using more technologies to track how cattle are performing on feed. Another is that demand for USDA Prime and Choice beef has continued to increase at the expense of Select grade beef. Another factor is that last year saw little or no dip in grading percentages in April-June because of an expected seasonal increase in calf-fed cattle in the mix. Either there were less of these cattle on feed than in prior year or they were fed longer and graded better.
The high grading percentages mean the industry in 2018 produced just over eight million tonnes on a carcase weight basis (17.67 billion pounds) of Prime and Choice beef from grainfed steers and heifers.
The US beef industry is both producing the highest quality beef in its history and remains the global giant in producing such beef.