A monthly column written for Beef Central by US meat and livestock industry commentator, Steve Kay, publisher of US Cattle Buyers Weekly
JAPAN is a crucial export market for Australian and US beef, and both countries compete ferociously for market share.
On a value basis, the US is the top supplier to Japan, with 46.8 percent of imports in this year's first three quarters. This was up slightly from last year. But on a volume basis, US beef accounted for just under 42pc of total imports, down from 43pc last year and trailing Australia's 48.6pc.
Competition is likely to heat up early next year as the Comprehensive and Progressive Agreement for Trans-Pacific Partnership (CPTPP) is set to enter into force December 30.
Australia and Canada both ratified the CPTPP just before an October 31 deadline, joining Japan, Mexico, Singapore, and New Zealand. The US is not part of the agreement, which was developed after the Trump administration pulled out of the Trans-Pacific Partnership in January last year. So US beef will continue to face Japan's 38.5pc tariff.
In contrast, Australian beef will continue to enjoy a considerable tariff advantage now and for as long as the US does not have a bilateral trade agreement with Japan or join the CPTTP. In addition, once the CPTPP comes into force, Japan's tariff on Canadian beef will immediately drop to 27.5pc on fresh beef and to 26.9pc on frozen.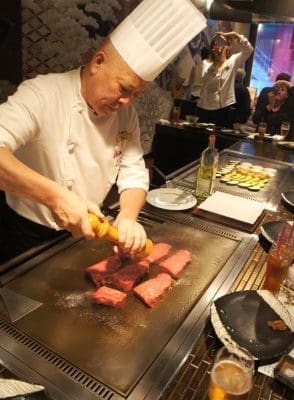 On April 1 2019, Canada will enjoy a second decline to 26.6pc on both categories and an eventual decline to 9pc. With CPTPP, Canadian beef will also be exempt from the Japanese safeguard tariff of 50pc on frozen beef. That tariff was triggered for US frozen beef last year. The same lower tariffs will also apply to New Zealand and the other countries' beef entering Japan.
Canada and New Zealand are small suppliers to Japan compared to Australia and the US.
But the US expects to see increased competition in Japan from all six countries, says Dan Halstrom, president and CEO of the US Meat Export Federation. As noted, Japan is the US's leading market. September exports were up 4pc from a year ago in both volume and value. For the first three quarters of 2018, exports to Japan were up 7pc from a year ago in volume (252,871 tonnes) while value increased 10pc to $1.59 billion. Chilled beef exports to Japan were down 1pc to 111,908t but value still climbed 7pc to US $895 million.
US tariff advantage in Korea
The US however holds a large tariff advantage over Australia in South Korea, Asia's hottest-growing market for US beef.
Its advantage increased from 5.3pc to 18.7pc in October, following Australia triggering the KAFTA safeguard, which will remain until the New Year.
The advantage showed up in latest US export data. September exports were up 22pc from a year ago in volume and up 29pc in value (US $143.1 million). January-September exports reached 180,495t, up 37pc from a year ago, while export value soared 51pc to US $1.29 billion, already breaking last year's full-year value record.
These results included a 28pc increase in chilled beef exports, valued at US$391 million (up 38pc). US share of Korea's total beef imports has increased sharply this year, from 44.7pc to 48.7pc, as US beef underpins Korea's growing beef consumption, says USMEF.
'Meat boom'
Meat consumption is increasing all across Asia, from Japan to Taiwan, says Joel Haggard, USMEF's Senior VP for the Asia-Pacific region. Some people are calling it a "meat boom," he told a media call USMEF held last Monday. There is a decline in sales of more expensive seafood and more meat consumption, as the latter is seen as more convenient by young people, he says.
USMEF's Korea director, Jihae Yang, echoed his comments. There is high demand for protein in Korea. The domestic supply of beef and pork is limited and US beef and pork both play a vital role in satisfying the growth in demand. There is growing demand for convenience foods, such as ready-to-eat products, and for premium meats. People are spending money on the latter to pamper themselves, she says.
The supply and demand dynamics globally for beef and pork are still very positive because of per capita consumption increases, says Halstrom. But the latest export results illustrate that the US meat industry needs to keep diversifying its markets. USMEF is starting to see growth in developing countries such as Colombia, Peru, Guatemala and South Africa, he says.
Strong September results pushed exports to South Africa 8pc higher year-over-year in volume (11,508t), while value jumped 28pc to US $11.7 million, notes USMEF. Exports to Angola also increased significantly in both volume (2643t, up 15pc) and value (US$3.6 million, up 45pc).
Exports to Africa (which do not include Egypt) were down 8pc in volume (16,880t) but still increased 8pc in value (US$18.9 million). Africa is a particularly interesting region and has been on USMEF's radar since 2013, says Halstrom. He sees the most growth potential in western and southern Africa.
The US beef industry still relies heavily on its southern neighbour. Exports to Mexico January-September were up 1pc from a year ago in volume (177,906t) but were 8pc higher in value (US$783 million).
With a strong fourth quarter, exports to Mexico should top US$1 billion for the first time since 2015, says USMEF. That's another reason why the US beef industry breathed a sigh of relief that Canada, the US and Mexico recently concluded a new agreement to replace the 24-year-old North American Free Trade Agreement.