A monthly column written exclusively for Beef Central by Steve Kay, editor of US Cattle Buyers Weekly
CONSUMERS are vital to the success of the global beef industry. Whether they live Down Under or in Asia, the Americas or in Europe, their ability to keep buying beef at higher prices will be the most important trend in 2015.
They will face higher prices because global beef production this year is expected to be down 1.4 percent from 2014 to 58.739 million metric tonnes (based on USDA's latest forecast).
The global total has been mostly flat for the last five years, largely because of a decline every year in US production. The US produced 12.046 million tonnes of beef in 2010 but is expected to produce only 10.868mt this year. USDA forecasts that Australia's production will be down 6.8pc from 2014's drought-induced surge from the prior year.
Beef demand (measured by the amount of beef bought at a certain price) has been growing globally for several years. The flat production means consumers everywhere have had to paid more.
This has been positive for cattle producers and exporters all over the world. But the current concern is that prices globally might put beef out of the reach of more consumers, especially in countries whose economies are still struggling six years after the great recession.
These consumers will instead eat more pork and chicken, primarily because more will be available this year than last but also because these proteins will be much cheaper than beef. Global pork production is expected to reach 111.845mt this year, up 1pc on 2014. Chicken meat production is expected to reach 87.387mt, up 1.5pc. In other words, 3.4 times more pork and chicken than beef will be available for consumers.
Similar dynamics will play out even in the US, whose economy is arguably in the healthiest shape of all developed countries. GDP growth strengthened in the second half of 2014, more and more jobs were created and wages increased. Nonetheless, beef prices at retail and food-service reached record high levels month after month and beef sales began to struggle from last September.
Americans Will Eat Lots Of Chicken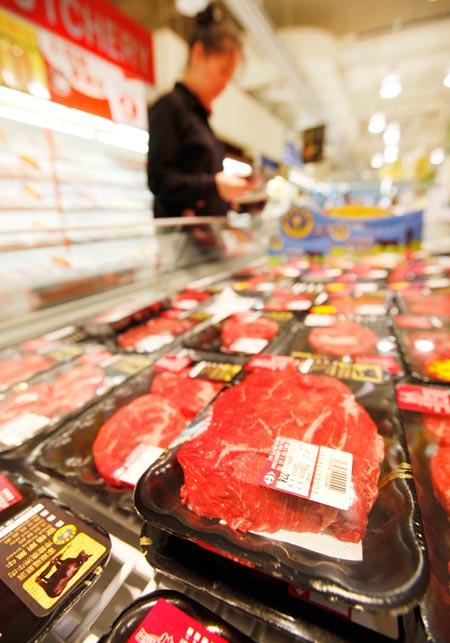 Americans might be beef lovers. But they will eat 63pc more chicken than beef in 2015. They will also eat more chicken and pork than they did last year and less beef. That's not because of price but because of total available supplies.
USDA forecasts that beef disappearance will be 23.7kg per person, versus 24.6kg last year. Consumers will eat an average 38.7kg of chicken, up from 37.9kg in 2014, and 21.1kg of pork, up from 20.6kg. Turkey consumption will edge up to 7.2kg, and lamb and mutton consumption will remain unchanged at 0.4kg per person (underpinned again by Australian imports).
Sales of US beef at home and abroad will face two kinds of headwinds in 2015.
Wholesale prices will need to increase in the first half of the year as beef processors will have to pay even higher prices for grainfed cattle than they did last year. First half prices last year averaged US $147 per cwt. Forecasts are for them to average at least US $160 this year.
But retailers will want to preserve their beef margins. So they will continue to raise their beef prices and feature beef less. Consumers' willingness to pay more for beef will thus be crucial for sales.
The second headwind, as noted, will come from competing proteins. US pork and chicken production will be larger in 2015 than last year. US beef will also face cheaper beef in global markets, and US beef's competitiveness will be hurt by the strength of the US$.
As I write this, the Australian dollar has fallen to a five-year low against the greenback to just above US80c. Bankers believe it might fall another 10 cents.
This makes US beef even more expensive in its main export markets but makes Australian grainfed beef even more competitively priced. USDA currently forecasts that US beef exports will decline nearly 3pc in volume this year versus 2014 but they might decline more than this if the greenback remains strong.
The US industry will thus need a strong US economy to encourage Americans to spend more on beef than they did in 2014.
As noted, beef production will be down at least 1pc on last year. So overall prices will be 4.5-5.5pc higher, says USDA. That's far less than the 11.5pc increase seen in 2014 versus 2013. But it will still make beef too expensive for some Americans. The spread between retail beef and pork prices is already record large and that won't change this year. Hopefully, beef's unique flavour will trump price for consumers.