FLAGSHIP Australian bush clothing brand and bootmaker R.M. Williams has returned to 100 percent Australian ownership after confirmation of its purchase by an investment company owned by mining and cattle magnate Andrew 'Twiggy' Forrest and his wife Nicola over the weekend.
The "bush outfitter" was founded by Reginal Murray (R.M.) Williams in 1932. Since 2013 it has been under the control of a parent company owned by fashion giant Louis Vuitton.
In a statement to media Mr Forrest said he and Nicola were "incredibly proud and humbled" to be able to bring RM Williams back under Australian ownership.
"RM Williams is a quintessential Aussie brand with a long and proud history of high-quality Australian craftsmanship," the statement said.
South Australian premier Steve Marshall described the move as great news for local manufacturing:
BREAKING: Iconic bootmaker RM Williams which manufactures out of Salisbury is back in Australian hands.

This is great news for local manufacturing in #SouthAustralia and local #SAjobs. https://t.co/AHMLVZ3wDH

— Steven Marshall, MP (@marshall_steven) October 18, 2020
Federal  Member for the North Queensland seat of Kennedy Bob Katter labelled the sale "a hallmark moment in Australian retail history".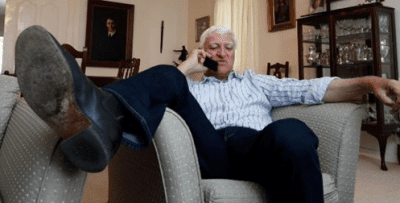 "They say you can't manufacture anything in Australia, well we can if wasn't for our bloody governments who propped up the dollar to about twice its real value!
"If you buy a pair of RM Williams they are very expensive but you wear them maybe seven or eight years.
Two American Presidents have worn RM Williams; George W Bush went to his inauguration in his RM Williams and Bill Clinton also wore RM Williams.
"Senior trade union officials as well as workers once wore them mustering. Even the city suits have a pair in their shoe rack.
"So to have them back in the hands of two truly great Australians, Andrew and Nicola Forrest, is very heartening. And they
are in the hands of the only major mining company that is still Australian. "