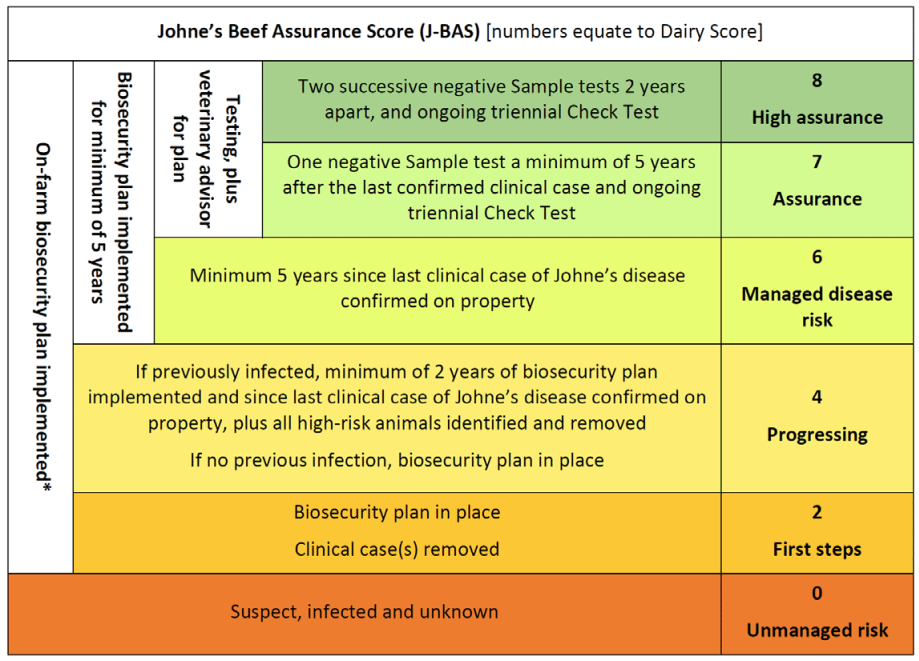 The Northern Territory Government is set to provide confirmation tomorrow as to how it will handle entry requirements for Johne's disease from July 1.
NT Cattleman's Association chief executive officer Tracey Hayes confirmed to Beef Central as our daily email was being sent early this afternoon that the NT policy will be minimum"JBAS 6" for entry from July 1.
In effect, cattle producers from other States selling cattle to the NT – such as for live export, to the AA Co abattoir, or bulls to seedstock customers – will require a Johne's Disease Biosecurity Plan, but it will not need to be approved or signed off by a veterinarian.
Until this point the NT has maintained an interim position requiring a minimum JBAS 7 score for entry to the NT until June 30, as the NT cattle industry and Government sought to undertake comprehensive stakeholder consultation on its future Johne's entry requirement policy after July 1.
JBAS 7 is a more stringent entry requirement, and, if maintained by the NT, would have meant that producers supplying cattle into the territory would have had to demonstrate they had a Johne's Disease biosecurity plan signed off by a vet and had conducted herd testing for Johne's disease.
Reports that the NT was planning to maintain a minimum JBAS 7 entry requirement  beyond June 30 had triggered concerns that the flow of cattle into the Northern Territory, particularly for live export, would be heavily impacted after July 1.
"As a result of following appropriate processes a policy is being formulated and Government is now drafting their gazettal," Tracey Hayes told Beef Central this afternoon.
"Our policy from July 1 is JBAS 6 with a requirement for a biosecurity plan that does not need to be signed off by a vet"
"Our policy from July 1 is JBAS 6 with a requirement for a biosecurity plan that does not need to be signed off by a vet.
"And there will be a requirement for the five year declaration (that a property has been free of clinical Johne's Disease for at least five years) which is consistent now.
"It is up to individual properties to manage their commercial relationships with bull breeders.
"If they want to maintain a higher level of JD management then it is between the individual properties and the bull breeders as to how they deal with that, that is a commercial decision.
"The NT policy will be JBAS 6 for entry, which is not going to limit the flow of cattle for live export, it will be business as usual.
"The biosecurity plan is an additional requirement, we're looking at trying to get a consistent document that is going to equip producers with the appropriate tools for a successful transition into this policy."
More details to come tomorrow. To read more about the JBAS scoring system on the Animal Health Australia website, click here