Drive down any rural road in a few years and chances are you'll see drones zooming in and out of paddocks, armies of tiny robots swarming over weeds, tractors driving themselves and farmers kicking back on their verandahs watching the day's cattle sale online.
This futuristic projection assumes of course that farmers will adopt en-masse the various forms of new technology now emerging, an outcome that is far from guaranteed given that many seem geared towards either taking physical work out of farming – something many would argue is actually one of the more appealing parts of the job – or taking farmers out of farming entirely.
But there is no question that technology is rapidly changing the world of agriculture as we know it, and the pace of change seems only set to accelerate from here.
So what could be next on the innovation horizon for the Australian beef cattle industry?
Here are three more technologies now emerging in other industries which may also soon be on beef's radar.
Jet Packs
Yep, jet packs. They've been the stuff of sci-fi fantasy for years, but jet packs are suddenly being spoken about with straight faces as a realistic mobility solution for a wide range of industries.
This is thanks largely to New Zealand company Martin Jetpack which has recently received certification for its first patented 'wearable aircraft' (below).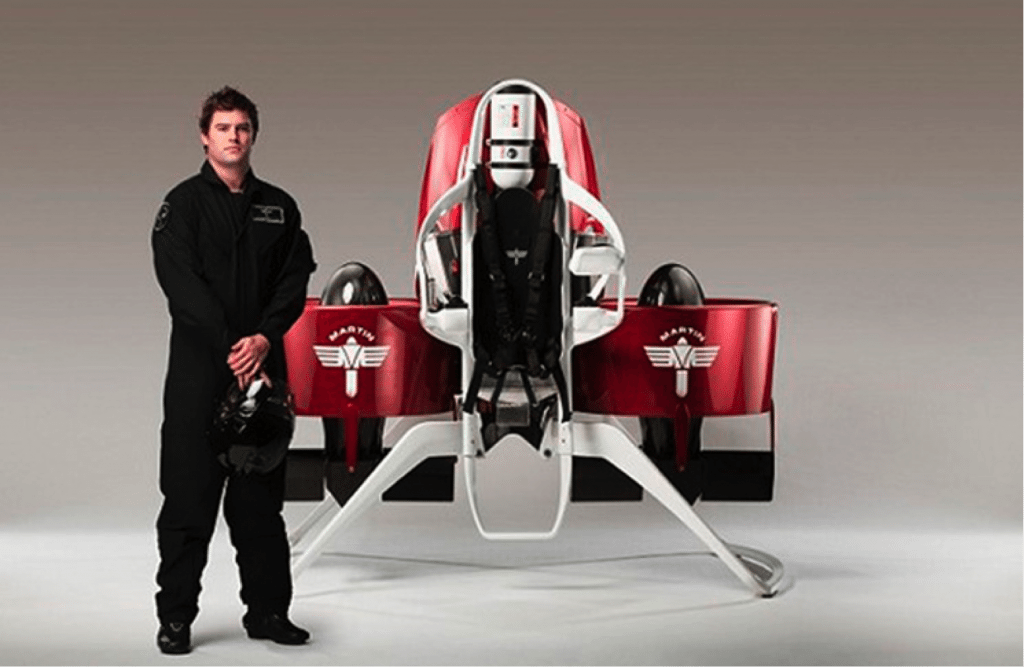 More like a small helicopter than an actual rocket pack, the device uses two ducted fans, driven by a 150 kW (200hp), two-litre, V4 two-stroke petrol engine.
Here's how Flight Safety Australia describes the device in a recent blog update:
"At 114 kg the Martin aircraft is too heavy for the wearer to carry it on their back, but its flight endurance of about 30 minutes, speed of about 40 kt, range of 51 km and payload of 120 kg—including pilot—are beyond comparison with the rocket and jet packs of the 1960s.
"The jetpack has been test-flown, unmanned, to 5000 feet, and, according to its maker, will be available for sale late this year."
MJP has listed on the Australian Stock Exchange and is said to be backed by millions of dollars of Chinese investment.
The company recently announced an agreement to supply 20 jetpacks and two simulators to the United Arab Emirates for use by emergency services.
Potential uses are thought to include search and rescue, surf lifesaving, border patrol, firefighting and pipeline inspection.
How about cattle mustering, checking waters or fencelines, or just spearing off into town to pick up some supplies?
At the current going rate of $US200,000 a piece, it might be some time before we see jet-pack fitted stockmen soaring in the dust above a cattle muster, but it's no longer the realm of total fantasy.
Exoskeletons: Turning aging farmers into ironman?
It is no secret that farming is an aging occupation, with many producers still putting in a hard physical day's work well into their 60s and 70s and beyond.
Some choose to do it, others may well retire if they could, but regardless of their individual circumstances, they're all adding further strain to bodies already affected by skeletal and muscular issues after a lifetime of strenuous work.
Can technology help with their heavy lifting, quite literally?
The idea of using "exoskeletons" to help wearers carry more weight without strain and to increase their effective power is gaining momentum in industrial workplaces.
As the name suggests, exoskeletons are external skeletons or "artificial bones and muscles" worn outside the body.
Developed initially for soldiers on the battlefield, manufacturing companies are now trialling exoskeletons as a means of artificially enhancing the strength of manual workers and improving their occupational health and safety protection, while also increasing overall productivity.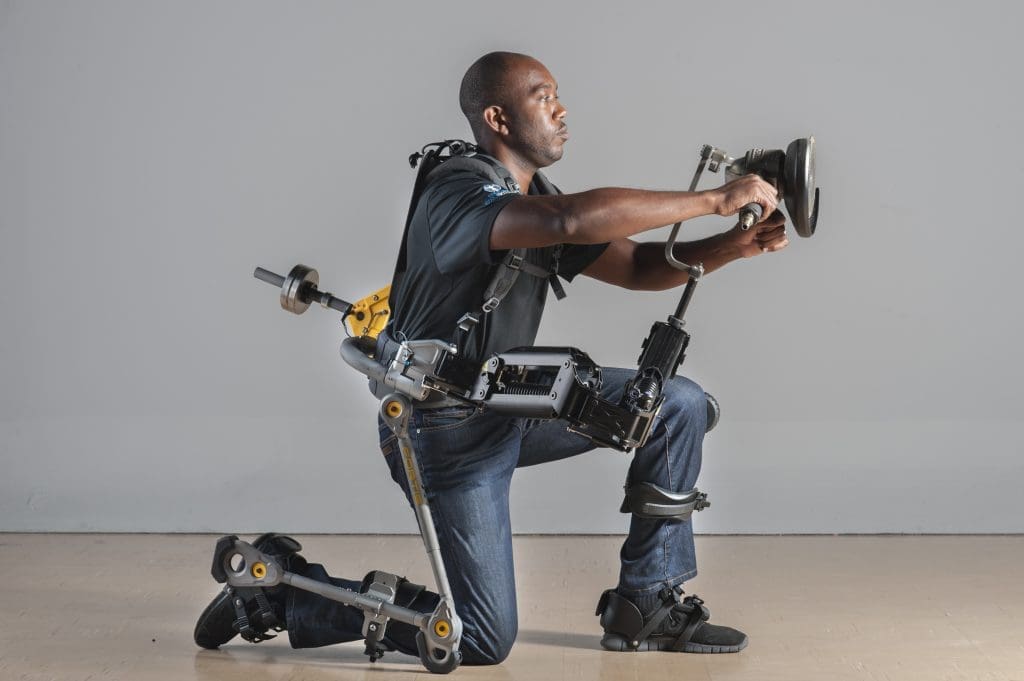 For example this 17.5kg exoskeleton pictured was designed by Lockheed Martin and is being trialled by several US companies to help workers operate heavy tools such as rivet guns on manufacturing lines.
Workers holding heavy tools often have to set them down and shake out their arms to recover their strength, which means they typically spend up to half their time on the job not operating the machines.
When wearing the exoskeleton, the weight of the tool is effectively carried by the device, meaning the worker does not so much wield the tool, as guide it.
"At the end of their shift, workers are no longer so fatigued that they go home and crash on the couch," Lockheed Martin exoskeletons boss Trish Aelker explained to the Economist in a recent article.
Similar technology has also been trialed in the Australian red meat industry.
As Beef Central readers may remember, a few years ago we ran an article describing a new tool being trialled called "HookAssist", a powered robotic arm "worn" by meatworkers to give them up to 10 times greater pulling strength when de-boning large cuts of meat.
The five-year trial was funded by Meat & Livestock Australia and the Australian Meat Processing Corporation and conducted by Kinea Design and Scott Technology. While it hasn't yet led to widespread adoption of the technology, the work highlighted the applications that exist in robotics or "cobotics" to improve meat processing efficiency and to create a better work environment with fewer strains and injuries for workers.
Could similar technology be adapted to help aging Australian farmers with strenuous tasks such as heavy lifting or physical labour with tools?
Researchers in Japan have been working on the development of an exoskeleton designed with specific purpose of helping Japanese farmers to combat age.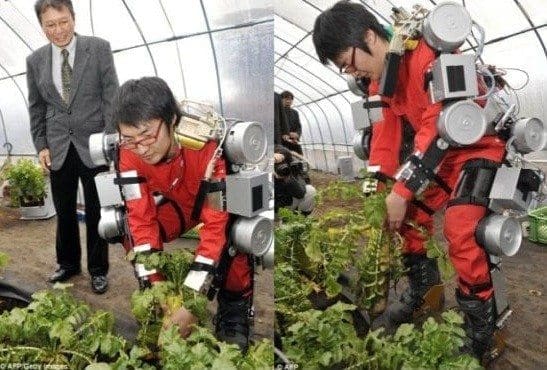 One prototype widely reported in Japanese media weighed 25 kilograms, but, like most exoskeletons, is able to offload most of its own weight, while still giving its wearer "super strength". The device was reported to cost somewhere between $5000 to $10,000.
In the fast changing world of robotics in meat processing, Sean Starling of Scott Technology predicts that the use of 'cobotics' may soon be superseded by emerging 'guardless collaborative robots'.
This is where a human operator stands beside and guides and/or interacts with a robot to perform tasks such as gripping and pulling.
"Recent advances in guardless robotics have resulted in a commercial blend of exoskeletons and robots that may result in the mass production of operator interaction robotic solutions for food processing operations," Mr Starling said.
One important consideration that could determine the extent to which exoskeletons and/or robotics find a place on Australian farms in future surrounds their serviceability. Easy-to-maintain technology that can be easily fixed by a farmer on-farm would clearly have a far greater chance of adoption than complex systems requiring expensive and highly specialised equipment to repair.
Spider cam for cattle sales?
One of the biggest changes to televised sports in recent years has involved the introduction of "Spider Cam", a high-flying camera suspended on wires which gives viewers a spectacular birds-eye perspective of the action.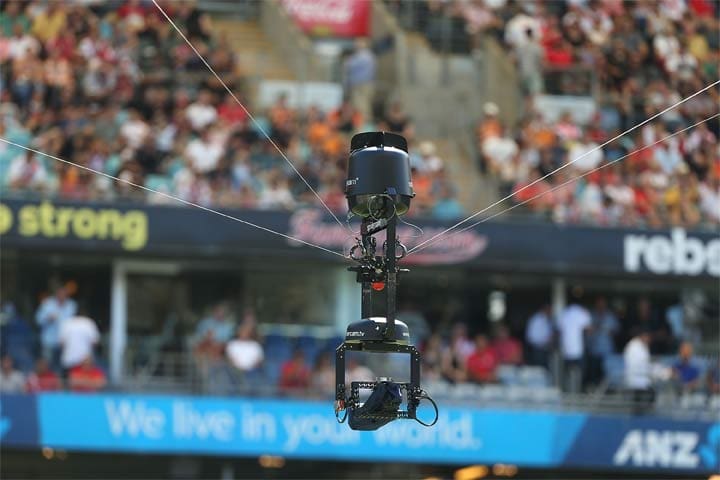 With interest now growing in live streaming livestock events, could we soon see a spidercam-like device zooming around high above a cattle sale broadcasting the live auction action below to remote viewers?
The answer is probably yes, according to Livestock Exchange, the company which is already in the process of rolling out live streaming technology to allow remote viewers to watch sales in Australia's largest cattle yards from afar.
General manager Patrick Hutchinson sees the use of Spider Cam as a distinct possibility for the future of live streaming technology and says it is an idea the company is already exploring for possible future introduction.
It would ensure a unique and uninterrupted perspective of a sale as the overhead camera follows the selling action from one pen to the next.
WHAT'S NEXT? Any thoughts on how other emerging technologies could prove useful for beef or cattle production? Let us know in the comments section below