GLOBAL meat processor JBS says it will target Australia in the next step in its exploration of the methane-reducing feed additive Bovaer, in collaboration with its European manufacturer DSM.
JBS has made a set of ambitious commitments during 2021 to sustainability and methane reduction, and the company sees the methane-inhibiting properties of Bovaer as playing a part in that.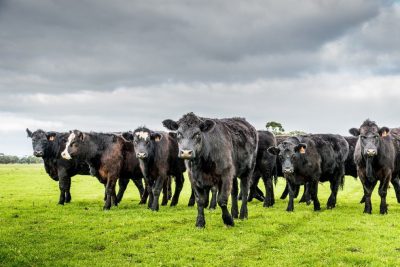 In November, the company announced a partnership with Bovaer's Dutch manufacturer, DSM. The Bovaer compound has been found to reduce methane output in cattle by up to 90 percent in trials.
The project was discussed by JBS global chief executive Gilberto Tomazoni while responding to questions during JBS's recent third quarter investor briefing.
While the initial stages of the trial work will focus on Brazil, where Bovaer is already registered for use, Mr Tomazoni was asked by analysts for a 'road-map' on how a potential roll-out as might look, as approvals come into play in other beef producing regions.
Analysts also asked about the challenges associated with distributing methane-reducing compounds to cattle in countries like Australia and Brazil, where much of the beef production is paddock-based, not feedlot-based, where consumption can be more easy controlled.
Mr Tomazoni said DSM had spent more than 10 years developing the supplement, and while JBS's agreement with DSM was on a global basis, work would start in Brazil because of the completion of the approval process.
"We will start development in Brazil… but the next step will be in Australia, and the other parts of the road map we have not clearly defined yet," he said.
"But what I can say is that under the global agreement, we start Brazil, the second will be Australia and I think the next will be the US."
Mr Tomazoni agreed that there were challenges in administering the additive daily under paddock conditions outside the feedlot environment, like those commonly seen in Brazil and Australia.
"When you have feedlot it's easy (to control the animal's dietary intake), but in (a grass paddock) it is more challenging to do that."
"We need to learn more about that. We're just starting to work on this," Mr Tomazoni said.
Research work in Australia has recently been established to examine the issue of distribution of methane-reducing agents (including products like Bovaer and asparagopsis seaweed, but also including a wide range of other potential additives) click here to view earlier story.
But Bovaer was not the only project that JBS had in train, in pursuing its target to reduce methane, Mr Tomazoni said.
"We have already some experience with lemongrass as an additive, that will be much easier (to feed to cattle on grass), which has the potential to reduce methane emissions by 30pc in cattle. And we will start another project in Brazil with an Italian company," he said.
The Brazilian Research Institute was examining other supplements suitable for methane reduction.
"We will not stop at one – we believe that we have a good opportunity to reduce methane emissions in cattle. I talk now for all the balance in terms of carbon emissions, the greenhouse carbon emissions. We believe that all of the initiatives, the additives in the diet to reduce the enteric fermentation and to reduce the emissions by the land, we can then show to the world that cattle are part of the solution of the challenge, in terms of the environment and the other challenge that we have to feed the world with a growing population."
Some quotes in this article translated from Portuguese.