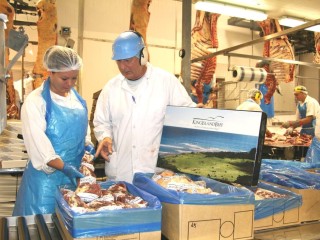 The breakneck pace of expansion exhibited by Brazil-based processor JBS may be nearing its end, to be replaced by a greater focus on consolidation and driving greater efficiency through the businesses.
Speaking at an investment summit in Sao Paulo recently, JBS SA chief executive Wesley Batista said the world's largest meat company had reached an important critical mass in terms of economy of scale, and it was now entering a new phase.
Formerly head of JBS Swift operations in Australia and the US, Wesley Batista took over as CEO of the parent company from his brother Joesley in February.
Addressing a Latin American Investment summit, Mr Batista said JBS was now focused on maximising profit for shareholders, ending a six-year expansion that left some investors wondering whether the company had grown too big, too fast.
"It's now time for JBS to start reaping what it has sown," he said, suggesting that the big costs of integrating takeovers were over and that the company was well-positioned for a global economic recovery.
Mr Batista defended the company's shopping spree in recent years, calling the takeovers "fantastic opportunities" that gave JBS a major footprint in the US, the world's most important meat market, South America, Australia and Europe.
A little-known meat packer in rural Brazil just a decade ago, JBS has shown meteoric growth since 2005, acquiring US rivals Swift, Smithfield Beef and Pilgrim's Pride, the former Australia Meat Holdings processing and lotfeeding assets and major Brazilian meat packer, Bertin.
Meteoric growth
One way that JBS planned to boost profit was by shifting some of its 11.5 billion Real (AS$6.9b) debt which is now predominantly on the books of the Brazilian company to the US division, to create a tax benefit there via amortisation.
Mr Batista also said the company in 2010 spent R500 million to integrate new acquisitions. Although it planned to continue fine-tuning, such costs were more likely to be reduced to about R10million a year going forward.
JBS may have its work cut out for it in delivering profit to shareholders, however. With annual revenue now topping A$32 billion, the company posted a fourth-quarter loss of A$320m during March, due mainly to costs of integrating Pilgrim and Bertin into the business and postponing a US share offering.
The company recently exited a partnership with Italian firm Cremonini, and is struggling with money-losing plants in Argentina that have been hurt by government price caps and export restrictions. Earlier this year, JBS also failed to win a bidding war for US-based food processor Sara Lee Corp.
JBS admits that it may not have completely lost its thirst for acquisition, however. Mr Batista said expansion was "in JBS's DNA", but he suggested the company was easing-off deal-making for now while it focused more on getting the most out of its acquisitions made over the past few years.
Today, JBS slaughters 15 million cattle a year and about 70 percent of its revenue comes from its US division (including both US and Australian operations).
Mr Batista's comments about the likely future performance of the US currency represented a warning for Australian exports, currently being rendered less competitive by a low US$ currency value.
"With the size of the US fiscal deficit, the US$ is going to continue weakening for a long time. It's not temporary," he said. "In 10 to 20 years, the US will return to competing with the emerging markets in the production of commodities, in all areas," he said.

• Editor's note: Parent company, JBS SA recently dropped the word, 'Swift' from the company's Australian business name, now known simply as JBS Australia