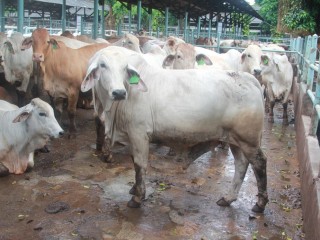 Shipping data has confirmed that Australia has all but filled its 90,000 head second-half quota to Indonesia, as early signs point to further cuts to import quotas for 2013.
Latest export data from the Department of Agriculture, Fisheries and Forestry shows that Australia shipped 86,385 feeder cattle to Indonesia from July 1 to October 31, all but exhausting the 90,000 head quota allocated by Indonesia for the second half of 2012.
Apart from a few small shipments to fill the remaining permits, Australia's live cattle trade to Indonesia will now grind to a halt until new import permits for 2013 are released by Indonesia's Ministry of Trade, expected to occur in mid-January.
Indonesian lot feeders have warned that with local cattle in short supply, and no permits left to replace the imported cattle now moving through the system, the local beef shortage that has already pushed prices 20-25 percent above normal levels is set to bite even harder in coming months.
Jakarta lot feeder Pudjantoro "PJ" Hasan told Beef Central last week his company's feedlots are now operating at just 25 percent capacity due to import restrictions, and will run out of imported cattle by Christmas.
"Mostly our feedlots here in Indonesia are now 75 percent empty, and we predict that by the end of this year our feedlot will be 90 percent empty," Mr Hasan said.
"Many people believe that the price by the end of December or early next year will exceed Rp 100,000/kg."
Signs point to further quota cuts in 2013
Despite signs that import restrictions are causing a shortage that is pushing beef prices beyond the reach of many Indonesian consumers, the Indonesian Ministry of Agriculture shows no signs of wavering on its commitment to reduce imports to 10 percent of overall beef demand by 2014, the year of the next presidential elections.
The Ministry of Agriculture has recently stated that it believes 535,000t of beef will be required to satisfy total Indonesian beef demand next year.
Of that, it says just 14 percent – or 75,000t – will be required to be supplied from imports.
That is less than the 85,000t limit set on total imports for this year, which resulted in live cattle import quotas being slashed from 520,000 head in 2011 to 283,000 head this year, and boxed beef import quota from 90,000t to 34,000t.
Indonesian's Director General of Livestock and Animal Health Syukur Iwantoro last week stated: "Based on the calculation of supply and demand, the supply shortage of beef next year will amount to 75,000t.
"We will meet the shortage with imports. Beef imports will be divided into 60pc from feeder cattle imports and 40pc from frozen beef imports."
If actual 2013 quota reflects that position, that will leave 45,000t of beef to be sourced from cattle imports – which equates to around 230,000 head of cattle – and 30,000t to be sourced from boxed beef imports.
Mr Iwantoro said that actual beef import quotas for 2013 were still yet to be discussed and determined by Indonesia's Economic Coordinating Ministry.
Australian cattle exporters have reported an uplift in orders to alternative South East Asian markets such as Malaysia, the Philippines and Vietnam in recent months in the wake of the Indonesian market decline.