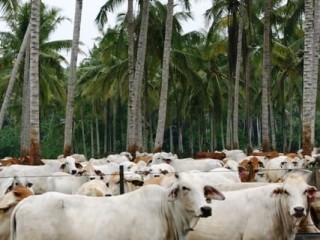 Federal agriculture minister Joe Ludwig has returned from Indonesia saying he is confident that Australian livestock producers will benefit from future growth in the market.
Senator Ludwig and Federal trade minister Dr Craig Emerson visited Jakarta last week to discuss market access issues for Australian exporters with their Indonesian ministerial counterparts.
The trip came on the heels of a disastrous year for Australia's northern cattle industry, based on the two month shut down of trade to Indonesia on animial welfare grounds last June and July, and Indonesia's decision to almost halve the amount of cattle and boxed beef it will import from Australia in 2012.
Media covering last week's trade mission reported that Indoneisan Government officials had clearly indicated they would not be increasing import quotas this year above the 283,000 cattle and 39,000t of boxed beef announced last December.
In a statement to Beef Central this week, Senator Ludwig said no specific undertaking regarding import levels was made during his direct discussions with Indonesia's minister for trade, minister for agriculture and the coordinating minister for economic affairs.
He said the discussions focused on the impact of demand and supply balances in Indonesia, and the improvements to supply that could be made if greater certainty were available to Australian exporters.
"No specific undertaking was made in regard to the level of import permits for live cattle during the visit; however the Indonesian Government system is based on estimates of supply and demand for beef," Senator Ludwig said.
Despite the continued uncertainty surrounding 2012 import permit levels, Senator Ludwig said he believed Australia's livestock industry faced a strong future in the market.
"Instead of focusing on quarter-by-quarter quota announcements, we need to look at Indonesia's economic growth and the rapid changes in consumption habits.
"Current average annual consumption by Indonesians of beef is 2 kilos per person.
"Indonesia sees this climbing to 20 kilos per person over time.
"That would be a massive increase in total demand, and Australia is well placed to help meet that demand."
While in Indonesia, Senator Ludwig and Dr Emerson announced a $20 million, six year aid program for the country which will be focused on helping small Indonesian cattle farmers to improve their productivity.
The move attracted strong criticism from the Federal Opposition, which saw the move as providing help to Indonesian producers to bolster their own production to the detriment of Australian exporters.
Senator Ludwig said the Government stood by Australia's domestic cattle industry and defended the contrbution.
"The assistance announced by the Australian Government will help Indonesia's most vulnerable, the rural poor," he said.
"Domestically, the Labor Government is contributing more than $44 million in red meat industry research and development this financial year.
"We rejected the Productivity Commission's recommendation to cut rural research and development, and last year it was funded to the tune of $207 million and is rising.
"This Government will continue to work to support and grow Australia's cattle industry as well as the jobs and communities that rely on it."