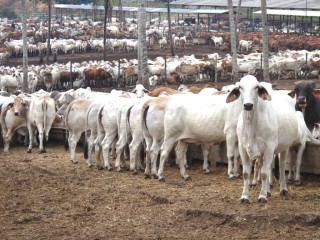 The Indonesian Government has announced the release of import permits covering 180,000 head of Australian cattle, following discussions today between Foreign Minister Kevin Rudd and Indonesian officials.
The move, which is understood to cover the current July-September quarter, follows Tuesday evening's Federal Government lifting of the suspension of the live trade.
Indonesia last week delayed issuing import permits to local feedlots for the July-September quarter due to the suspension of live cattle exports from Australia. Some feared this might further delay the resumption of trade, at least until the fourth quarter of 2011.
The live export suspension was imposed on June 7 after footage of animals being mistreated was aired on ABC's Four Corners program.
The agreement clearing the way for trade to resume came during a meeting this morning between Indonesia's chief economics minister Hatta Rajasa and Mr Rudd, providing a supply pressure-valve release in time for Indonesia's peak demand period during the fasting month of Ramadan in August.
Mr Rudd told Reuters both sides had agreed on cattle welfare, but he did not specify what improvements to standards Indonesia had made or had promised to make, after a joint team of experts toured abattoirs in the archipelago last month.
"Australia and Indonesia welcome any arrangements that industry reaches to give the sector higher standards, including the use of appropriate technical devices to meet Halal standards," Mr Rudd said during a joint news conference.
Indonesia would link new welfare standards to the import permits, while Australia would ensure animal welfare outcomes via the new export arrangements announced on Wednesday.
It remains unclear what concessions, if any, Australia made in the negotiation process to get the deal over the line.
But Indonesia's trade minister Mari Pangestu said it would be up to industry to implement the changes, raising questions over whether they would be enforced at a government level. When asked if more Indonesian abattoirs would now use stun guns, she said it would be a matter for industry, not government.
Although it is uncertain when first shipments will begin, aggregation of cattle at holding depots across Northern Australia was likely to happen 'within days', one source told Beef Central.
Elders, one of Australia's largest exporters of live cattle to Indonesia responsible for up to 200,000 head annually, said it had booked a ship for August 1 to upload its first 3200 cattle to its Indonesian feedlot. The company also owns a fully-accredited local abattoir which applies pre-slaughter stunning. On Thursday it said it was willing to provide third-party certification that would be transparent and provide full traceability.
"We expect to be up and running by August 1 – that's the game plan at the moment," Elders chief executive Malcolm Jackman told Reuters.
However it could still take at least two months for shipments to pick up. Much would depend on how quickly operations could resume before the wet season started, he said.
Today's result will inevitably be interpreted as a reflection of Mr Rudd's strong diplomatic and deal-brokering skills, and equally poor skills exhibited by ag minister Joe Ludwig. The outcome could even provide momentum for Mr Rudd to ride back into favour, and potentially higher office in Canberra, political analysts have suggested.
Indonesia's agriculture minister Suswono last month criticised Australia's handling of the matter, saying he had not been informed of the decision before the suspension was announced. He said he told Minister Ludwig on June 19 that he should have investigated concerns of animal abuse in abattoirs before suspending the live trade.
News of the permits follows a revolt by Labor backbenchers unhappy that new conditions did not guarantee that animals were stunned before slaughter.