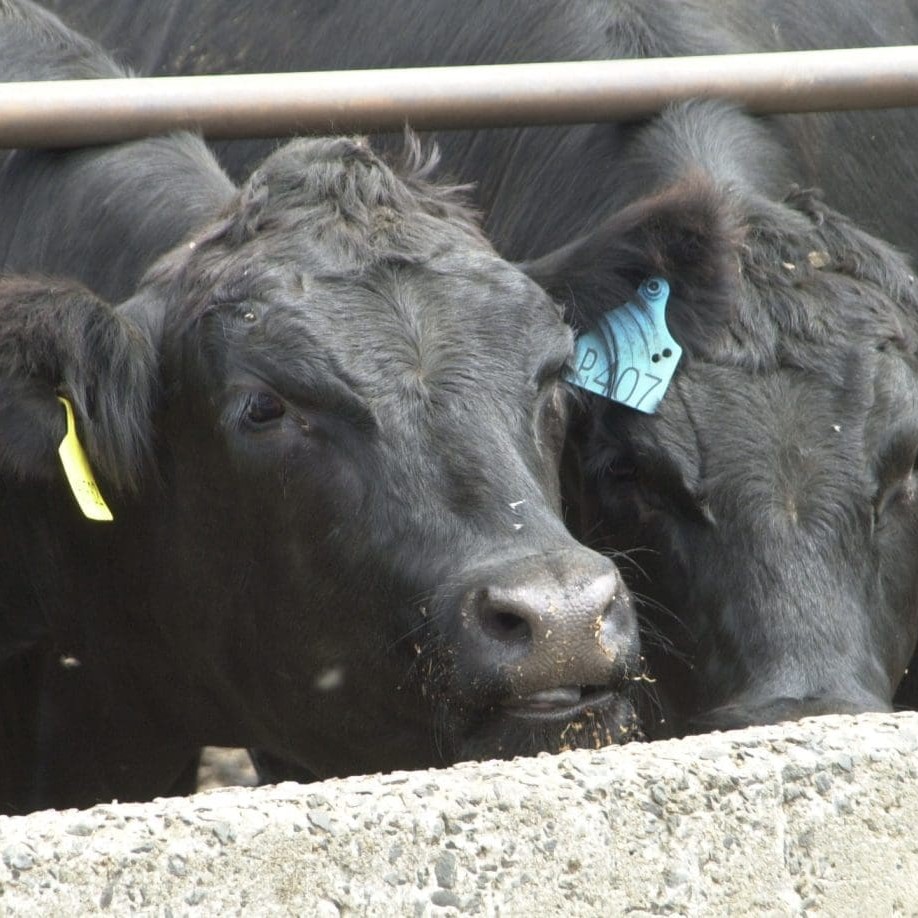 THE projected outcome on feeding 100-day cattle has improved a little in Beef Central's latest grainfed trading budget calculated this morning.
A stronger forward price for 100-day cattle due for slaughter in mid-February more than compensated for a 5c/kg rise on feeder steer price, delivering a projected loss of around $50 in the latest budget, $10/head better than this same calculation three weeks ago.
As can be seen in our list of variables at the base of this page, however, the calculation is based on a typical benchmark average daily gain figure of 2.0kg/day. Anecdotally, there are a lot of 100-day cattle out there in Darling Downs feedlots at present doing a lot better than that, gain-wise, due to a combination of ideal feeding conditions, good respiratory health, and some compensatory gain.
Replace our standard benchmark ADG figure of 2.0kg with a figure of say, 2.3kg, and a markedly different result emerges. On our calculations, it turns a potential $50 trading budget loss into a net profit of +$10-$15.
There's no shortage of evidence of superior gains being recorded at present. Regular Beef Central reader and Dulacca (western Downs) cattleman, Lee McNicholl provided data yesterday on his line of 120 Angus x Shorthorn steers on a 100-day custom-feed program at Lillyvale feedlot near Condamine. At day 75, the mob is averaging 2.64kg/day on a wheat/barley/silage ration. One rogue individual is tracking at 3.76kg/day, and there were plenty in the mob above 3kg.
Even if those steers slow down to a trot over their final 25-30 days, they still stand to make a handsome profit, based on their exceptional gain performance. The message in all this is: if you have cattle likely to feed well this year, consider custom feeding rather than simply selling the 'profit potential' to somebody else.
Feeders out to 180c/kg
Today's trading budget calculation is based on our standard set of variables, benchmarked on a typical flatback 450kg feeder steer going on feed on the Darling Downs today, and exiting the feedlot after 105 days on February 14 next year.
Based on current market signals and limited supply, we've pushed our flatback 450kg feeder steer purchase price out by another 5c/kg to 180c/kg for today's budget. Since our last breakeven on October 10, feeder availability has shown further signs of tightening as we draw closer to the end of what has been a very tough year, and some lotfeeders appear to be trying to gather a few more cattle around them.
The 180c/kg figure used today is the strongest we've seen since February.
Many yards are taking sub-prime weights in feeders as a compromise as numbers become scarce, with discounts evident of 10c/kg for sub-320kg cattle which cannot hit a desirable kill weight. Those cattle 320-400kg are in turn perhaps another 10c cheaper than +400kg examples. In a normal year, of course, those lighter grower cattle trade at a premium on a c/kg basis.
Pricing our feeder steer for yesterday's trading budget at 180c/kg values him at $810, or $23 higher than three weeks ago. That's considerably improved from a record-low 150c/kg liveweight in our budget in early June when the steer was worth only $675 due to drought supply pressures.
The current feeder price is the best seen since the big slide into drought started in February. Despite the season not yet even close to turning around, it's the sheer tightness in supply of in-spec feeders, combined with a strong meat market, that is pushing the steer value north at present.
Two or three inches of rain across dry areas of Queensland/NSW over the next month or two would inevitably push that price even higher – perhaps by another 10-15pc, one contact told Beef Central this morning. The other impact from rain would be a likely drop on ration price, because a sorghum crop planting would start immediately in those areas where a crop can be grown.
Ration price unchanged
Ration price remains unchanged in today's trading budget at $335/t. Darling Downs wheat is currently priced around $300-$305/t, barley in the $290s. Opinion is still mixed about what impact recent frosts in NSW/VIC will have on cereal crops, from a feedgrain perspective.
Most feel there is more downwards pressure than upwards currently on grain prices, however there does appear to be very limited grower selling, suggesting growers think there is still some upside. The trade, on a fundamental basis, remains in line with exports.
On the basis of a finished ration price of $335/t – a record-high for our breakeven report, dating back to May 2011 – it represents a total feeding cost over a 105-day program of $524. This, combined with the current feeder price, gives a total production cost of $1427, $24 higher than last time, and again, close to a record for this data-set.
Cost of gain, using our chosen variables (2kg/day ADG, for 210kg gain over 105 days) remains unchanged this time at 250c/kg. This time last year, COG was around 213c/kg on a $285/t ration, representing a 17pc rise this year. Feeder steers back then were worth 185c.
The combination of above inputs delivers a breakeven figure in today's budget of 404c/kg – up 6c/kg on our last calculation three weeks ago due to the lift in feeder steer purchase cost.
That breakeven is close to historic highs, being exceeded only by a calculation that crept up to 412c in the early 2012 period when feeders went to 215c, and a brief slot during winter last year when the number touched 400c.
As discussed in our intro, however, plenty of cattle on feed are currently gaining at 15pc better than our overall 'benchmark' ADG of 2kg/day. At an adjusted rate of gain of say, 2.3kg/day, that brings the breakeven back by a whopping 18c/kg to 386c/kg.
That's worth close to $60 a head, for those owners who are seeing those good results, over our benchmark, and can potentially deliver a $15-$20 profit in our trading budget calculation, instead of a loss of close to $50.
Forward pricing moves upwards
Based on Southeast Queensland processor quotes seen yesterday, the forward price for 100 day flatbacks going on feed today and closing-out mid-February next year is a 390c, with bids 5c above that in places at 395c.
That's the best money seen in 14 months, and is getting perilously close to the 400c/kg figure proposed by Beef Central several cycles ago as a likely price for shortfed cattle by year's end. We still think the market could be 400c without a lot of trouble, but keep in mind there are a lot of cattle in the grainfed system at present (June 30 cattle-on-feed numbers reached a seven-year high of 839,000 head, and upcoming September 30 data is not likely to be greatly changed).
Another factor in current forward pricing is a degree of urgency in securing supply, with processors aware that slaughter numbers are likely to rapidly dry-up, given any decent rain. February can also be a problem month for cattle access should there be any rain/flooding disruptions, and feedlots provide an easy-access solution in a short week.
Looking back at 100-day flatback cattle that went on feed in late July for slaughter this week, they had a breakeven at 380-390c/kg according to our calculations, on forward-contract meatworks rates then at around 375-380c/kg. That means processors are close to breakeven on those forward purchases, compared with today's spot market.
Beef Central's regular 100-day grainfed breakeven scenario is based on a representative standard set of production variables, ex Darling Downs. They include a 450kg liveweight feeder steer fed 105 days; 356kg dressed weight at slaughter; ADG of 2kg; consumption 15kg/day and a NFE ratio of 7.5:1 (as fed); $25 freight; typical implant program. Bank interest is included. It is important to note that variations exist across production models (feed conversion, daily gain, mortality, morbidity, carcase specification); from feedlot to feedlot; and between mobs of cattle. For a more specific performance forecast on a given mob of cattle, consult with your preferred custom feeder.
Monday on Beef Central: Why is MSA 'pulling' cattle from 100-day programs?