Every now and then we come across stories, anecdotes or general observations that don't quite fit into regular news articles, but seem too good to simply consign to the dustbin of history without sharing with our readers first. In response we have developed this column titled "Holy Cow" where we will muster all of those bits and pieces that make us laugh, make us shake our heads or make us simply say "holy cow, did you hear about this…?". And of course, if you have any stories, pictures or something else you'd like to share, all submissions are welcome via email to admin@beefcentral.com
Who's not listening?
"Feel like the Government is not listening to your concerns?" the Australian Greens' asks on its website, before asking people to write in to express their views on important issues. Some cattle producers recently decided to do just that and wrote a letter to Greens MP Adam Bandt to explain why they supported the live export trade, which he is campaigning to ban. They were a little taken aback when they received this obviously automated message from his office in response: "I agree with you – it's time for Australia's live export industry to end". It seems the Melbourne-based MP didn't expect to hear from anyone with a view that differed from his own. Letter writer's now wondering if the Greens' website should be amended to read: "Feel like we're not listening?"
Low lying trough
The cattle that water at this trough shouldn't be short of a drink for a while. That was the dry observation of Kimberley, WA, cattleman David Stoate, who took this picture to show the aftermath of more than 200mm of rain that fell at Anna Plains last week. That volume was recorded before Tropical Cyclone Lua crossed the WA coast a few hundred kilometres to the south last Saturday. While the cyclone brought some intense winds to Anna Plains, the station received just 9mm of rain from that event. Fortunately the million acre station was spared any significant damage, unlike others closer to Lua's direct path in the Pilbara. David said Anna Plains and most other places in the Kimberley are set up for a good year after a wetter than average wet season. The main concern for cattle producers in the region of course remains the continued uncertainty surrounding permits to their major market of Indonesia.
Head turning shoes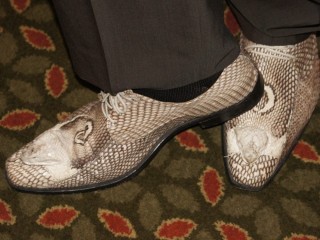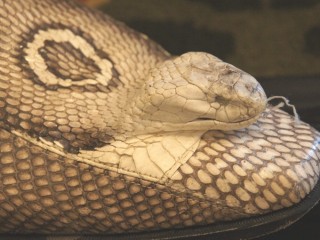 AA Co's largest shareholder, Arunas Paliulis from IFFCO has some form as a flashy dresser, but he took it to another level at last Friday's company annual general meeting. Famous for his electric blue shot-silk suit and dark shades a couple of years back, Arunas turned some heads at this year's AGM wearing this pair of snakeskin shoes – with the Cobra heads still attached. Shareholders understandably kept a respectful distance.
AA Co chief's double vision
Also during the AA Co AGM, it became apparent that CEO David Farley might be in need of a new prescription for his specs, as he was having obvious difficulty reading from his CEO's report. He'd been handed the final draft of his presentation just minutes before reporting to shareholders on the company's greatly-improved 2011 result. On inspection afterwards, though, it was obvious why: a printer glitch meant the entire speech was 'over-printed', giving the impression of double vision. He did exceptionally well to get through the document as well as he did. Don't those IT issues always happen at the worst possible times?
How many pigs was that?
The rural and regional media has had its hands full reporting on widespread flooding in the last few years, and it stands to reason that in the rush to get information out quickly, mistakes can sometimes be made. Speaker at a recent conference mentioned one incident in which a regional newspaper reported that 30,000 pigs had washed down the Dawson River in Central Queensland during the January 2011 floods. That's a lot of pigs, and sure enough the figure turned out be something of a porky when the truth came to light. A small article in the next edition of the paper apologised for the error: "What Baralaba piggery owner Sid Everingham actually said was "30 sows and pigs", not "30,000 pigs".
Hearing loss
The above story reminds Holy Cow of a yarn that does the rounds about a cattle buyer who reputedly drove for hours once to a property after receiving a call from the owner about two decks of cattle for sale. When the buyer arrived he was surprised to see just two rather small steers in the paddock before him. "Where's the two decks of cattle?," he asked. "Two decks of cattle?" the owner responded. "No, what I said was two Dexter cattle."
Social reach
Social media guru Lauren Papworth produced a little known fact at the recent Westpac Knowhow Forum in Toowoomba: the ABC Four Corners program that triggered the shutdown of Australia's live cattle trade to Indonesia last May was actually one of the lowest rating programs in the show's history. It turns out that people just weren't that interested in tuning in to watch cattle being slaughtered over dinner. So how did it trigger such a level of public outrage to convince a Government to stop a $350m a year trade overnight? Social media, Lauren said. As people who were watching on Twitter picked up on the show and began to discuss what they were seeing, more and more people ventured to the ABC's website, and the show quickly became one of the most downloaded programs in the ABC's experience. Like a stone dropped in an ocean and triggering larger and larger ripples, the exercise was a classic example she said of the power of social media to quickly spread a message – good or bad (in this case disastrous for an entire industry) – far and wide.
Cape-a-bull
We suspect this is simply a case of missing punctuation, but it's tempting to believe that the cattle that use this paddock are not only smart enough to work gates, but to read the signs on them as well. This picture's appearance on a Facebook page has also generated some amusing comments. "It appears as though the cows are doing their job, the gate is closed!!" one said. "I want to teach our cows to do that. But if they can close the gate…..means they can also open the gate, not good!," said another. This one also hit the spot: "What, were they born in a barn?"
'Vegetarian' defined