Despite expectations that cattle slaughter rates will remain high into 2015, ABARES believes saleyard prices will be pushed higher on the back of ongoing strong export demand.
The Government commodity forecaster expects average saleyard cattle prices to increase by 12pc in 2014-15 to 328c/kilogram.
This is largely contingent, however, on an improvement in seasonal conditions towards the middle of next year.
Strong demand conditions helped to push the weighted average saleyard price in Australia to 347c/kg in September, the highest monthly average since December 2011.
The price has since eased though in response to ongoing drought conditions and high slaughter rates.
Seasonal conditions remain the biggest single influence on the cattle market's direction.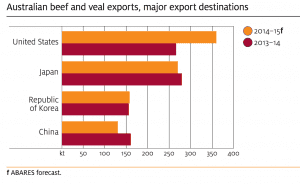 If conditions improve towards mid-2015, the commencement of herd rebuilding will increase demand for restocker cattle. Combined with high export demand, this would place upward pressure on saleyard prices.
If seasonal conditions fail to improve, herd liquidation will continue and fuel further high rates of slaughter, placing downwards pressure on prices.
Key messages from ABARES's December 2014 commodity outlook for beef and veal, released this morning, include:
Slaughter rates:
Cattle slaughter to fall by just 1pc in 2014-15 to 9.4 million head
In July 2014 the number of cattle slaughtered rose to 936,000 head, the highest monthly slaughter since September 1982
Beef exports:
Beef and veal exports to remain high at just below 1.2 million tonnes.
 Over the first four months of 2014-15, exports to the United States increased by 114pc year on year
 Shipments to Japan increased by 9pc year on year, and to SE Asia by 26pc
 The average unit value of Australian beef shipments rose to $6.10/kg in September 2014, 20pc higher than a year earlier
 Exports to the US are forecast to rise by 35pc in 2014-15 to 360,000t.
 The seasonal return of New Zealand as a manufacturing beef exporter to the US market from late 2014 is likely to have a moderating effect on prices in the US market.
 Exports to Japan to fall by 4pc to 270,000t as a result of lower domestic consumption
 Shipments to South Korea to rise by 1pc to 158,000t
 Exports to China to fall by 19pc to 130,000t, largely because of higher demand from Australia's other export markets reducing supplies available to China.
 With Chinese demand expected to continue growing, imports from South America to the market are expected to increase.
Live exports:
Feeder and slaughter cattle exports are forecast to remain high at around one million head.
In the September quarter, exports to Indonesia were 256pc higher and to Vietnam 222pc higher than in the same period in 2013.
To view the full report click here