A guide unveiled at a virtual AusTrade event today is designed to help Australian food and beverage exporters to learn more about Indonesia's consumer trends, import compliance requirements and pathways to export.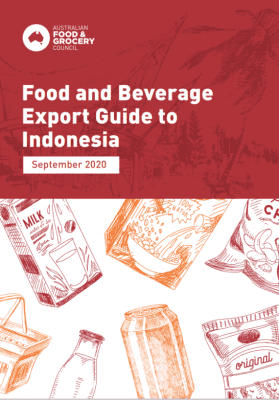 The Department of Agriculture, Water and Environment welcomed today's launch of the Australian Food and Grocery Council export guide for Indonesia produced through the Agricultural Trade and Market Access Cooperation (ATMAC) program.
Indonesia is projected to be the world's fourth largest economy by 2050, with per person consumption of key commodities like cereals and beef predicted to be greater than China.
The Australian Food and Grocery Council received $91,000 in ATMAC funding to support industry engagement and education activities.
"Indonesia has the fourth largest packaged food and non-alcoholic beverages market in the Asia-Pacific, recording average growth of 6.5 per cent per annum," the department's Deputy Secretary Agricultural Trade Group David Hazlehurst said.
"Increasing demand for healthy, safe, high quality products in Indonesia presents exciting opportunities for our farmers and food and beverage industry.
"Given the recent ratification of the Indonesia Australia Comprehensive Economic Partnership Agreement and resulting reduction in tariffs, our exporters need to be ready to make the most of these opportunities."
The Australian Food and Grocery Council also plans to hold free industry forums detailing Indonesian food and beverage export opportunities and its regulatory framework.
The guide was developed in cooperation with Indonesia and can be downloaded here http://www.afgc.org.au
For more information about the ATMAC program, visit http://www.agriculture.gov.au/market-access-trade/atmac
Source: DAWE