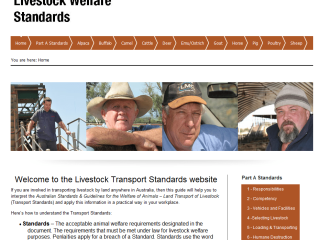 A website established to provide information on new legally enforceable animal welfare standards which come into force from this Sunday has been offline for more than a week due to a hacking event.
Producers, stockmen, agents, truck drivers and all others responsible for the care and management of livestock during transport will be subject to new animal welfare standards and guidelines that come into effect from this Sunday, July 1, in most states.
The first states to come on line will be Victoria, South Australia, Tasmania and the Northern Territory. New South Wales and Western Australia will follow from January 1 next year. Queensland, which has been delayed by the recent State election, has yet to settle on an introduction date.
Breaches of the new standards will constitute an offence under State animal welfare laws, and, for the first time, such laws will be uniform nationwide when the standards and guidelines are formally in place in each state.
It is understood each State will apply a grace period initially as industry is educated about the new standards, however legally enforceable penalties will apply in future.
A website www.livestockwelfarestandards.net.au was launched on June 14 to provide all stakeholders with information on their responsibilities under the new standards and guidelines. It also provides advice on key points such as maximum times stock should be kept off water.
However, the site has been inaccessible for more than a week, with departmental staff confirming it was the victim of a hacking event soon after its launch by "unknown entities".
It is in the process of being restored, but as of this morning was still not accessible to many web users.
It is the second major hacking event known to have targeted a livestock industry website in the past 12 months. The popular rural website "Australians Supporting Beef Farmers", established to rally support behind the cattle industry during last year's export ban, was forced offline by hackers for about one month at the end of last year. The site has since been restored, but moderators say they have not been able to establish who was behind the shut down.
The Australian Animal Welfare Strategy, which is overseeing the introduction of the new welfare standards and guidelines, has provided the following list of contact numbers for people seeking more information on the Livestock Welfare Standards for Transport:
For more advice or information on the welfare of livestock during transport in your region contact:
ACT: Parks, Conservation and Lands 132 281
NSW: Department of Primary Industries 1800 808 095
NT: Department of Resources – Primary Industry 1300 720 386
QLD: Queensland Government 13 25 23
SA: Primary Industries and Regions South Australia 08 8207 7900
TAS: Dept. of Primary Industries, Parks, Water and Environment 1300 368 550
VIC: Department of Primary Industries 136 186
WA: Department of Agriculture and Food 08 9366 2311
MLA: Animal health and welfare program www.mla.com.au
Animal Health Australia: (02) 6232 552