The Queensland State final of a national beef barbecue competition held on Friday provided an invaluable snapshot into what the typical Australian beef consumer is currently thinking about the product, and issues surrounding it.
The Tongmaster BBQ cook-off finals were held before a large lunchtime crowd in Brisbane's Queens Street Mall. Involved in the activity – part of MLA's Summer Beeflex marketing campaign – were five passionate and enthusiastic home cooks.
Here's a sample of some of their comments…
The 'Young Foodie':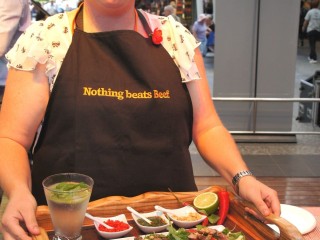 Helen Biddle from the Gold Coast represents a growing band of young people for whom the preparation of food is much more than life-sustaining, but an important part of their social, creative and personal lives.
She does most of the cooking for her and her flatmate, and said she 'loved having dinner parties and having people around socially, to eat.'
Asked whether entertaining at home had become more frequent because of the state of the economy and the higher cost of dining-out, Helen, pictured left, said she had always enjoyed it.
"I enjoy cooking enormously, and find it very relaxing. I much prefer it to going out for dinner, as do many of my friends. But of course it is also a cheaper option, and what we can save on the meal we can put towards a few drinks."
"Last weekend I cooked a beef-based red curry, which was delicious. There's something very social about preparing and sharing food with people, and I'm definitely one of those people who live to eat, rather than eating to live."
While beef competed for her choice mixed with a host of other protein options, when selecting beef for entertaining, price was not high on the consideration list in purchase decision-making.
Organic choice is a major consideration, however – interestingly, for red and white meat proteins and bread mainly, but not so much for general grocery items.
Having a 'beautiful' Certified Organic butcher near her Labrador home helped. GJ's Organic Quality Meats at Parkwoods provided a good range of both Certified Organic, as well as HGP and chemical-free options in beef, lamb, pork and chicken.
"I do try to by my meat organic if it is practical," Helen said.
"Being a smaller business, I don't feel bad by going in and asking for a particular item, whether it be skin-on chicken breasts, or getting a leg of lamb boned. Because they are butchering it on site, I can get pretty-much any cut I need. I can't do that in a supermarket."
Asked why she was less particular about 'Organic' in other food items, she said she maintained her own vegetable garden, which basically filled the gaps.
"I just think the further an item is up the food-chain, the greater the potential there is for 'stuff' to get into it. I feel the same about chicken, which I only eat organic."
Acknowledging that there was a price sacrifice to make in order to source Organic meats, Helen said, with a grin, "It's more expensive, but I figure it's cheaper than medical treatment in 20 years' time."
Doing a couple of 'great' cooking classes had inspired her to think outside the square and be more creative in terms of her food preparation, particularly in beef.
"I definitely do more now with beef than I used to," she said. "Now I'll try pretty much anything."

The 'value-conscious' buyer:
Nathan Thompson, from Brisbane's inner-northern suburb of Enoggera, admits to being a huge beef fan, but he is increasingly looking for value in his quality beef purchases.
For this reason the great majority of beef purchases for he and his wife over the past five or six years have been in cryovaced whole primal form, saving on prices charged for pre-sliced portions in a butcher's window or MAP-packed in a supermarket chilled cabinet.
"To be honest I don't mind paying a bit extra for a good piece of steak," he said.
Unusually, given that wives are more traditionally the family decision-makers on meat purchases, Nathan makes close to 100pc of beef purchases for his busy household. Even when shopping with his wife, he calls the shots on selections. As well as the barbecue, he estimates he does 80pc of the regular dinner meals.
"Buying in bulk means I can afford to spend a little more on the quality of the beef I purchase. I'm not looking for a budget, low-quality item, but I want value."
One of his main sources of supply is Andrew McDonald's Super Butcher 'coldstore warehouse retail' outlet near the Brisbane airport, offering a range of commercial brands in vacuum-packed whole-primal form. Mostly it's a whole rump or rib fillet, but Nathan has not yet ventured into trying seaming-out his own rumps, despite having heard of the technique.
He was not deterred by the increases in price seen in retail beef over the past few years.
"I'm a massive carnivore, so it's a matter of whatever I have to pay. I actually don't think beef is too bad, for what you get, when compared with other options like lamb. For us, lamb is now a less frequent option, because of the price factor. We used to eat more of it."
He said there was little variation in beef consumption summer-to-winter, with he and his wife eating 'a lot of beef' year round.
Combining food passion with butchering:
Chris Luxton is a creative young butcher who also possesses a love of cooking at home.
Completing his apprenticeship in 2001, he now owns and runs Gordon & Luxton Gourmet Butchery, in the inner western Brisbane suburb of Graceville.
He bought out his uncle's share (the 'Gordon' connection in the name) a few years ago.
The shop is in a typical local suburban village shopping strip complex, shared with a good quality bakery, deli, convenience store and chemist.
Rather than committing to one solitary beef brand source, Chris likes to use a strategy of 'mixing it up a little' to maintain customer curiosity and interest.
"The common-denominator is MSA, but the product at different times of year might come from Tasmania, Victoria or NSW. At other times Stanbroke's Diamantina brand out of Queensland is used.
"Originally, I started off with a fairly strong grainfed orientation, but we try to focus more on grassfed now, which has been a little easier over the past few years because of the seasonal conditions," Chris said.
Asked whether a strong grassfed focus could make supply difficult when seasonal conditions again turned bad, he thought it would not make a lot of difference.
"Regular customers trust their butcher to make the right decisions, product quality wise. So long as the rain keeps falling we are going to continue to see some well-finished young grassfed bodies in the market, but MSA certainly helps when dealing in a grassfed item. But there would be no objection to going back to more grainfed, if we needed to."
While carton meat now represents the major source of supply, Christ likes to bring in a body of beef regularly, for a variety of reasons. Most of these come out of the Glasser family's Yagaburne Beef MSA program out of Goondiwindi.
"A lot of butchers rely on carton meat these days, which is fine for quality. But we think it's important to get some body beef in to show the customer you know what you are doing, on the rail."

Feeding three hungry sons a challenge: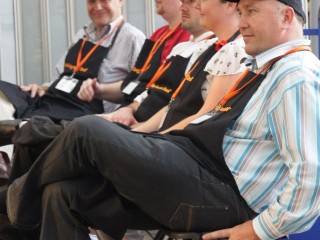 With three sons, all front-rowers aged from 17 to 15, Brisbane northside's Dan McHugh (nearest camera) faces a constant challenge in keeping up with their formidable appetites.
"We're big-framed people – my eldest boy is six feet, eight inches (203cm) tall, so we have pretty high body maintenance requirements. We literally have to 'feed the man meat'," he said.
"That means we have a pretty hefty beef bill each week, but we have a good thing going with Warburton's Butchery, our local butcher at Lawnton, near Aspley. I think my wife might be having a fling with one of the staff, she's there that often."
"To us, the independent butcher suits our requirements better. Like anybody, if we're running late we'll make a supermarket purchase, but for everyday beef, we stick to our preferred butcher."
"Obviously you pay for what you get, but I think beef is still pretty good value. But there is no value in rubbish meat, from my family's viewpoint. The grading and branding has made a big difference, because the supplier cannot hide behind anybody else."
Dan could not name brands carried by Warburton's butchery, but he said the important thing was that the butcher was prepared to back the brand.
He 'trusted' his wife to do close to 100pc of the family's beef purchases.
'We'd be eating beef for at least two or three normal diners each week, as well as entertaining. If we have people around, it's always barbecue – sometimes straight steak, or a rib-roast. Sometimes we'll do a beef and a pork roast in the weber at the same time. By the time they shrink down, there's not that much left to feed my boys."

For those interested in the result, Brisbane butcher and keen amateur chef Chris Luxton, pictured below left, won the Queensland MLA Beeflex competition, earning a trip to the US for a major barbecue event in North Carolina next year. His entry scored 127 points out of 150, just pipping Beef Central's Jon Condon, whose entry scored 125 points. The five finalists' recipes, chosen from hundreds of entries by three independent judges, will be published on Beef Central in the run-down to Christmas.