Meat thermometers can play an important role in decreasing the risk of food poisoning, but only 23 percent of Australian households own one, recent research shows.
Worse still, only one third of those households with a meat thermometer have used it in the last month, according to a Newspoll research study commissioned by the Food Safety Information Council.
Chairman of the FSIC, Dr Michael Eyles, says there are a number of great ideas on the Council's suggested Christmas gift list (see below) that will lower the risk for food poisoning, but the recent consumer study suggests a meat thermometer is an excellent starting point.
"A meat thermometer is a vital piece of kitchen equipment for both food safety and food quality reasons," Dr Eyles said.
"A meat thermometer ensures the safe cooking of poultry, and meat items such as mince products like hamburgers and sausages, and cuts of meat rolled-up for roasting. It is also a vital piece of equipment for amateur cooks wanting to get consistently good results from their cooking. It is not just about safety – you will be a better chef with one," Dr Eyles said.
"A meat thermometer makes a great Christmas present and they are available from good kitchen shops and electrical stores ranging in price from $12 to $35. It is not only a small price to pay for the safety of your family and friends, but also to ensure food is consistently cooked to perfection."
Dr Eyles suggests the thermometer be placed in the thickest part of the meat not touching bone or gristle. Poultry, sausages, hamburgers and rolled roast meats should reach an internal temperature of 75°C to ensure all food poisoning bacteria are killed.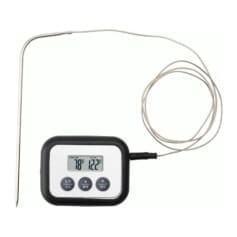 Pieces of beef, pork or lamb that are not rolled, stuffed or tenderised should only have (potential) contamination on the surface, so they can remain rare in the middle as long as the outside of the meat is fully-cooked to kill any external bacteria.
"There are an estimated 5.4 million cases of food poisoning in Australia each year, including 120 deaths," Dr Eyles said.
The risk of families contracting food poisoning increased around Christmas time as the weather warms up and home-makers prepare food for larger numbers of people, some of whom may be in the high-risk groups of the very young, pregnant women and the elderly.
Using something as simple as a meat thermometer could reduce that risk, he said.
The national Newspoll study of more than 1200 respondents, 18 years and over found:
Almost one in four (23pc) of households claimed to have a meat thermometer at home. This varies across the country, ranging from 27pc in Victoria, to 17pc in Queensland.
Higher income households are significantly more likely to have a meat thermometer. About 28pc of households with an income of $80,000+ claimed to have a meat thermometer, compared to just 17pc of households with an income of less than $30,000.
Among those who had a meat thermometer, only one in three (35pc) claimed to have used it in the last month, with half of these (18pc) claiming to have used it in the last week.

The Food Safety Information Council has also compiled a list of simple and fun Christmas gifts for:
The hands-on cook:
A cook can never have too many chopping boards – remember they aren't heirlooms and should be thrown out once they have nicks or scratches that trap bacteria. Why not give different coloured plastic boards for the separate chopping of meat or chicken and veggies.
New tea towels and separate hand towels are always useful so they can be washed often, and don't forget a nail brush for keeping hands extra-clean.
There are lots of cool and colourful containers with lids available now to separate foods in the fridge and stop meat and chicken juices leaking onto foods which won't be cooked, such as salad vegetables and fruits.
Fridge thermometers are available from good kitchen stores and will make sure the fridge is running at a food-safe 5 Celsius or below.
The BBQ Guru:
Keep friends and family safe with a meat thermometer which will also impress them with your cooking skills.
Replace those ancient rusty BBQ tools and perhaps even the BBQ itself (or at least give some BBQ cleaner).
The Picnic Lover:
Pick up a new Esky or insulated food container with plenty of refreezable cold packs.
Buy a new picnic set with plates and cutlery that are easier to wash than the ancient ones.
Give plenty of plastic containers with lids that will separate foods in the Esky and stop meat and chicken juices leaking on to foods which won't be cooked such as salad vegetables and fruits.
Some hand wipes or alcohol sanitiser to keep hands clean when picnicking away from running water.
The Food Safety Information Council is Australia's leading disseminator of consumer-targeted food safety information. It is a non-profit entity supported by the Australian Department of Health and Ageing, state and territory health and food safety agencies, local government, and leading professional, industry and community organisations.