DEVELOPING a carbon footprint-assessed program was a better entry point for producers than jumping straight into tradeable offsets, Meat & Livestock Australia's Livestock Genetics Forum was told in Adelaide yesterday.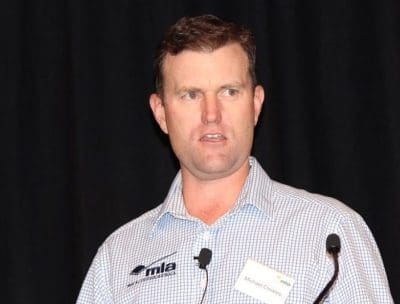 MLA's general manager, research, development and adoption, Michael Crowley (right), said he thought there is a lot of risk in jumping into the carbon market first.
"I think you need to know your baseline and when you understand the baseline it also gives you a lot of insights into where you need to start to look at how you offset your current emissions.
"And there are two elements to that: how do you become net zero in your own business and generate carbon credits and then there is a decision to be then made about whether you trade them or not," he said.
"And it might just be that there might be enough demand for low carbon products; there might be some premiums in the market that may outweigh selling the carbon credits.
"That's the sort of stuff that we need to do first — for anyone that is coming with a cheque up front, it could quickly become a liability, if they are not able to meet building the soil carbon thresholds that are expected," he said.
"So what we are doing is separating how you engage with the market, and the market needs to mature a lot, compared to what can you do in your business that builds soil carbon, offsets emissions and ultimately being productive can lead you into doing that.
"I think we can do that without reducing herd and flock numbers, improve productivity and get carbon credits off the back of best management practice," Mr Crowley said.
"I think it is a really interesting dynamic of how we then look at production, carbon and how you engage with the market."
Role genetics can play in meeting CN30
Mr Crowley said genetics had a big role to play in meeting MLA's Carbon Neutral 2030 strategy for the Australian red meat industry to achieve net zero greenhouse emissions by 2030, and with a co-ordinated research, development and adoption effort.
'Our customers expect that our industry is sustainable; they expect that we are leaving the land in a better condition than when we started'
"Our customers expect that our industry is sustainable; they expect that we are leaving the land in a better condition than when we started.
"And we're custodians of over 50 percent of the land mass of Australia, so we have a big responsibility, but equally we have a big opportunity.
"I think we've been unfairly tarnished as being an emitter of greenhouses gases, but equally we all know that we run a natural production system and when the herd and flock are at stable numbers we're sequestering carbon as fast as we emit it," he said.
"And we've halved our emissions since the 2005 baseline and we can really go much further and be a net zero industry.
"We are one of the few industries making the most progress in that space and genetics has a significant role to play," he said.
"We've now got some major beef and sheep projects where we are looking to select for low methane-emitting animals, in addition to the feed additive technologies and looking at the pasture makeup.
"The sheep industry is already claiming that they are climate neutral by not adding to further temperature rises, and that's a significant milestone on the journey to being carbon neutral."
Mr Crowley said the community had expectations on sustainability.
"I think the sustainability frameworks (beef and sheep) on making sure we've got in balance economic sustainability, environment and social elements so that can meet our community expectations.
He said on the fronts of environment, health, welfare and nutrition the red meat industry had a "pretty good story to tell."
"There is a few hot spots for us to keep an eye on and make sure we've got our house in order, particularly around pain relief and animal welfare – it's an area of focus – but again genetics has a significant role to play."
What surveys of supermarket shoppers show
MLA program manager genetics Hamish Chandler said around half the supermarket shoppers surveyed said they would feel more positive about eating red meat if the industry's emissions were reduced to zero by 2030.
"So consumers are talking about that – it is on their minds."
He said if the trends of rising population, concerns about sustainability and consumers claiming reducing red meat consumption continue to develop "it is fair to say" that the industry's social license to operate will be of much greater importance over the next 20 years.
"I think there will a focus on carbon neutrality, but I think that's going to be a given, it's going to be something consumers will have expected has been addressed by then – it's not going to be an aspirational target…
"But we will be seeing a much stronger emphasis I think on a much broader definition of sustainability including things like animal health and welfare, and also consumer well-being."