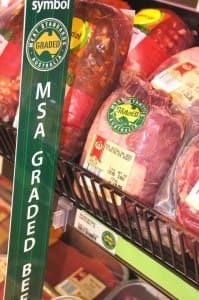 About 20 years ago the Australian beef industry, concerned about a serious decline in red meat consumption, asked consumers what they thought of Aussie beef. The results weren't encouraging, to say the least.
Many survey respondents said they had difficulty buying the quality of beef they desired.
81 percent said they believed beef price was a poor indicator of quality. 90pc thought the presence of fat also demonstrated poor quality.
But amid the smoke and debris was a glimmer of hope.
Consumers indicated they would buy more beef, and pay more for it, if satisfaction could be guaranteed.
The result was the creation by the Australian Meat & Livestock Corporation (the predecessor of Meat & Livestock Australia) of the Meat Standards Australia (MSA) program, with significant investments in research into meat science and livestock production aimed at improving and assuring eating quality.
The program was also underpinned by comprehensive consumer testing.
In fact, with over 100,000 consumer taste tests conducted in nine countries, involving over 700,000 samples, MSA is now the world's largest product testing program.
Almost two decades later, MSA-branded, eating quality-assured product now comprises a significant component of Australian beef and sheepmeat supply.
More than 42,000 producers are registered under the program, and 54 processors supply 130 MSA-based brands.
More than three million cattle were graded under MSA in 2014-15, representing 35pc of adult cattle slaughter in Australia.
The direct benefit to producers can be measured not only through improved consumer acceptance of their product but in the premiums they receive for MSA graded cattle. Premiums have increased from 15c/kg hot standard carcase weight in 2010 to around 33c/kg in 2015.
Review underpins program value
A just-completed review of MLA's performance from 2010-2015, conducted as part of its funding agreement with the Federal Government, has further underscored the value of the MSA program to industry.
Announcing the results at yesterday's MSA forum in Toowoomba, MLA General Manager – Livestock Productivity Jane Weatherley said the eating quality R&D and marketing investment had emerged as one of the standout programs in the overall evaluation of MLA spending.
"What it found is that for every dollar we invested over that period of time, we have returned about $12.5," she said.
"And that is net income benefit for industry of about $680 million."
She said MSA was a unique program which enabled industry to directly track benefits and demonstrate how much value the investment was returning.
Current MSA research underway includes a trial to assess whether certain HGPs have less impact on eating quality than others, a trial to review consumer acceptance of meat colour and to further understand the interactions between pH and meat colour at grading and packaging; and a further assessment of linking genetics with eating quality parameters.
Yesterday's MSA forum in Toowoomba also involved the launch of the National Eating Quality Audit Report. More details will be included in Beef Central in coming days.