DOMESTIC Australian red meat sales are under considerable pressure this month, as a powerful combination of economic and political factors erodes consumer confidence.
A potent cocktail including the looming Federal election, the Ukraine War, rising interest rates, and rising cost of living – especially for key inputs like fuel and energy – have dug deep into Australian consumer consciousness in recent months.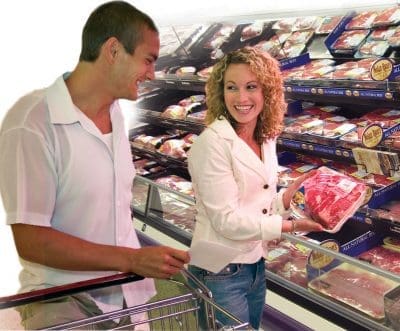 Some of this appears to be transferred into more restrained household budgets and consumer appetite to spend on more expensive items like beef and lamb.
Federal elections are notorious for creating added financial uncertainty in consumers' minds, and have frequently been seen in the past impacting spending patterns on red meat and other discretionary items.
Several large meat wholesalers with operations across eastern Australia painted a complex picture of what's influencing consumer spending patterns at present.
After a bright start to the year as the COVID veil started to clear, circumstances have changed dramatically since around March. Russia's invasion of Ukraine set the ball rolling in undermining consumer confidence, followed by the announcement of the Federal election, and more recently, the hike in interest rates, petrol prices and the shakey stock market.
"There's a lot going on in the typical Australian consumers' minds at present," one wholesale contact told Beef Central yesterday.
"The last four weeks' trading has been terrible, volume-wise," he said.
"People in the trade put prices up around Easter, on the expectation that supply was going to tighten. Instead, consumption of red meat has fallen. Retail and food service customers are very wary about buying meat forward, and consumers are the same."
"Consumers have clearly bunkered down."
Domestic market a 'safe haven'
The change in consumer sentiment comes after the domestic market had been seen as the 'safe haven' for the Australian beef industry over the past year, buoyed by solid demand and avoiding all the COVID logistics issues and currency challenges associated with export.
"This slide in domestic demand over the past month is presenting as a real issue," one large wholesaler told Beef Central. "We've seen volume turnover decline by 7-15pc in our business over the past four weeks. That's despite the relatively ample beef and lamb supply available now, compared with this time last year."
Despite the recent sequence of short processing weeks, red meat supply onto the wholesale market (for domestic or export use) remained reasonably solid, he said. With the A$ declining to around US 71c recently, more of that available product was now moving into the export channel.
"The flat domestic demand is already putting wholesale prices under pressure," the trade contact said.
"Some people have paid too much for meat earlier, and are now watching those prices start to slip. It means everybody is scrambling to get a position – everybody want to be current."
Retail prices charged for domestic beef have continued to ratchet up over the past six months, across both the supermarket and independent butcher sector.
Given recent developments discussed above, some consumers were now trading-down out of grilling steaks and roasts into ground beef, or in fact out of beef and into cheaper proteins like pork or chicken, one trade source said.
"But even budget beef is not particularly cheap anymore. A-cipher whole cow rumps that used to sell around $6/kg are today worth $10.50/kg in the wholesale market – more expensive than chicken fillets.
"Pork is selling as easy as anything. Chicken is the same – there's a distinct price gap against beef and lamb, and consumers, given their current mindset, are shifting more of their purchase decisions. It's a real concern, but people today have a tighter budget they are trying to stick to."
A large Brisbane retail butchery in a working class western suburb demographic told Beef Central its weekly meat turnover had dropped almost 40pc over the past four weeks – attributing most of that volume shift to deteriorating consumer confidence. That was despite some attractive beef specials, including reasonable quality budget whole rumps for $12.99/kg and whole budget ribs for $19.99/kg.
Some wholesale prices starting to decline
As always happens at this stage in the calendar cycle, cool-weather slow-cooking cuts suitable for casseroles and stews have held up a little better in price, but some other wholesale lines have now lost at least $1-$2/kg over the past month.
Striploins, cube rolls and similar cuts had typically declined $2/kg to $5/kg since February or March, one trader said.
"But even with those changes, if you took a five year average, red meat prices are still way up there. Red meat today is still expensive. There are pockets, in more affluent areas mostly, where turnover has not been so heavily impacted, but it's out there, especially in working class and first-home-owner areas," he said.
"It's hard to put a $20 steak on a plate every second night. Supermarkets are definitely trying to funnel consumers away from more expensive red meat, by running chicken and pork specials. I have seen very few red meat retail specials in supermarkets for the past 12 months."
With popular chicken and pork items currently around $9/kg wholesale, even beef trim looked expensive presently in the wholesale market, at $10 to $10.50/kg chilled.
Good YG striploins were currently wholesaling around $21-$22/kg, and cube rolls low to mid 30s, having got to $38/kg earlier, when really short.
Bigger kills ahead will test supply and demand
The domestic trade appeared to be at a turning point, after a couple of very good years, but larger beef kills over the next few weeks would apply a 'real test' to the domestic trade as supply volume grew, applying even more pressure, the wholesaler said.
"There's been a modest easing in livestock value recently, but red meat prices, both beef and lamb, are going to have to reduce a lot further for the trade to pick up," he said.
"People in the trade are holding reasonable stock levels, but now that it has gone quiet, inventory will rise, which always lends itself to trouble."
Another wholesaler said there were early signs of difficulty in getting money out of some debtors for sold meat.
"I can't see what's going to fundamentally make the domestic meat trade better before the end of the year," he said.
"Get the election out of the road, and find a solution in the Ukraine, and things (consumer confidence) may start to turn around a little – but right now, trading conditions are tough. There's a lot of different things that the pushing and pulling the consumer."
"Wholesale customers are now wary about going forward on meat purchases, for fear that price may come down further making the stocks they buy look expensive. And the processors are not offering cover out in front for wholesalers, because they don't know what the market will do, either."
"At least the lower Aussie dollar is helping the export side of the market."
Surveys show retail trade down
Recently-updated Neilsen Homescan data shows that domestic Australian consumer beef expenditure went down 3.8pc over the 12 weeks to the end of April. This was driven by:
A 9pc reduction in purchase frequency, which was offset marginally by
consumers spending slightly more on each purchase occasion, up 0.5pc
It's important to qualify the Neilsen data, however. It relates solely to domestic retail sales, not food service, and there have been significant changes in consumer behaviour compared with this time last year.
April 2021 saw food service still heavily impacted by COVID, while retail was enjoying a boom, as consumers stayed and ate at home. This year, spending at food service is sharply higher.
Given that there is some lag in the Neilsen data, wholesale meat trade contacts spoken to yesterday and this morning suggest that conditions have worsen since the end of April.
While acknowledging anecdotal evidence that consumer confidence is being eroded by current economic and political influences, MLA manager for group industry insights, Scott Cameron said it was still too early to see impact in actual sales data.
"There are some mixed signals. For example chicken prices have remained pretty flat over the past two years, yet chicken volume at retail in April has also trended down, Neilsen results show," Mr Cameron said.
"That perhaps reflects the resurgence in food service trade this year, more than anything."
It was still too early to pick up any recent change in consumer behaviour through MLA's consumer sentiment tracking.
"If it's occurring, it may be another month or two before it starts to show up in surveys," Mr Cameron said.
Anecdotally, however, MLA was hearing similar things about consumer activity, but it needed to make sure through survey work before considering making any adjustments in red meat marketing programs, he said.