Exceptionally dry and warm conditions across much of southern Australia has prompted the Bushfire and Natural Hazards CRC to update its Southern Australia Seasonal Bushfire Outlook for 2015-16.
In particular, the lack of Spring rainfall and the record warm temperatures have resulted in the bushfire outlook being re-examined for South Australia and Tasmania.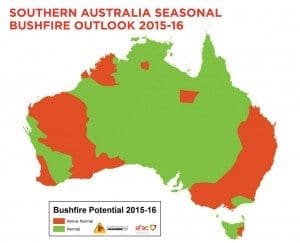 The latest Southern Bushfire Outlook report updated today can be viewed here
In New South Wales, the ACT, Victoria, Western Australia and Queensland, the Southern Australia Season Bushfire Outlook remains as described in the CRC's southern bushfire outlook report issued in September.