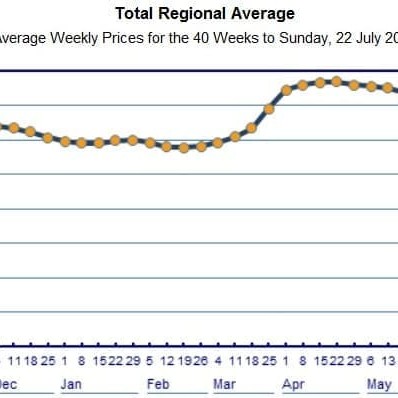 Diesel fuel prices in country and regional areas have continued their dramatic decline over the past month, currently averaging about 146c/litre, down about 7 percent from the April high point.
An easing in global geopolitical issues and supply shortages, combined with more bad economic news out of Europe, which is likely to curb demand, saw pump prices for diesel in country/regional areas across Australia averaged 146.3c/l for the week ended Sunday, June 22.
That's down 9.5c from the recent high point three months ago, easily the biggest correction since Beef Central started monitoring diesel prices for readers 14 months ago. It represents a saving of about $1900 on filling a typical 20,000 litre on-farm diesel storage, or $7 cheaper to fill a tray-back Toyota.
Weekly information released by the Australian Institute of Petroleum (see graph) for the week ending July 22 shows softer prices higher in all states and territories, compared with this time last month. Biggest movements were seen in Queensland, NSW and WA.
Regional non-metro diesel prices in the latest AIP report included:
Victoria 143.9c/l (down 5.8c on June)
NSW 146.0c (down 6.3c)
Queensland 145.1c (down 6.4c)
WA 150.4c (down 5.9c)
SA 146.3c (down 5.1c)
TAS 150.1c (down 3.8c), and
NT 162.9c (down 3.6c).
The prices are calculated as a weighted average of retail diesel fuel prices for country regions in each State/Territory. All values include GST.
The latest international oil market report says oil futures were volatile over June and early July, amid conflicting pressures on prices. Benchmark crude oil prices mostly plummeted in June after worsening euro zone woes, and with a backdrop of rising global inventory. Prices reversed course towards end-June and into early July, with benchmark WTI last trading around $85/bbl and Brent crude at $99/bbl.
Disappointing economic data for Europe and an earlier easing of tensions between the international community and major oil producer, Iran have also contributed to the longer trend, analysts say.
Variation in fuel oil prices can have a considerable impact of cost of production across the Australian beef industry, impacting on livestock transport, cost of shipping in live cattle and boxed beef exports, pumping stock water and providing station electricity in remote locations.
Crude oil, diesel and petrol prices are closely linked, as the price of crude oil accounts for the majority of the cost of producing a litre of petrol or diesel. Crude oil is purchased in US$, meaning that changes in the value of the A$ against the US currency have a direct impact on the relative price of crude oil in A$ terms.
Click on the image here for a better view of recent regional Australian diesel price trends.