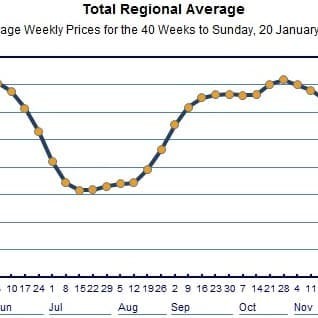 After displaying considerable volatility during much of 2012, diesel fuel prices in regional and country areas of Australia have been remarkably stable heading into January, with the national average finding a level at around 152c/litre.
As the graph here shows, weekly average diesel prices in most states and territories are now at their lowest level since early September last year. Prices have basically flatlined since October after showing variances of up to 12c/l during the preceding nine months.
Rises may again be on the horizon, however, as crude oil prices edged higher as 2012 drew to a close, gathering strength from seasonally stronger northern hemisphere winter fuel demand and geopolitical concerns centred on the Middle East oil producing region.
By mid-January, crude oil prices were trading above December levels, with Brent at $110.75/bbl and WTI around $95.15/bbl.
The graph here is based on weekly price reporting information drawn from regional areas across the country and released by the Australian Institute of Petroleum.
Nationally, diesel prices in country areas for the week ended Sunday, January 20 averaged 151.8c/litre, down 0.6c/l on a month earlier, but still 7c/l above rates in August before the most recent rising trend started.
Diesel prices in all states and territories last week were stable to slightly lower than a month ago, with biggest downwards movements seen in Western Australia, Victoria and NSW.
Regional non-metro diesel prices in the latest AIP report included:
Victoria 149.4c/l (down 0.5c on December)
NSW 151.6c (down 0.6c)
Queensland 151.1c (down 0.4c)
WA 155c (down 0.8c)
SA 151.5c (down 0.1c)
TAS 155.9c (down 0.5c), and
NT 167c (up 0.1c).
The prices are calculated as a weighted average of retail diesel fuel prices for country regions in all states/territories. All values include GST.
Variation in fuel oil prices can have a considerable impact of cost of production across the Australian beef industry, impacting on livestock transport, cost of shipping in live cattle and boxed beef exports, pumping stock water and providing station electricity in remote locations.
Crude oil, diesel and petrol prices are closely linked, as the price of crude oil accounts for the majority of the cost of producing a litre of petrol or diesel. Crude oil is purchased in US$, meaning that changes in the value of the A$ against the US have a direct impact on the relative price of crude oil in A$ terms.
Click on the image here for a better view of recent regional Australian diesel price trends.