WHILE only minor revisions have been made to national beef production and export forecasts in MLA's April quarterly industry projections update, currency movements, and to a lesser extent, weather, have performed differently than earlier expected.
Three months after the release of MLA's 2016 Beef Industry Projections, the A$ continues to trade well above earlier forecasts, reducing Australia's export competitiveness, and many grazing areas have experienced a hot, dry summer.
However the key performance indicators in MLA's April update have changed little in the past three months:
From a cattle supply perspective, numbers over the coming two years will fall to levels not seen in more than twenty years. This alone will more than likely stimulate strong competition between restockers, feedlots and processors for the limited availability.
The national beef herd is estimated to fall to 26.2 million head by 30 June 2016, before declining further in 2017 to 25.9m. If this occurs, it will represent a 3.4m head, or 12pc, fall since 2013 and become the lowest national herd for 24 years.
Working to partly offset the projected 16pc year-on-year decline in adult cattle slaughter for 2016, at 7.6m head, will be the expectation that average carcase weights will increase considerably. This assumption is based on much lower stocking rates, a greater proportion of lighter northern cattle exported live, a higher proportion of cattle on feed and fewer female cattle processed.
Beef exports are expected to fall as a result of lower production, not due to waning demand. Heightened competition from Brazil in many markets, the expectation of high US poultry and pork production, higher year-on-year US beef production and significantly weaker US beef markets compared to 12 months ago will also have an impact, MLA says.
As of March this year, US beef production is on track to exceed last year's level by 4pc, taking US production to 11.13 million tonnes. Not only that, but US pork production is now expected to rise 2pc, to 11.35mt and poultry up 3pc, to 18.64mt. In short, across the board for the major proteins in the US, production will be higher in 2016, on the back of abundant corn supplies.
In terms of trade, higher US production will be a negative on two fronts for Australia. US exports (largely to Japan and Korea – Australia's second and third largest markets), are forecast to increase 9pc year-on-year, to 1.12mt, while at the same time, US imports are forecast to ease 16pc, to 1.29mt.
If these forecasts come to fruition, it will mean Australian beef previously destined to the US could be redirected to other markets, and at prices below those enjoyed last year.
In fact, US imported 90CL prices have moved lower most weeks so far in 2016, with the average price for April at A549.5¢/kg – down 18pc year-on-year and 25pc below the record highs of August 2015. The extent to which prices continue to fall will be influenced by the speed at which cold stores clear.
Currency creating headwinds
After dropping below US70¢ in January for the first time since 2009, the A$ has unexpectedly strengthened to around US76¢, driven by a rebound in commodity prices, stronger than expected performance in the Australian economy, easing concerns over China and a weaker US$.
Looking forward, many analysts forecast the rapid shift in sentiment to consolidate and for the A$ to trade between the mid-to-low 70US¢ range for the remainder of the year, offering more support for trade.
"Placing this in context, the A$ actually averaged US74¢ in 2015 – on par with current estimates for how the A$ will be valued for the remainder of 2016," MLA said.
Mixed summer weather:
Another factor impacting industry performance since the January projections for 2016 were issued has been mixed weather conditions, especially in the north where the northern wet season had been patchy, at best.
Parts of Queensland and the Kimberley region of WA fell short of normal rainfall and endured hotter than average conditions. Some producers in the NT are concerned over the extent of the availability of feed and water for the upcoming dry season. However, there were also a number of areas where higher than average rainfall was measured, leaving those producers with a comfortable winter feed bank, MLA's April projections update says.
Southern producers are eagerly awaiting the autumn break, with the southern wet season commencing this month – and the Bureau of Meteorology suggests there are good prospects of at least average rainfall, especially in May/June, following an extended hot and dry summer.
Young cattle prices well supported, but heavier slaughter cattle challenged
The heavy/manufacturing end of the cattle market will continue to be challenged by the softening US market, growing global beef exports and the A$ in 2016, MLA says.
"For these reasons in particular, it is important for Australia to foster the integrity systems in place to ensure sustained market access and to keep in front of competitors on safety and quality attributes," it suggests.
The younger end of the market, on the other hand, will more than likely be supported by competition between lotfeeders and restockers for the significantly smaller pool of Australian cattle (currently estimated at 26.2 million head). This will only heighten if there is widespread relief from the ongoing hot and dry conditions.
Risk in market 'disconnect'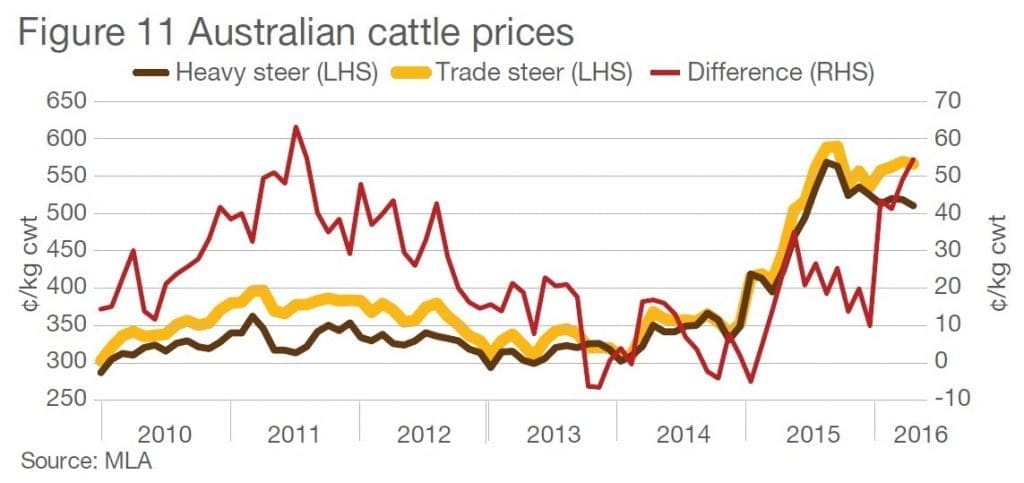 As Beef Central has been offering to readers for some months, MLA warned that 'disconnection' between young and finished cattle prices needed to be monitored closely, as a narrower margin leads to a riskier trade.
For 2016, the two indicators have trended in opposite directions (feeders dearer, and finished cattle cheaper) to an unusually high margin of 56¢/kg, carcase weight basis (as at 13 April), and is something all producers should be mindful of.
"Moreover, MLA remains confident that cattle prices in 2016 will average higher than 2015, but lower than the peaks recorded at the beginning of the year. 2017 will probably see a reduction in average prices – influenced by growing global supply pressures," it says.
Click here to view the April quarterly update for MLA's 2016 Beef Industry Projections