It should be no great surprise to meat lovers, but plant-based patties performed worst in a baseline consumer sensory analysis of alternate protein burgers versus 'real' burgers conducted recently, under support from Meat & Livestock Australia.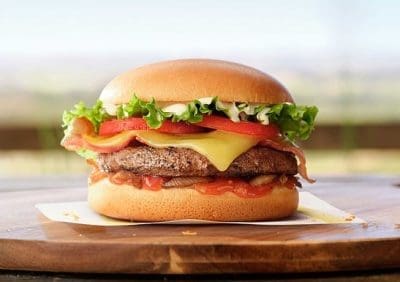 There has been a dramatic increase in the range of plant-based protein burgers in the Australian market in the past two or three years. The trend has also seen the introduction of so-called 'flexitarian' products, combining blended ground meat and plant-proteins.
The project was commissioned by MLA to gauge untrained consumer sensory and attitudinal response to a range of burger products, including meat-free and beef blend formulations, which have been recently introduced to the Australian market with considerable marketing and public relations support.
These market changes, and in particular aggressive promotion of an anti-meat agenda linked to claims relating to climate change, human health and animal welfare, represented a well-funded challenge to the industry with the project designed to establish some baseline knowledge as to both product performance, and consumer attitude to burger products ranging from pure beef to blends to non-meat.
"The new market dynamics are instructive in that, where butcher tradition may have been to add some vegetables and fillers to a burger or sausage to reduce cost and offer a lower retail price, the new paradigm has the non-meat products priced at a factor of 2 to 6 times a traditional low-end beef burger – the premium being asked for a claimed beef-like taste and the absence of actual meat," the project report said.
Some of the objectives of the study were to:
Design and deliver a Meat Standards Australia protocol sampling plan for five different burger patties
Procure burgers, recruit panellists and complete sensory tests, and
Record shrinkage yields from cooking from the sample size in terms of weight loss and diameter of the patties from pre- and post-cooking across the four burger types.
Consumer testing was conducted at Deepwater NSW representing a country demographic, and Helensburgh NSW representing an outer urban Sydney demographic. There were 60 consumers participating in each, aged 18 to 70.
Six products were tested with two non-meat offerings, two beef/veg blends, one high beef content and a 'benchmark' 100pc beef patty with no additives. A 95pc lean 100pc beef unseasoned patty was used as a standard 'link' product, served first to all consumers prior to the six test products which were rotated in a balanced presentational order.
The test patties were standardised for size (60mm diameter x 20mm depth) and to a 60gm weight and cooked for standard time to ensure a 70-75C internal temperature.
The products chose for the study were:
Beyond Burger – (Plant-based protein), Coles
NextGen2 Burger – (Plant-based protein), Woolworths
Type A Mince Prototype – (Blended beef and vegetable)
Beef BBQ Burgers – (fillers), Coles
85VL Mince – (no additives), similar to Coles or Woolworths mince
Cleaver's Chuck and Brisket Burger – (seasoning and sautéed onions), Coles
95VL Mince, similar to Coles or Woolworths lean mince (link sample)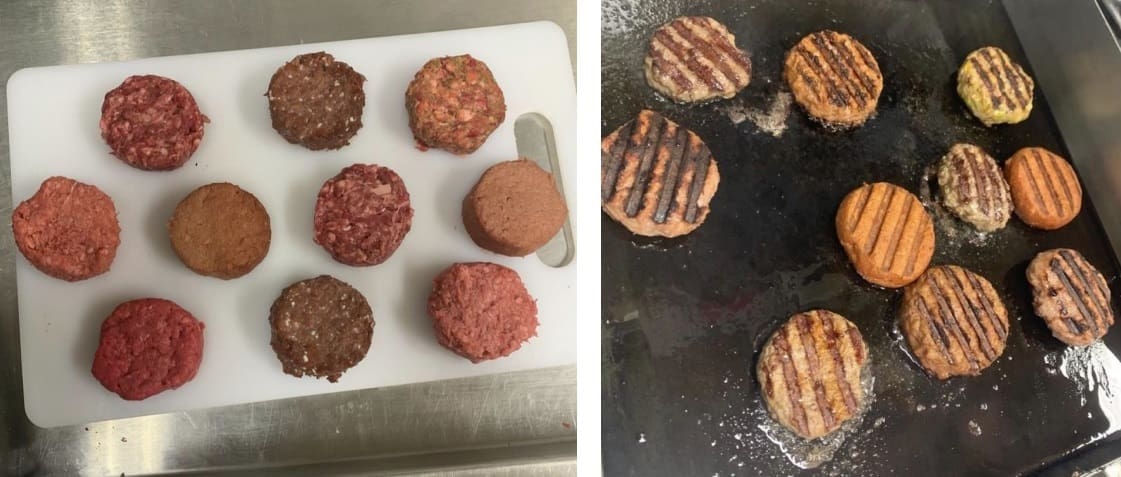 This project was established to gauge untrained consumer sensory and attitudinal response to a range of burger products, including meat-free and beef blend products.
While further improvement may occur in the non-meat products, this trial found that associated value claims would need to heavily relate to perceived benefits unrelated to the eating experience.
Blended beef patties were rated the highest by everyday Australian consumers, while plant-based burgers performed the worst, with 51pc of respondents rating them as unsatisfactory.
100pc beef patties were rated above plant-based products, but slightly below the beef blends. This correlates with increased cook loss and may reflect overcooking due to the standardised cooking times needed to achieve an internal temperature of 70°C, required for plant-based burgers, the researchers said.
Other factors affecting resilience to high temperature cooking could include lower fat content and, for the pure beef items, the lack of any ingredients that might reduce cook loss or enhance flavour.
The results of the project provide an important insight into what variables are valued by consumers in their burger products and related attitudinal responses that affect their purchasing habits, the project repot said.
Importantly, consumers also had a strong adverse reaction to the ingredient lists of alternative protein products.
"This project only represents a small number of samples and consumers, so more work in this space would lead to more conclusive results and increased reliability," researchers said.
It was recommended that further work be conducted to better define relationships to fat level in high beef content burgers, and to both minor ingredient additions and cooking regimes that may reduce cook loss, which was correlated strongly with reduced tenderness and juiciness in this study. Typical commercial food service patties have a fat content of 75-78CL.
Given the low to moderate sensory results for non-meat products, it was likely that premium priced marketing of these products would be based on unsubstantiated claimed benefits relating to human health and diet, animal welfare and climate impact, the report said.
"It is vital that industry continues to improve in these aspects and, critically, to successfully communicate from a solid science base resulting in a balanced factual appreciation at farm and consumer level," it said.
Flavour was the most important predictor of eating quality in burger products, the research found.
"The study demonstrates that beef is currently in a favourable position being preferred by 78pc of the project consumers and consistent across the country and city regions," the project concluded.
"Despite the hype, the alternative protein burgers tested rated below beef for sensory satisfaction, with one product extremely low and the other slightly less. In contrast, the blended products performed well, and slightly above the high beef products, with one (57pc beef) blended with largely natural vegetable ingredients and the other (78pc beef) containing more fillers typical of a lower price burger formulation," the report concluded.
The relative performance of the pure (100pc) and high-end beef (96pc beef) options was strongly related to increased cook loss. While this might reflect higher than ideal cooked temperatures, required to ensure food safety and comply with the alternative protein specifications, fat levels below those of the blended and alternative products could also have contributed, the report found.
The pure beef link product (just 5pc fat) and pure beef product (15pc fat) had no additives of any sort to provide a pure beef benchmark not confounded by additions that could impact flavour or mechanical properties.
In further studies and product development work it was suggested that a range of fat levels and limited use of ingredients that may reduce moisture loss and possibly further enhance flavour be examined.
"A significant beef marketing benefit relates to the complex and extensive ingredient listings for the alternative protein products coupled with their highly processed nature," the report said.
"It appears that consumers currently relate vegetable-based product with natural, minimally processed and environmentally friendly claims. These are not substantiated by fact, and consumer education could be useful in establishing a more balanced understanding.
The nutritional value of the tested alternative protein products was not known in sufficient detail to relate to bio-availability and their potential contribution to human diet across age groups and life stages, the report noted. It suggested that samples from this study or others be evaluated fully to rectify this situation.
"While the alternative protein products are likely to further improve given heavy development expenditure beef is currently very well placed as a preferred and trusted protein," the report found. "There are also indications that well designed beef blend products may add further market diversification while retaining a strong beef component. On current market dynamics these may also reverse past practice in being sold at a premium rather than blending being used to lower cost and price.
"From project outcomes alternative protein products offer lower sensory satisfaction, with beef flavour being the major determining component favouring beef products, with marketing likely to promote the plant-based product on the basis of environmental, health or animal welfare claims.
"These claims can be refuted from existing and developing science and it is vital that the beef industry continues to pursue improvement in these areas and to raise community awareness through a more balanced understanding of relevant facts," the report said.