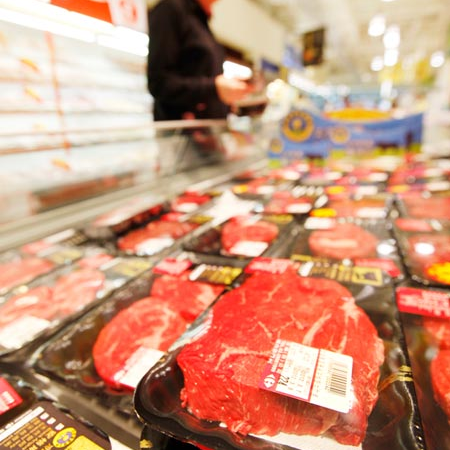 Trends picked up in a major consumer study by supermarket retailer Woolworths show how Australian society and life has changed from the perspective of how and when people shop, and what goes into the shopping trolley.
Woolworths' latest 'Trolley Trends' report show that over the 25 years reviewed, Australia has become a cosmopolitan community and our tastebuds have embraced global flavours.
The way Australians eat and how they spend their money on food and other costs of living tell a unique story about how the country has changed.
Woolworths commissioned the research into Australia's shopping habits with context provided by analysis of the Australian Bureau of Statistics' Household Expenditure Surveys, Census and Reserve Bank of Australia by prominent social researcher, KPMG's Bernard Salt.
The Trolley Trends report has revealed a vastly different Australia to the one that existed 25 years ago, and many of the trends have direct bearing on how the beef sector approaches to the domestic market.
The modern Australian household is less likely to have exclusive Anglo-Australian heritage, less likely to identify with religion, more likely to be highly-educated and more likely to have both partners working, the report found.
Today's family might be a single, a couple or have adult kids living at home well into in their twenties and still relying on mum and dad for support. And these changes are clearly reflected in their shopping trolley contents.
Woolworths supermarkets managing director Tjeerd Jegen said the report provided an exceptional insight into how the last 25 years have changed the way Australians shop and eat.
"A shopper from 25 years ago would be confounded by the offering in supermarkets of today," he said.
Trolley Trends key findings:
The big weekly shop is dead
On average, Australians spend just 34pc of their weekly food budget on their primary shopping day – they are increasingly using the supermarket like a pantry
Sunday is becoming the new 'Saturday' for supermarket shopping, with 18pc of Australians now making Sunday their primary shopping day, up 3pc points since last year
Aussie families focused on price
Households headed by a person aged 48-49 years spend $3548 more on food and non-alcoholic beverages each year than the average Australian
There was a 31.5pc increase in the number of children still living with their parents between 2006 and 2011 – reflected in higher food costs for longer for many households
More than one third of the items in Woolworths' supermarket trolleys are purchased on promotion
The proportion of items purchased on promotion at Woolies is up 10pc per annum
The trolley transformation
The potato was Australia's side dish of choice in 1984 accounting for 72pc of our side dish purchases. This has dropped to 39pc, with the popularity of pasta, noodles and rice increasing to now make up 61pc of side dish purchases
Australia's changing palate:
The 'meat and three veg' standard meal of the 1970s and 1980s has gone by the wayside
In the 1990s Mediterranean produce, including zucchini, garlic, eggplant and red capsicum, reached critical mass in our supermarkets
Medjool dates, figs, almonds and pomegranates were among the Arab and Persian items that reached critical mass at Woolies since 2010
Today shoppers will find 'super-foods' in store shelves including kale, blueberries and sweet potato as a standard in the Woolies fresh produce section
Share of wallet:
Housing costs (rent or mortgage payments) today account for the largest share of our wallets (18pc) and saw the single largest increase in household expenditure since 1984, up 380pc
Today food and non-alcoholic drink accounts for our second largest share of wallet (17pc)
Generation X has emerged as Generation debt – more than half of all households headed by a Gen X have a home loan and one third have credit card debt.
Background to Trolley Trends:
In August 2013, Woolworths commissioned multi-layered research to discover consumer sentiment among Australians. The research included analysis of statistics from the Australian Bureau of Statistics' Household Expenditure Surveys and Censuses of Population and Housing, the Reserve Bank of Australia along with analysis of Woolworths Everyday Rewards members' shopping habits, trends and spending. For this unique research piece, the company consulted with Australia's leading demographer, Bernard Salt KPMG who reviewed the results of the Household Expenditure Survey (HES) to understand changes to household expenditure over the past 25 years. Analysis of the spending behaviour of Everyday Rewards members, conducted by Quantium assessed the habits of 9500 members over a 24-month period ending 31 July 2013.