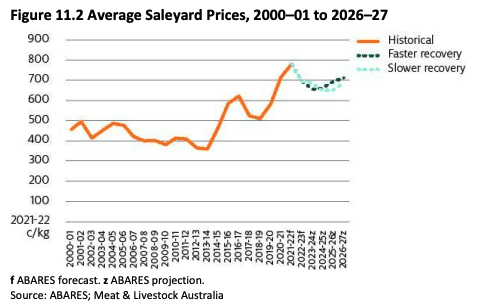 Saleyard cattle prices are on track to average a record 789c/kg in 2021-22.
ABARES' 2022 Agricultural Commodities Outlook released this morning underlined the extraordinary growth that has occurred in cattle prices over the past year.
This time last year ABARES' official Outlook forecast suggested cattle prices in 2021-22 would average 552c/kg, as herd numbers and cattle availability increased.
Few people could have accurately predicted the strength of price rises that occurred instead, driven by what turned out to be higher than expected rainfall and greater pasture availability, which in turn resulted in producers breaking cattle price records to secure stock in the tight supply environment.
High global beef prices also gave graziers the confidence to pay high prices and still have an opportunity to profit from future sales.
"The difference between the domestic cattle and world beef prices can be referred to as a confidence premium," ABARES analyst Jonathan Wong wrote in today's beef and veal outlook.
"Such a strong confidence premium has made Australian cattle amongst the most expensive in the world."
The total value of the Australian beef and veal industry in 2021-22 is estimated to climb to a record $15.7 billion, which is 8pc higher year-on-year.
What ABARES sees ahead for beef supply, demand and prices in 2022-23: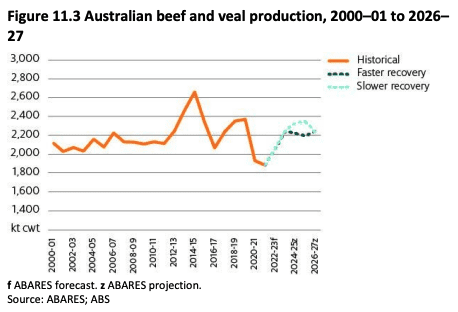 Higher beef production:  Production to increase from 1.9 million tonnes in 2021-22 to 2.1 million tonnes in 2022-23, due to greater availability of cattle, cheaper cattle and additional processing labour.
Increasing export volumes:  Exports to increase 6 percent to over 1 million tonnes, enabled by greater domestic production, and falling domestic cattle prices expected to make Australian beef more competitive against other beef exporters.
Demand rising steadily: Positive but slowing economic growth across major export markets to drive continued rises in beef consumption, with developing countries also expected to continue upwards trend of beef consumption due to increased wage growth and urbanisation.
Aust prices easing off record levels: Australian cattle prices are forecast to remain strong but ease back to 711c/kg in 2022-23.
This is based on a return to average rainfall slowing pasture growth, herd rebuilding and demand for younger cattle, compared to 2021-22.
"This will erode the confidence premium keeping Australian cattle prices high relative to competitors," the ABARES outlook states.
"Domestic price falls will be limited by world prices for beef, which are expected to remain relatively high through 2022-23."
Cattle herd rising over 23 million head: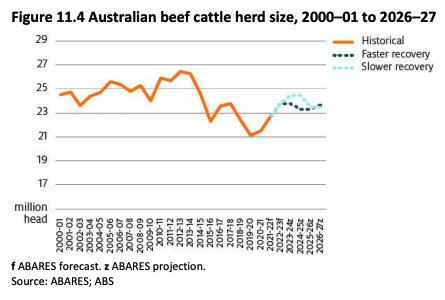 Other points from this morning's beef forecast:
World beef supply to slightly increase: US production to fall slightly while Brazilian beef exports to recover following recommencement of exports to China, while Indian buffalo meat exports also expected to increase.
Live export recovery to commence: After falling by 16pc to 649,00 head in 2021-22, cattle exports expected to begin increasing again in as more cattle become available and more affordable, and consumer incomes increase.