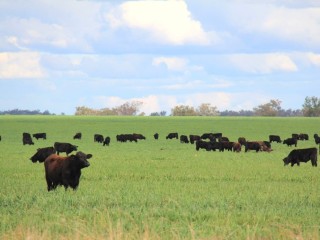 The Australian Agricultural Co will sell its showcase Meteor Downs grazing property in Central Queensland to Xtrata Coal for $21.6 million cash, the company told the Australian Stock Exchange yesterday.
Meteor Downs, totalling 17,474ha southeast of Springsure, currently fills a variety of specialised breeding and backgrounding roles within AA Co's operations.
The deal, bare of stock and plant, represents a land area value of $1236/ha. Analysts say the price is probably $6 million over current market value, representing a 30 percent premium over grazing valuation for developed Springsure/Comet country of this scale.
More will be disclosed on this on Monday when AA Co reveals its mid-year results, including a premium-to-book value figure on Meteor Downs following a late 2010 re-valuation.
AA Co managing director David Farley said the sale offered 'exceptional, compelling value' for AA Co shareholders. The agreed price was 'well in excess' of the book value of Meteor Downs, he said, and it underlined the strength and core value of AA Co's property holdings as well as supporting the balance sheet of the company.
"The sale is part of the process of realigning AA Co's property holdings to reflect the company's ongoing business strategy. Meteor Downs has become a non-core asset," Mr Farley told the market.
Capital released from the sale will be redeployed into other areas of the business, including increasing grazing land to support the company's northern trading operations and the beef processing facility it plans to build in Darwin.
Over much of the past decade Meteor Downs has drifted from its earlier backgrounding role for AA Co's nearby Goonoo feedlot into becoming the centre for genetic improvement in the company's Wagyu production system.
It currently supports an embryo transfer centre involving about 1500 Wagyu breeders; 4500 Wagyu F1 and F2 crossbred background cattle, mostly bred on Carrum and Avon Downs on the Barkly; 1500 commercial ET recipient cows; and 250 composite breeders. Annual turnoff amounts to about 2000 head.
The heavily developed buffel grass property also supports about 3000ha of cultivation, mostly used for forage crops, ands a 3000-head feedlot license, 1000 of which is currently developed.
Miners investing in cattle land
The business deal with Xtrata follows a recent trend in Queensland where graziers have sold their properties to mining interests outright, rather than striking gas or coal mining access agreements.
Land valuers have speculated recently about the emergence of a 'two-tiered' property market in areas exposed to mining interest, one reflecting the value of the land for traditional grazing purposes, the other for mining.
In a presentation prepared by Herron Todd White valuer Will McLay delivered at HTW's Brisbane property forum earlier this year, it was suggested that there was a trend for miners to buy whole properties in heavy tenement areas in Queensland. Premiums were dependent on vendors/purchasers involved in private negotiation, but were typically 10-30 percent above grazing land value, and had been above 40pc in the Taroom area.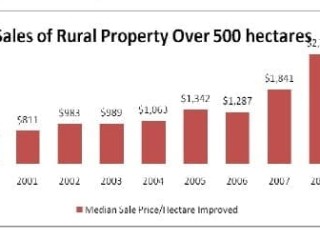 The graph shown here illustrates the recent strength of the grazing property market in the Taroom Shire, which has shown none of the market downturn seen more broadly across the Australian grazing industry since 2007. This strength was fuelled largely by mining interest.
Sales listed are for rural properties in the shire above 500ha. Click on the icon below for a larger view of the graph.
Four recent examples of Central Queensland property sales to miners were provided:
Tomaren Station, Moranbah ($5.75m, $1493/ha or $6570/AE)
Denham Park, Moranbah ($15.375m, $1220/ha or $5000/AE)
Grosvenor Downs, Moranbah ($10.5m, $1960/ha or $8650/AE)
Tallawalla, Bluff ($7.621m, $1297/ha or $4840/AE).
Meteor Downs was purchased by AA Co from American, Nelson Bunker Hunt in 1990 for the purpose of Santa Gertrudis and Brahman bull breeding. Hunt had bought it five years earlier from British Tobacco (AP&D). He sold it to AA Co as part of his Waxahachie Pty Ltd King Ranch aggregation.
AA Co's deal with Xtrata is expected to be completed in mid-August, and the company plans to transfer cattle activities currently carried out on Meteor to alternative properties. The embryo transfer program and stud breeding operations will be relocated to AA Co's Wylarah property, near Surat, which has undergone further development work.
Further development has also taken place on the Goonoo property not far from Meteor Downs which will lift backgrounding capacity for the feedlot on that property.
AA Co says there are no plans for any lease-back or cattle agistment options with Xtrata. Xtrata itself operates a large cattle operation on land occupied by mining leases, under its Colinta Holdings pastoral arm.
Colinta was formed 25 years ago under the former ownership of Mt Isa Mines, and is understood to support about 25,000 cattle today. The company's land assets extend from lower quality breeding country around Mt Isa to better quality land around Wandoan and Collinsville.
It seems most likely that the available grazing assets on Meteor Downs will be absorbed within Xtrata's Colinta operations.
It is widely known that another well-known Central Queensland beef producer, Graeme Acton has been in discussions for some time with Indian mining interests over the sale of one of his Clermont district properties. No deal has yet emerged.
Beef Central will post AA Co's half-year results announcement after it is made available to the ASX on Monday morning.