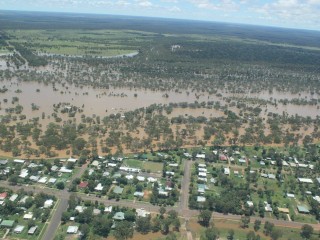 Helicopters and planes will continue the search for stranded livestock in flooded areas of Qld and NSW today, as an inland sea created by a week of intense rainfall forces mass evacuations of towns in both states.
Queensland farm group AgForce, with the assistance of the state's Department of Employment, Economic Development and Innovation, has been coordinating aerial surveillance of flooded rivers across Queensland since Friday .
AgForce president Brent Finlay said it was still too early to estimate the extent of stock losses and infrastructure damage caused by the floods, with an accurate measure likely to take weeks to determine.
Scroll down for more flood pictures at bottom of this article
He said the first priority for landholders was to protect life and limb, and to prepare their livestock as best they could.
The real work will begin once water has subsided and damage to houses and grazing properties becomes clear.
"This disaster is still a long way from over as water in the swollen rivers heads south spreading damage across a much wider area," Mr Finlay said.
"In the weeks ahead AgForce will use its links to both State and Federal governments to ensure physical and financial help is delivered to those who need it.
"We have already delivered a strong message to the State government that our people may need fodder drops to feed stranded livestock and will definitely need financial assistance to repair damage to infrastructure like fencing."
"Until then I extend the sympathy of all at AgForce to the townspeople and grazing communities in the midst of the flood crisis and wish those downstream all the best in coming days."
Inland sea
Floodwaters have created an inland sea stretching from Roma, Mitchell and Charleville to Surat and St George in southern Queensland and into several areas of northern NSW, where Moree, Gunnedah and Wee Waa have been among the worst affected areas so far.
Heavy rainfall in central western Queensland also caused flooding in a number of towns over the weekend.
Residents of Roma began their third major flood clean up in as many years yesterday. The town learned the heartbreaking news yesterday afternoon that the body of mother and Blue Care nurse Jane Sheahan had been found, two days after the vehicle she was driving was swept from a causeway as she was deliving sandbags to flood-affected residents.
Attentions in NSW are now turning further west to areas such as Mungindi, Walgett, Bourke, Lightning Ridge, Collarenebri and Brewarrina as floodwaters flow down from Queensland.
St George to face record flooding
Residents of St George were yesterday ordered to evacuate the town in the face of record flooding today.
The BOM said the Balonne River was expected to reach its record of 13.4m at St George at 6am today, and rises towards 15m are expected tomorrow.
Huge volumes of water from both the Balonne River at Surat and the Maranoa River at Mitchell are converging on St George and are likely to arrive at the town at the same time.
However mandatory evacuations were ordered at 3pm yesterday based on modelling by the Bureau of Meteorology which showed a likely peak of 15m.
Floodwaters inundate Blackall
Blackall in central western Queensland was the centre of an emergency on Saturday night when rapidly rising water broke the banks of the Barcoo River and flooded several properties.
Floodwaters entered a number of businesses including the tyre centre, newsagency and a clothes shop, as well as several residential houses.
Local stock agent Jack Burgess told Beef Central on Sunday morning that floodwater had gone within inches of entering the Grant Daniel Long office and was still lapping the top step of the building yesterday.
The flood peaked on Saturday night just below the town's 1990 record flood level. The speed of the flood's rise since Friday afternoon had caught everyone by surprise, he said.
Floodwaters are expected to remain at current heights for the next day or so as a huge volume of water upstream is still yet to flow through.
Mr Burgess said helicopters had been in the sky helping livestock producers to move stock where necessary.
"They had to cut fences and put cattle through in few places," he said.
"I haven't heard of any losses but I think there could be.
"It covered a fair area.
"There was five inches in the Alice River the night before last, it runs from Jericho, it will flood out and join the Barcoo further down the river, so it will cover a lot of country."
A number of properties in Tambo in the Barcoo River catchment were also understood to have been affected by floodwater over the weekend.
Chopper pilots clear rivers
Blackall-based helicopter pilot Lee Hansen has spent the past two days working along the Barcoo near Blackall, hunting cattle away from the river and associated creeks and channels wherever he can find them.
He said advance-warning that water was on its way from Tambo had given pilots and property owners time to act quickly, which had helped to move most stock away from flooded areas.
"We moved cattle to where we could get them, but there are a couple of spots down further where there are a couple of other major creeks that run into the river, and the river is only just getting to them now, so it is a bit of an unknown how high that is going to go," he told Beef Central on Sunday afternoon.
"Hopefully we have got everything up and away from it."
Mr Hansen said he had not heard of any stock losses at this point, but a lot hinged on how floods panned out.
"I believe there is a lot of water coming down from the Alice River, so we're hoping that gets through before the main Barcoo flood gets there.
"I'd say most people down there are on the go."
The water from the Barcoo will gradually move towards Coopers Creek at Windorah.
Maranoa River peaks
Mitchell in south western Queensland experienced its worst flood in recorded history over the weekend.
Mitchell district cattle producer Don Allen said a lot of his country on Albany Downs had gone under water after the Maranoa River broke its banks on Thursday night.
"I'm just sitting here now looking out the east towards the Maranoa River and all you see is from the garden fence to the river and beyond is water, heaps of water." he told Beef Central on Saturday afternoon.
"If I look out towards the west out our driveway, it is well and truly cut off as well, there is water right through to the St George road.
"It is the biggest flood we've ever seen here."
The previous record was reached in early 2010 when the Maranoa River peaked at Albany Downs at 10.8 metres. This flood peaked at 11.4 metres at 5am on Saturday, and had receded by about 15cm by Saturday afternoon.
Don moved cattle from his river country to higher ground on Thursday. After rapid overnight rises he had to swim another few hundred cattle through about 100m of water on Friday morning to ensure their safety.
He then faced a race on his quad bike against rapidly spreading water to get home,
"I had to outskirt the water, you could see it coming across the paddocks, but I had to outskirt it and shot around and worked my way around a few hills to get back here."
The Allen's neighbours Bruce and Anna Roberts also spent the night at Albany Downs as the record flood threatened to breach their homestead at Foyleview. Fortunately the river stopped rising just one inch below their floorboards and receded before entering the house.
"We had some anxious moments yesterday until it peaked at 5am," Don said.
Albany Downs has received about 200mm of rain so far for the week.
The Allens expect to lose some fencing as a result of the flood and have not yet been able to assess the status of dams on Albany Downs. In November they completed the reconstruction of a large dam that was damaged by the 2010 flood, so have their fingers crossed that it hasn't gone again.
Don said helicopters had flown over Albany Downs on their run down the Maranoa River on Saturday morning looking for stranded livestock, but did not call in, a good sign that none had been found.
He believed he would have no need for fodder drops because of the extensive body of feed the property was carrying.
The rain would provide lasting benefits.
"The season up until now has been great, and even the water is not as dirty as a lot of floods you get, because there is so much feed around this area, and I think it has helped to filter the water a fair bit.
"We didn't really need the flood, but it can only do once it settles down, and hopefully we can get a bit of rain to wash the silt away when it does go down."
Another potential issue in coming weeks will be three-day sickness. The Allens lost one beast to three-day after the 2012 floods.
"This is much the same time of year, so it will come again for sure," he said.
"The main thing we find is not to move them around too much, if you can just leave them alone they will tend to get over it on their own quite quickly.
"If you move them around and try and get them in, it is the worst thing you can do because that really knocks them about."
A second peak was expected in the Maranoa River on Saturday night, however Mr Allen did not believe it would exceed Saturday morning's 11.4m peak at Albany.