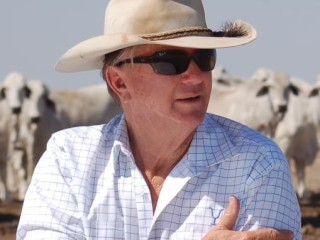 Northern Australian pastoral industry legend Ken Warriner will stand down from his operational role as chief executive of Consolidated Pastoral Company.
The Board of CPC and Terra Firma Capital Partners, its leading shareholder, today announced the appointment of former GrainCorp chief executive Mark Irwin as the company's new chief executive officer. Mr Warriner will remain as chairman of the board.
Mr Warriner had a serious health setback last year but is now well-recovered.
Mark Irwin joined CPC a week ago, and has assumed responsibility for all CPC's day-to-day operations, reporting to the board and shareholders. He has widespread operational and M&A experience, having held a number of senior management positions in the agricultural and mining sectors.

He was chief executive of GrainCorp from 2008 to 2010, before which he spent 11 years with BHP Billiton. During his term at GrainCorp Mr Irwin oversaw a significant shift in the grain handler and trader's structure, including buying the world's fourth-largest producer of malt, United Malt Holdings.
Chairman and chief investment officer of Terra Firma, Guy Hands, said CPC was a high quality business, and as the second largest beef producer in Australia, it was ideally positioned to benefit from a number of global macro-economic themes. They included global population growth, a shift in Asian diets towards higher protein consumption and the limited supply of productive land.
"We have ambitious growth plans for CPC and I am confident that Mark Irwin, with his experience in the sector and the region, will turn those plans into a reality," Mr Hands said.
He said Mr Warriner for 30 years had played a critical role in developing the CPC business into an industry leader and he wanted to thank him for his leadership of CPC during the two and half years that it had been within the Terra Firma portfolio.
"Ken has also championed the highest standards of conduct within the industry. I am also grateful that he has agreed to stay on and work alongside Mark to ensure a seamless transfer of responsibilities," Mr Hands said in a company statement.
"On behalf of the management team, I welcome Mark Irwin to CPC and look forward to working with him," Mr Warriner said. "It is the right time to bring in additional management expertise and it will enable me to focus on chairing the CPC board and working with the pastoral industry on the various challenges that are confronting it," he said.
Mr Warriner has been chairman and chief executive of CPC, for many years majority-owned by the late Kerry Packer, and its predecessor companies since its original inception in 1983. He presided over the company's vast Northern Territory, northern WA and North and western Queensland land assets from the CPC headquarters at Newcastle Waters Station, on the edge of the Barkly Tableland.
Mr Irwin said CPC had made a number of land acquisitions recently and he was excited at the prospect of leading the company through its next phase of growth.
"I also value the chance to work alongside Ken Warriner and to learn from his experience. He has an exceptional reputation within the industry."