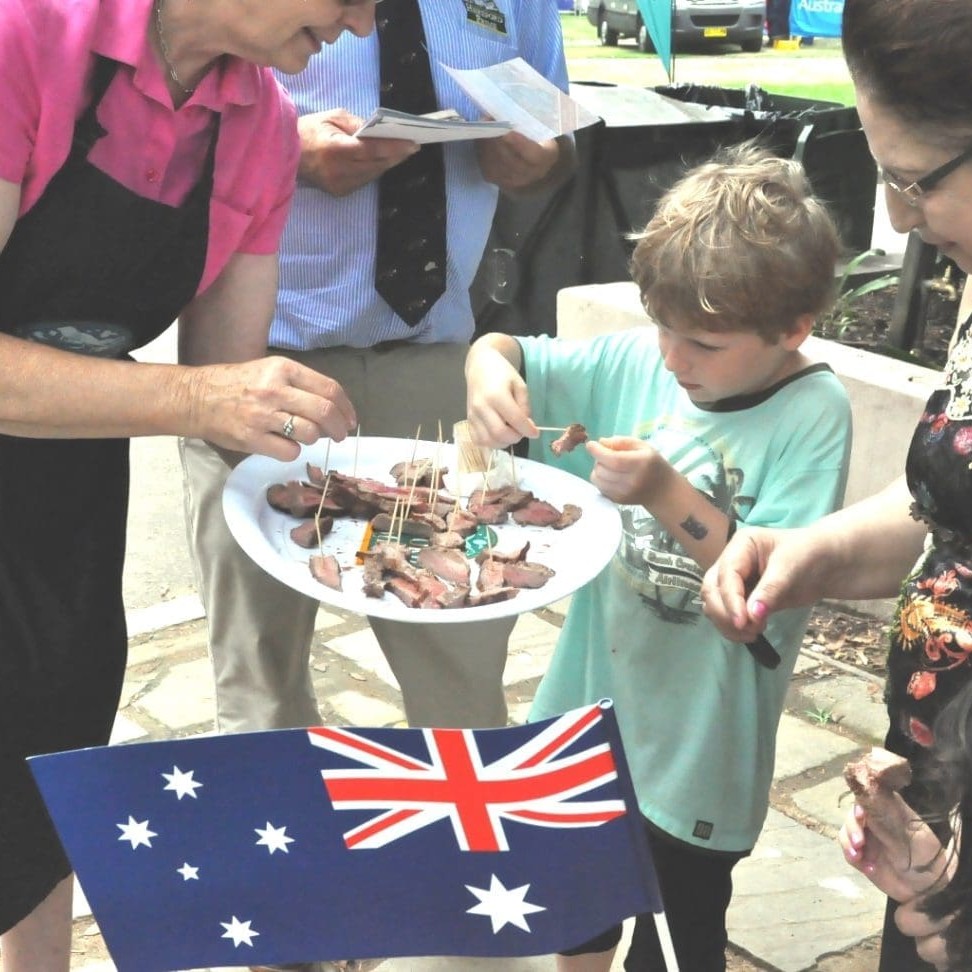 A talented Hereford bull named Hank will dazzle crowds in Sydney's Hyde Park tomorrow after travelling all the way from his handler's property near Toowoomba to take part in this year's Australia Day celebrations.
Owned by the Hereford Prime branded beef company, the extraordinarily tame Hank will be in Hyde Park all day, giving Sydneysiders an up-close and personal look at the Hereford breed, including the opportunity to have their photo taken with him and watching him perform.
Hank's handler Patrick O'Leary will also entertain the crowd with riding demonstrations and a series of whip-cracking tricks atop, beneath and beside Hank.
Hereford Prime director Dan Morice said Hank was truly a unique animal and crowds just loved him. "We're excited that through our support of the Australia Day celebrations, we have the opportunity to bring our little piece of the country to the city," Mr Morice said.
"2012 is the Australian Year of the Farmer so we are also celebrating the contribution farmers make to the everyday lives of all Australians."
Click here to meet Patrick O'Leary and Hereford Prime's 'Hank' the Hereford Bull
Four talented Sydney executive chefs will take to the stage every hour in Hereford Prime's 'Big Telly' precinct of Hyde Park to demonstrate the preparation of prepare delicious beef dishes and share their tricks of the trade. They include Uwe Habermehl from Sydney Convention & Exhibition Centre, Nathan Lakeman from the Bellevue Hotel), Paul Wightwick from Hart's Pub and and Riadh Debabbi from the Vibe Hotel in Ruschutters Bay.
Members of the audience will be able to sample and order Hereford Prime beef and take home recipe cards from the cooking demonstrations.
This year visitors to the Big Telly precinct can also see Hereford Prime products on display, watch educational beef demonstrations, collect their voucher for free Hereford Prime Beefy BBQ Bangers and enter the draw to win a weekend for two at Vibe Hotel Rushcutters.
Mr Morice said Hereford Prime's continued sponsorship of the Australia Day Council of New South Wales' Australia Day celebrations fitted in well with the ethos of the business.
"We're an all-Australian company, from the bush, and we're extremely proud to be involved in Australia Day activities in Sydney's biggest backyard on Australia's biggest day, for the third year running," he said.
Hereford Prime is a grassfed branded product produced from Hereford cattle grazed on the lush natural pastures of Australia's eastern seaboard. It is sought-out by top chefs for its consistent flavour, juiciness and tenderness, backed by Meat Standards Australia's eating quality guarantee.
There will be no Beef Central upload tomorrow, Thursday, being an Australia Day public holiday.