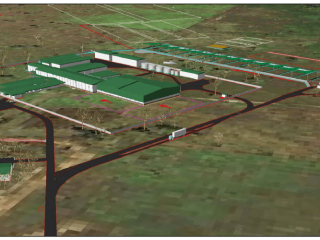 The Australian Agricultural Company's hopes of securing Government funding for its planned northern abattoir have taken a blow, with the NT Government overlooking the project in its 2012-13 budget, and the Federal Government passing responsibility for a funding decision back onto its Territory counterpart.
AA Co wants to build an $80m abattoir at Livingstone south of Darwin this year which will have the capacity to process up to 1000 cattle per day and to create 260 full-time jobs.
The project is seen as an important potential diversification option for northern producers who are heavily reliant upon a single market, the live feeder-cattle trade to Indonesia.
However, the $80m investment is contingent upon upgrades to public road, port and electricity infrastructure, which would require an additional $35m in funding from the NT and Federal Governments.
In an aggressive move earlier this year the company placed a deadline of March 31 on the project, stating that a solid funding commitment from both Governments was essential by that date for construction to commence at the start of the dry season.
That deadline came and went over a month ago, and, apart from an evidently unfounded $9m announcement by NT agriculture minister Kon Vatskalis at the Northern Territory Cattlemen's Association annual conference in Darwin, which he since has refused to discuss, there has been nothing but silence from both levels of Government on the issue.
ABC radio yesterday reported that the NT Government had ignored AA Co's request for funding in its 2012-13 budget, released this week.
The Federal Government will announce its budget next week, but signs from transport minister Anthony Albanese's office to Beef Central yesterday suggest that Commonwealth support is also unlikely, with a spokesman explaining that federal funding for the project is not currently being considered at this point.
The spokesman said the national road funding budget for the current six year cycle is fully committed through to 2013-14, and any changes to the current funding arrangements would require a formal proposal from the NT Government, which has not yet occurred.
"If the NT government came to us and said we would like to reallocate money that is earmarked for a particular project to this, we would give it serious consideration," the spokesman said.
"At this stage we have not received such a request from the NT Government.
"It is not that we are in any way antagonistic towards the proposal, the fact is the funding for the current six-year project is committed until 2013-14."
Asked if the Federal Government had the capacity to respond directly to a request from AA Co for funding support outside the current six-year Commonwealth national road budget, Mr Albanese's spokesman said the project would require a reallocation of existing funds.
"If they want to reallocate the money that is left in the program, all the NT Government has to do is write to us about that and we would give it serious consideration."
Minister Vatskalis' office did not return Beef Central's calls yesterday.