The Federal Government will develop a unified and cohesive national brand to promote Australian products in export markets.
The plan to create "Brand Australia", that positions Australia as an ideal place to visit, to invest in and to buy from, was included in the release of today's Foreign Policy White Paper by the Federal Government.
"A unified brand will bring ­together Australia's export strengths — such as tourism, agricultural products and education — under the one Australian banner," Trade minister Steve Ciobo said in comments quoted by the Australian newspaper ahead of today's launch.
"We want to make it easier for the world to buy Australian. That's why we're reinvigorating a national brand.
"We want to ensure Aussie exporters can use the country's strong reputation to sell more of their goods and services to the world."
He said a strong Australia symbol will help Aussie products stand out on the shelves across the world.
What the brand will look like, and whether it will be a new symbol, or build on an existing brand such as the Australian Made, Australian Grown registered logo, is not yet clear.
The 2017 Foreign Policy White Paper sets out a comprehensive framework to advance Australia's security and prosperity in a contested and competitive world.
The paper released this morning says Australia will develop "a stronger nation brand that reinforces our reputation as an internationally competitive investment destination, a great place to visit, a quality provider of education and a trusted exporter of premium quality goods and services."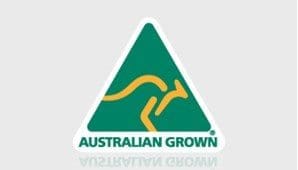 Aus Chamber backs Australian Grown symbol
The business sector has been urging the Federal Government to develop a cohesive national brand to underpin Australian export products and services for some time.
Back in march the Australian Chamber of Industry and Commerce said in a submission that the Australian Government was making investments in a 'fragmented approach' to Brand Australia.
The ACIC urged the Government to streamline those initiatives to develop an underpinning brand and set of messages that can be used by all stakeholders.
The ACIC said it supported the use of the "Australian Made, Australian Grown" (AMAG) logo as the common brand to identify "Australian" products.
"We recommend that the Government endorse this campaign as THE brand Australia symbol, to promote Australian products at home and abroad," the ACIC urged.
"We encourage the Government to redirect its current investment in brand development and focus on a partnership with the AMAG initiative."
Australian Farm Institute executive director Mick Keogh has written previously about the need for Australia to develop an over-arching 'Brand Australia' – see earlier article here