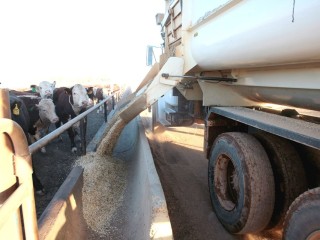 It's taken six months, but lotfeeders and their custom-feeding clients may again be looking at writing results from 100-day grainfed cattle in black ink, rather than red.
Profitability in grainfeeding export cattle is sneaking onto the right side of the ledger, based on Beef Central's latest breakeven calculation compiled yesterday showing a positive $6.75 trading result on a 100-day grainfed beast placed on feed yesterday and closing-out on January 23.
That's the best result seen since the Beef Central website was launched back on May 11, and represents a huge turnaround from the 'bleak days' of late May when a negative $89 figure was projected on the proposition of buying, feeding and selling for the 100-day grainfed market.
A gradual recovery towards lotfeeding profitability has been evident in the past three breakeven calculations. Beef Central's last exercise calculated on September 20 suggested a figure of negative $4 on 100-day cattle (editor's note: individual results may vary – see Beef Central's standard chosen variables at bottom of page). The two projections before that in early September and mid-August were negative $37 and negative $46 respectively.
The turnaround in profitability is being driven mostly by improved forward prices for grainfed export cattle, and a little easing in feeding cost.
An analysis based on yesterday's spot market for inputs suggested a breakeven figure of 388c/kg dressed weight, for 100-day grainfed steers ex-Darling Downs, going on feed yesterday and closing-out on January 23.
That's up 2c from 386c in Beef Central's similar breakeven done three weeks ago – a 0.5pc increase, primarily due to increase in feeder cattle prices.
There's been a 5c/kg rise in feeder steer buy prices since last time, now pencilled-in at 195c/kg. (Some feedlots may have to outlay a little more than this, perhaps 200c/kg to attract the right cattle, commentators said yesterday).
Finished ration price has dropped $10/t on the last calculation to $255t on the strength of international grain price movements over the past month (although some feedlots may have higher ration price than this depending on earlier forward grain purchase decisions).
Total production cost was calculated at $1369, a 0.7pc rise from $1360 last time. That's based on flatback feeder steer purchase plus typical feeding program, and a 1pc mortality rate in the yard.
The other big influence on the outcome is the over-the-hooks forward sale price for January week four, which has been raised from 385c/kg to 390c/kg. That forward figure has now lifted a full 50c from the low 340s back in mid-July.
The forward price might come under some pressure, however, if the A$ continues its current drive back up towards parity with the US$, after settling last week in the mid-90s. The A$ this morning was worth US99.61c, according to Westpac analyst Justin Leavey.
Yesterday's spot market price for 100-day grainfed ox among southeast Queensland processors was around 365-370c. With forward-bought cattle purchased back in July in the 350s, processors today are currently in the money to the tune of 20c/kg, worth about $60 a head, according to Beef Central's calculations.
Modest profit replaces 'horrific' losses
Before readers get excited about processors again making a little money out of killing grainfed ox, however, it's important to reflect back to earlier days in June/July when they were notching-up horrific losses of $200 a head or more on the same cattle, forward-bought. Even Beef Central's previous breakeven calculated three weeks ago still showed processors closing-out losses estimated at $30 a head on ox.
Does the prospect of modest profit, not seen in half-a-year, mean that custom-feedlots are likely to start to fill up with clients' cattle? Highly unlikely, Beef Central's grainfed trade contacts say.
To start with, let's look at current grid prices for grass and grainfed ox. The JBS Southeast Queensland grid yesterday quoted 100-day grainfed 0-2 tooth bullocks (GD) at 370c/kg, while best grassfed ox (importantly, also including four tooth) were just 10c behind at 360c.
That grass/grain differential has drifted as low as 5c recently, meaning there is little market incentive in chasing the GF cipher, particularly while there is such an abundance of feed about.
"There are some dry areas of the continent out there that do need a seasonal break, but most producers are not in a position where they have to move cattle off pasture at this point," a reliable trade contact said.
"Therefore, their willingness to put cattle onto feed speculatively is not very likely. At the end of the day, they can get good money for their feeders – probably as good as it has been for a number of years."
"Restocker prices are still very dear. Replacement cattle around 300kg this week in Roma were making 230c/kg liveweight. Prices like that probably reflect a large degree of optimism in beef markets going forward, and is supported, also, by another positive summer seasonal outlook, and the optimistic nature of beef producers generally."
Even at a currency rate of US95-98c, Australian grainfed beef on the world stage is still relatively expensive compared with competing US product. But the big acid test will come around the second quarter next year when it looks increasingly likely that beef supply in the US will 'hit the wall', as a result of drought. International beef prices are moving higher, steadily, but not as quickly as cattle prices at present.
It is just possible, however, that there might be a little strategic placement of cattle into feedlots early next year in anticipation of grainfed export beef shortages out of the US leading into April/May.
Beef Central's regular 100-day grainfed breakeven scenario is based on a representative standard set of production variables, ex Darling Downs. They include a 356kg dressed weight; average daily gain of 2kg; consumption 15kg and a feed conversion ratio of 7.5:1 (as fed); $25 freight; interest component. It is important to note, however, that variations can exist across production models (feed conversion, daily gain, mortality, morbidity, carcase specification); from feedlot to feedlot; and between mobs of cattle. For a more specific performance forecast on a given mob of cattle, consult with your preferred custom feeder.