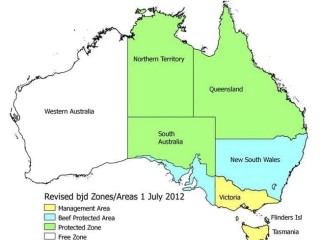 The Cattle Council of Australia and AgForce say they remain committed to the current policy of controlling and attempting to eradicate Bovine Johne's Disease in Queensland, despite mounting pressure to hand management of the disease back to farmers.
The discovery of three animals with BJD on a central Queensland cattle stud last November has resulted in more than 100 client properties being placed under movement restrictions until testing results confirm how far the disease has spread.
Originally more than 170 properties were quarantined but that number has now been reduced to less than 125.
So far an additional two Rockley animals on client properties have returned initial test results that suggest they may also have BJD.
Additionally, a property at Charleville has been placed under quarantine after agistment cattle from Victoria showed signs of sickness soon after arriving on the property. They are being tested for possible BJD but at this point the cause of the sickness has not been confirmed.
Under the National BJD Control Program, Queensland is classifed as a "Protected Zone", meaning that properties in the state suspected of having the disease are quarantined and tested, with high-risk animals destroyed to preserve that status.
Resistance to control policy
When representatives of industry groups, breed associations and government met in Brisbane before Christmas, a general agreement was reached to wait for the results of the first round of faecal culture tests in March before deciding on the best path forward.
However, a strong campaign has been waged against control and eradication efforts, led by prominent Victorian stud cattle producer and long-time Johne's policy-critic Don Lawson.
Opponents of the policy argue that BJD causes minimal losses in affected herds, and, with a new vaccine and faster test due for release next month, believe management of the disease should be handed back to farmers, as occurs with other notifiable diseases such as Leptospirosis.
Producers on quarantined properties who are bearing the direct burden of the control effort have also increasingly spoken out in recent weeks about the heavy impacts they are enduring, and their fears of losing healthy and genetically valuable animals in the event of a positive BJD test, a concern exacerbated by the fact Queensland has no state-based compensation fund in place to assist affected producers.
Industry holds whip-handle
While the Queensland Government is currently overseeing control of BJD in the Queensland, it maintains that industry holds the whip handle on how the disease should be managed in the State, and says it will be guided by industry leaders as to whether Queensland's Protected Zone status should be maintained.
Cracks in industry support for eradication began to show last week when the Australian Brahman Breeders Association responded to pressure from its members and withdrew its support for the current approach at a meeting in Rockhampton (more details in separate story).
Despite ABBA's change of position, cattle industry leaders at AgForce and Cattle Council of Australia are standing firm in their support of control policies.
They believe that simply throwing the door open to a disease that has the potential to cause production losses, and the potential to be used as a trade barrier, is not the right approach while the chance exists to control BJD in Queensland.
AgForce stands firm
AgForce Cattle Board President Howard Smith said a campaign of misinformation had fostered unrealistic expectations that BJD can be easily controlled at farm level. He said the forthcoming vaccine will have limited effectiveness and will not provide a silver bullet solution to managing the disease.
He said claims that BJD was a disease of minimal consequence were also disputable, with some producers in Southern Australia having reported serious production impacts from BJD infections in their herds.
Mr Smith said Australia's clean health status had long provided a considerable trade advantage and preserving Queensland's Protected Zone was critical to sustaining existing markets for the State's high-quality livestock.
He said dozens of live cattle markets imposed restrictions on imports of cattle from BJD-affected herds, with large markets such as Japan, Russia and Israel imposing a minimum requirement that herds be free of BJD for at least three years to be eligible for entry. Indonesia has a minimum requirement of five years freedom from BJD.
Click here to view a current list of importing country requirements for BJD from AgForce
"Keeping this status should be a priority if we are to fully protect our existing markets and provide surety of these markets into the future for more than 11 million head of cattle in Queensland and the financial viability of the people who produce them," Mr Smith said.
"The technical advice we have from the Queensland Government says we can control the disease and it is far too early to give up on protecting our State from BJD."
He said AgForce acknowledged that a small group of affected people was having to work through quarantine and testing regimes to eradicate the incursion, and he said the organisaiton and the Queensland Government was working quickly to develop an adequate assistance package to help offset the negative impact they were facing.
"We understand this is by no means easy for those impacted, however, an all of industry approach must be taken for the long term benefit of the entire cattle sector."
Cattle Council: A genuine market access issue
Cattle Council of Australia president Andrew Ogilvie, a South Australian cattle producer, said BJD presented a genuine trade issue.
Japan was currently working to eradicate BJD from its herd and tested all imported cattle for the disease.
While other important live export markets such as Indonesia and Malaysia did not currently test every animal, BJD-free protocols still "lurked in their legislation".
"They don't want animals that could be infected with BJD," Mr Ogilvie said.
"It hasn't been an issue, but it could be an issue.
"Industry's thinking is that we're better off trying to keep on top of BJD than just throwing our hands in the air and letting it go, because if it ever did become a trade issue, it is easier to control it or do something about it if we've got a low prevalence.
"I don't think the answer is to throw our hands in the air and let it rip."
Asked at what point the cost of imposing movement restrictions on large numbers of properties and the destruction of genetically valuable animals would be deemed to outweigh the potential benefits of keeping BJD under control, Mr Ogilvie said that question was a constant balancing act for industry leaders.
"There is a lot of balancing and decisions to be made as to where that point is, but it is premature to talk about that sort of thing until we get an indication of how bad it is (through the ongoing testing program)."