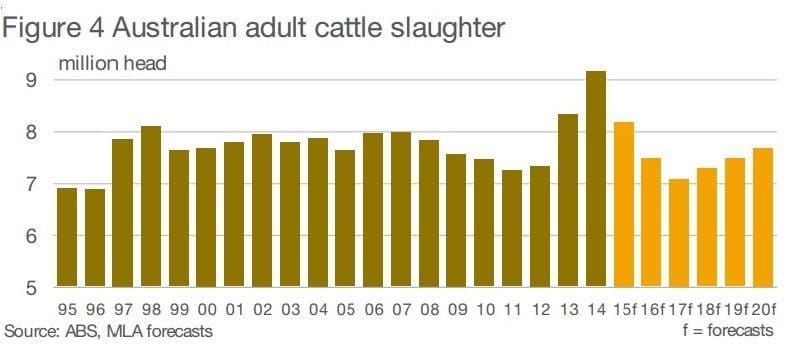 HIGHER-than-expected slaughter during the first three months of 2015 due to persistent drought conditions has caused some substantial adjustments to Meat & Livestock Australia's industry forecasts for the remainder of this year.
Issuing its first quarterly update on January's original 2015 industry projections this morning, MLA analyst Ben Thomas and his team have acknowledged that the current slaughter year has started much more vigorously than many expected, especially in Queensland and NSW, where the worst of the drought effect is being seen.
MLA now has 2015 beef cattle slaughter at 8.2 million head, up 400,000 from an estimate of 7.8 million head only three months ago. The January projection was compiled on the expectation of an 'average' seasonal year across Australia.
MLA has this year implemented quarterly industry projections updates for the first time, and the current unexpected seasonal circumstances have highlighted the wisdom of updating forecasts more frequently.
In concert with the cattle turnoff forecast, MLA now has 2015 Australian beef production at 2.28 million tonnes, up from January's estimate of 2.19mt.
This morning's quarterly projections update suggests high slaughter will continue through the second quarter of 2015, before tapering off as the year progresses. That's provided average rainfall is received at the beginning of the wet season, at the end of this year.
Supporting higher slaughter through the first half of the year will be current and projected high numbers of cattle on feed, which may serve to reduce the degree of contraction – when it eventuates.
Medium term effect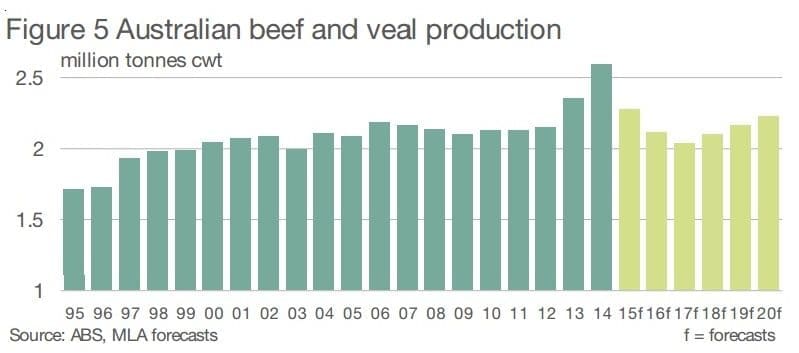 Another signal to emerge from this morning's update is that the current high kill will somewhat delay the anticipated slump in beef production that will inevitably follow three years of herd contraction. But when it happens, the decline is in fact likely to be deeper, and perhaps more prolonged, than previously anticipated.
MLA now anticipates a 9pc year-on-year decline in Australian adult cattle slaughter for 2016, to 7.5 million head, before bottoming-out in 2017 at 7.1 million head.
With slaughter adjusted higher, and carcase weights expected to be steady with last year, Australian beef and veal production this year is now anticipated to be 2.28mt – back 10pc from last year.
January's projection was for production this year at 2.19 million tonnes, representing a deficit of a further 90,000t.
The projected large number of cattle on feed will act to partially offset the proportion of store cattle slaughtered, which is expected to be significant, especially in northern Australia.
In line with slaughter, the greatest decline in production is likely to be felt in the final quarter of 2015, part of a period of consistently lower year-on-year production throughout 2016 and 2017.
While MLA's January report suggested beef and veal production would reach its low-point in the cycle next year, driven by current high kills, it now anticipates the bottom of the slump will happen a year later, in 2017, when volume is likely to reach 2.04 million tonnes.
That's back a further 7pc on 2015 volumes – stimulating strong competition for what will be a very tight pool of beef.
MLA suggests that the ongoing strength of cattle prices will be directly impacted by the country's weather conditions over the next three months.
"Australian cattle prices started 2015 on a very positive note, with the Eastern Young Cattle Indicator averaging 437¢/kg over the March quarter – the highest quarterly average on record," MLA's market information manager Ben Thomas said.
"A strong kick in the market is almost certain if widespread rainfall is received. As we saw in January, the cattle market had an almost immediate reaction when prices jumped more than 70c/kg in a matter of weeks," he said.
"Going forward, the cattle market outlook will depend on whether or not the positive three month rainfall outlook comes to fruition, and the timeliness if it does."
Following higher than expected cattle slaughter across the eastern states during the first quarter of 2015, the national adult kill has now been revised up 400,000 head to 8.2 million.
Mr Thomas said this year's cattle slaughter forecast, while this was still 11pc below last year's three-decade high, would result in a rare sequence of three consecutive years with more than eight million adult cattle killed.
"The robust global demand for Australian beef will remain in play and act as support for cattle prices here at home, but a significant contraction in turnoff is needed to sustain support for the market," he said.
International demand for Australian beef for the remainder of the year is set to continue with the same intensity as the first quarter and exports are forecast to reach 1.15 million tonnes, back 11pc year-on-year, but still the third consecutive year over one million tonnes in volume.
After three months, beef exports are up 8pc year-on-year, at 297,000t, with the US comfortably the largest market, accounting for 36pc of volume, followed by Japan (23pc), Korea (12pc) and China (9pc).
Click here to view the 2015 cattle industry projections Q2 update released this morning, or click on Youtube clip below to see Ben Thomas's video summary.