Beef herd recovery rates will differ markedly across Australia
AS the Eastern Australian beef industry attention begins to focus on herd recovery after two years of extreme drought, it's becoming increasingly apparent that different regions are likely to get back on their feet much quicker than others.
The table published below suggests that regions including the Northern Territory, Tasmania and Victoria are likely to restore cattle numbers to ten-year average herd size (green bar) within the next two years.
In contrast, Queensland – the dominant Australian beef-producing state, accounting for about 45pc of the national total – could take at least six years to get back to ten-year averages, and South Australia, five. New South Wales is somewhere in the middle, with expectations of three years to return to long-term averages.
In the table published below, green highlights indicate the first year when each state is forecast to return to at least the ten-year average.
Estimated return* to average herd size
Source: ABS, MLA calculations. * Assumes average branding rates and seasonal conditions, this would be the natural replenishment of the herd. Click on image to enlarge.
The data was compiled by Meat & Livestock Australia as part of its annual industry projections discussions with processors and other large industry stakeholders towards the end of last year.
The contrasts flagged in the table suggest the region loosely termed 'northern' Australia (Qld, NT and top half of WA, accounting last year for an estimated 52pc of the national herd) will not return to ten-year average herd size until year 2021, while the southern states, including the bottom half of WA, will restore much sooner – by 2018.
The forecast makes a number of assumptions, including 'average' seasonal conditions for Australia's cattle producing regions for the period to 2021.
The forecast was made prior to Christmas, but the very patchy nature of the summer season in Queensland since then, and the lack of any real sign of a monsoon season this summer could impact further on rates of northern recovery.
Several factors will inevitably delay the herd recovery process in northern Australia:
The inherent fertility performance of Bos indicus cattle versus Bos Taurus
Conception and branding rates in extensively-managed northern regions, where nutrition, climatic conditions and breeder paddock sizes are more extreme
External factors such as the new Indonesian Government requirement for between 10 and 20 percent of all live export cattle to Indonesia to be made up of breeding heifers. Some stakeholders suggest that could involve at least 100,000 northern Australian heifers this year.
MLA chief analyst Ben Thomas emphasises, however, that a couple of wet years in a row (like those experienced in 2012-13) would push the rate of recovery in Queensland sharply higher.
"Successive wet years would significantly accelerate the rate of herd rebuilding, especially in the north – but conversely, a couple of particularly dry years would delay the process," he said.
Beef Central asked Mr Thomas what impact recent profitability in the production sector, with near-record high cattle prices since 2015, could have on herd recovery – especially in areas like additional nutritional support through expanded supplementation programs, as budgets allow.
"Profitability is certainly a factor," he said. "It's certainly plausible that higher average producer returns will have an impact on herd recovery."
When indexed against year 2000 prices beef returns certainly stood out against other commodities, including wool, lamb and wheat, based on ABARES estimates seen in the graph below.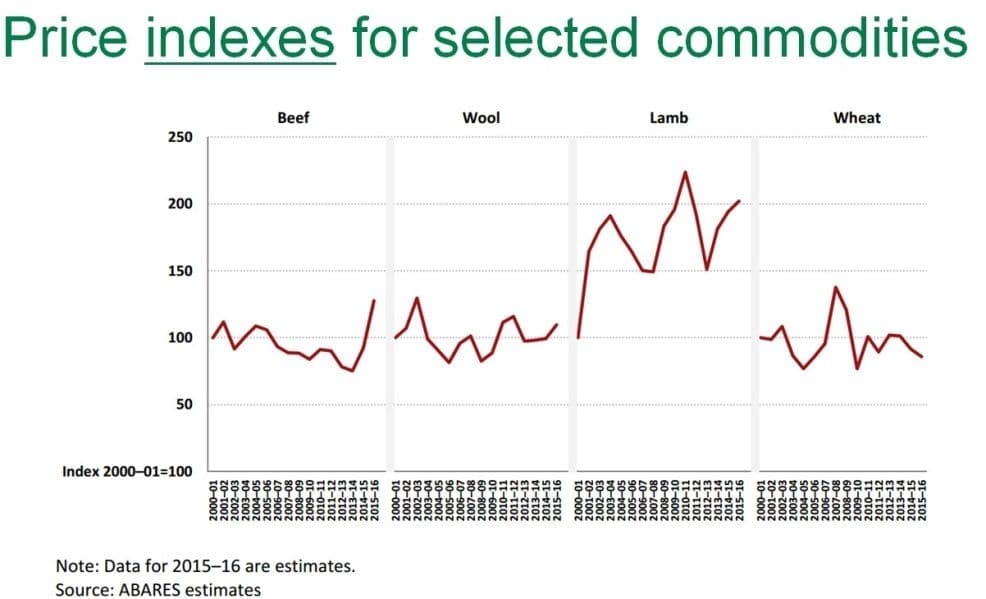 Potentially, in southern Australia, dual-purpose producers switching from other commodities back into beef could aid the forecast rates of beef herd recovery, Mr Thomas said.
"And with the value of young cattle at the moment, there is definitely the incentive for producers to invest that bit of extra capital at the moment to deliver some nutritional support to underpin calving performance," he said.
Projections forecasts
MLA provided some commentary on likely rates of herd recovery in its annual industry projections released on Monday.
"While the Australian cattle herd is expected to increase during 2017, for the first time in three years, rebuilding would be "by no means uniform", the report said.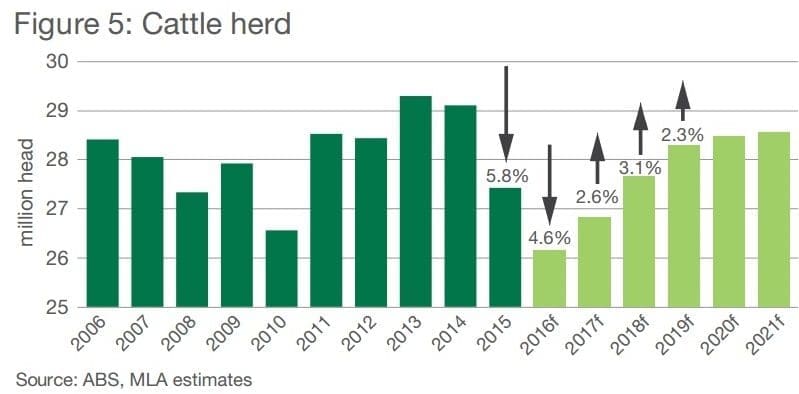 Assuming an average 'natural fall', the southern Australian herd could return to pre-drought levels by 2018. In contrast, the northern Australian herd is not only in greater deficit, but the extremely hot conditions during November and December are likely to have inhibited the otherwise anticipated above-average branding rates in early 2017. Pending severity, this could further delay rebuilding in some northern regions.
"It seems unlikely that the full Queensland herd will recover to pre-drought levels until 2021," the Projections report said. "However the Queensland and northern rebuild could be accelerated considerably if the regional average branding rate exceeds 70pc (only likely if 'above average' rainfall is received)."
If this does occur, it's likely the northern herd will recover by 2019-2020.
At the same time, the report noted the significantly lower variation and the consistently higher average branding rates from year-to-year in southern Australia compared to the north.
"This will more than likely always see the southern herd deficit recover quicker than the north," it said.
The female percentage of adult cattle slaughter on a rolling 12 month average edged below 47pc for the first time in 35 months during November 2016, indicating that the herd is now well on the way to recovery, MLA said.
All-in-all, however, national cattle numbers are anticipated to increase 3% year-on-year in 2017, to 26.9 million head, with the majority of that increase not anticipated to be realised until the second half of the year.
Thereafter, and again assuming average seasonal conditions, diminishing herd growth rates are predicted through until the end of the projection period (2021), when the herd is predicted to reach 28.5 million head, within 3 pc of the 2013 peak.