Brazil's record year for exports
Brazil access to US looks closer
Time Magazine's 17 most influential burgers
JBS makes investment in value-added
Russian ban cost US $5-6b
Industries set to rise and fall in 2014
Campaigns push 'part-time' veganism, meat-free diets
BusinessEDGE workshops for Mt Isa, Charters Towers
ALFA program aims to build business skills
Supermarket giant Costco continues expansion
Japanese cattle prices reach record highs
Quad bike safety film launch
Brazil's record year for exports
Brazil set a new national record for beef exports in 2013, totalling 1.5 million tonnes worth US$6.6 billion in revenue – increases of 19.4pc 14pc, respectively, from the previous year. Brazil's trade association for beef processors and exporters, Abiec, said new monthly records for export revenue were set in 11 of 12 months last year. With continued favourable currency movements, Brazil expects exports to exceed US$8 billion in revenue this year considering an increase in sales to Iran, and the reversal of trade embargoes by countries like Kuwait, Qatar, China, Saudi Arabia and Japan. Those markets have restricted Brazilian beef since an atypical case of BSE was reported in December 2012. Abiec said negotiations are in advanced stages for approval of raw beef exports to Indonesia, China, Thailand, Myanmar, Oman, Georgia, Trinidad & Tobago and the US (see separate item below) for 2014. Biggest export gains last year were seen in Hong Kong (a de facto for China) of 75pc by revenue ($1.44 billion) and 63 percent by volume (360,729t). Other notable year-on-year export revenue increases also occurred with Russia ($1.21 billion, +9.8pc), Venezuela ($844.37 million, +88pc) and the US (cooked meat products only – $223.9m, +17.6pc).
Brazil access to US looks closer
The USDA is proposing to amend its regulations that would allow fresh beef imports into the US from those Brazilian states declared free from FMD with vaccination. The proposal has been in the wings for a number of years and appears to be the result of some flexibility on behalf of Brazil on issues important to the US. Under the WTO Cotton Agreement reached in 2010, the US was committed to opening its market for Brazilian pork and beef. So far only the State of Santa Catarina has been able to benefit – but not for beef. Under the new proposal, 14 Brazilian states will be able to export fresh or frozen beef to the US. There will a 90-day comment period so implementation of the change will still be some months away before the need to accredit abattoirs to supply the US. Another stumbling block to large quantities from Brazil is that unlike Australia, NZ, Uruguay and Argentina, Brazil does not have a quota into the US. Most of these were negotiated during the Uruguay round in 1994. To avoid the out-of-quota tariff (26.5pc), Brazil will have to share access with others under the remaining 'other' quota of 65,000t.
Time Magazine's 17 most influential burgers
Time Magazine has compiled a list of the 17 Most Influential Burgers of All Time, interviewing burger historians and experts to determine which patties made the biggest impact on the burger industry—and the world at large. Most people's logical choice, the McDonald's burger, was knocked into second place by the lesser-known White Castle Slider. White Castle pre-dated McDonald's in the US and set the trend for burger chains with operations duplicated with precision at each site. The company's signature square patty was first seen in 1921 at the first White Castle outlet in Wichita, Kansas. It was the first burger to spawn a fast food-empire, paving the way for the great American burger obsession. The second-placed McDonald's hamburger "moved fast food from a small operation to a global operation," Time said. The original McDonald's patty spawned an empire that now spans 119 countries. It's made the price of its beefier counterpart, the Big Mac, ubiquitous enough to serve as an informal measure of purchasing-power parity, as seen in The Economist's 'Big Mac index.' Burger King's (Hungry Jacks in Australia) Whopper finished fifth; while another entry of significance was the ninth-placed 'laboratory -grown' burger, which grabbed world headlines last year. The only issue: for now, it carries a $325,000 price tag. Click here to vie the full list http://newsfeed.time.com/2014/01/14/the-most-influential-burgers-of-all-time/
JBS makes investment in value-added segment
JBS recently diversified its South American investments, agreeing to buy a Brazilian pasta and value-added fresh and frozen meals manufacturer based in Sao Paulo for about A$110 million. After a string of high-profile acquisitions in recent years, JBS is now focusing on integrating its businesses and cutting-back on debt, chief executive Wesley Batista said in a recent interview. Massa Leve is the leading fresh pasta producer and the third largest in the manufacture of ready meals including frozen pizzas, pies, and heat-and-serve meals in Brazil. It is also the largest supplier of private-label goods to Brazilian supermarkets in its niche segments. The company's plant is projected to generate gross sales of A$160 million in 2014. "The acquisition represents a relevant opportunity to capture synergies when operated jointly with JBS Foods," the company said in a statement to investors. The acquisition will accelerate the company's strategy of growing in value-added products, said Wesley Batista, global president for JBS, in a news release. "The operation will allow us to increase our production capacity in all these categories, generating even more value for the company and its shareholders."
Russian ban cost US $5-6 billion
Russia's ban on imports of meat products from the US has cost Washington $5-6 billion since it went into effect in February last year, the US Ambassador to Russia said in an interview with a Russian newspaper. Ambassador Michael McFaul told the Kommersant that the ban was a big problem for the US, and that he would personally continue to work for it to be removed. Russia banned US pork and beef imports over concerns about ractopamine, a growth additive used in about 80pc of US pork and cattle. About two dozen countries have approved ractopamine as safe for use, but the European Union, China, Taiwan and several other countries have joined Russia in banning use of the drug. It is not registered for use in beef in Australia.
Industries set to rise and fall in 2014
As Australian companies usher in the New Year, business information analyst IBISWorld has issued a forecast of the ten industries it expects to soar and sink in 2014. Diamond and gemstone mining tops the list of growth industries, with an impressive 24pc rise anticipated this year, followed by superannuation funds (+23pc growth forecast), organic farming (+13.7pc), online shopping (+12.3pc) and internet publishing and broadcasting (+11.4pc). At the other end, revenue from video and DVD hire is expected to be down 14.8pc, followed by sugarcane farming (-11.4pc), newspaper publishing (-6.3pc), mineral exploration (-7.7pc) and horse/dog racing (-3.7pc). IBIS suggested the key factors driving growth in online publishing include increasing internet penetration, developments in internet technology and the ongoing rollout of the NBN. Higher consumer and business expenditure is expected to lead to more revenue from subscriptions, which is the most popular model to date. "The ease of setting up operations makes it viable for current publishers to transition print models to online or combine the two, and for new publishers to start the journey in the online world," IBIS analysts said. Organic food production is expected to grow this year to $708 million in value, driven by strong consumer demand, higher levels of household disposable income, health consciousness among consumers and increasing environmental awareness.
Campaigns push 'part-time' veganism, meat-free diets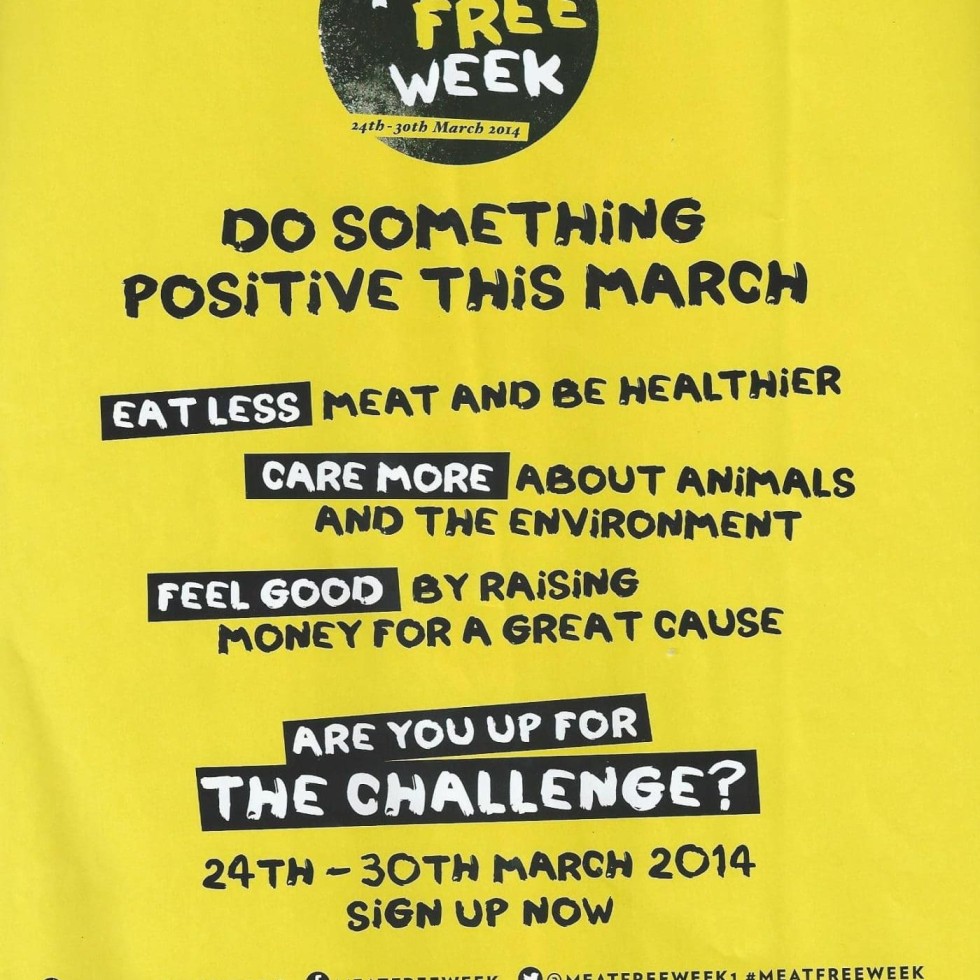 Two campaigns asking consumers to either try veganism, or a meat-free diet have been floated this month. According to the Vegan Society, the number of people trying out veganism appears to be on the up, but many are only giving up animal products as a temporary measure. The Society recently launched a new campaign 'Veganuary', which encourages people to eat a vegan diet through the first month of the year. Alongside this, an increase in concern over health and animal welfare, and a spate of celebrity flirtings with the animal-free diet have seen popularity in trying out veganism increase. The Vegan Society reported a 40pc rise in the number of people signing its Vegan Pledge in the first two months of 2013, compared with a year earlier. The pledge encourages people to go vegan for seven to 30 days. Meanwhile, three animal welfare, human health and environmental lobby groups have combined to launch "Meat Free Week" in Australia. The Australian Conservation Foundation, Voiceless Animal Protection Institute and Bowel Cancer Australia have launched a national campaign through print media, asking Australians to "Do something positive this March," by participating in Meat-Free Week from March 24-30. "Eat less meat and be healthier; care more about animals and the environment," are some of the group's claims.
BusinessEDGE workshops for Mt Isa, Charters Towers
BusinessEDGE workshops will be held in Mt Isa (March 3-4) and Charters Towers (March 6-7) this year, with later dates and venues to be advised. The BusinessEDGE workshop was developed by MLA specifically for beef producers in Northern Australia. The two-day workshops are being delivered by Bush AgriBusiness, helping participants to:
Determine if their business is economically sustainable in the long-term, and what to do about it.
Determine if all the family needs and aspirations can be funded by the business.
Determine if debt is creating or destroying wealth and how much debt the business can afford.
Provision and plan for succession and retirement so that each event is fully funded.
Allocate rationally for capital expenditure projects so that assets increase in value over time and cash flows improve.
Determine if your herd is performing as it should and what to do about it if it is not.
The presenters delivering each workshop are from the private sector and have extensive experience in the provision of business and technical advice to beef businesses. BusinessEDGE follow-up days will also be held in Julia Creek (March 5) and Charters Towers (March 8) for those who have done the workshop previously, who would like a free refresher. All courses are fully tax deductible. For information or to register, contact Ian McLean on 0401 118 191 or ian@babusiness.com.au
ALFA program aims to build business skills for the future
The Australia Lot Feeders Association is encouraging producers who aspire to industry leadership roles to apply for the 2014 ALFA Margin & People Management Program. Commencing in April, the training module is spread over six months, with the group gathering in Sydney for four two-day training sessions. The program is a unique opportunity for up-and-coming lot feeders and those associated with the feedlot industry to focus on the business-end of the industry. The Program is designed to provide a deeper understanding of how to manage a modern feedlot business. Lotfeeding and any successful business is all about margins, and the program will focus on the financial side to upgrade participants' skills-set. The finer points of commodity contracting, hedging and pricing will be discussed, and members will learn about time management and setting priorities; and human behaviour and how to work more effectively with other people. The 2014 Program will include a Southern Feedlot Tour following on the success of the feedlot tour included in the 2013 Program. More than 40 lotfeeders and industry professionals have completed the course over the past two years. Registrations close March 10. For inquiries or registrations of interest contact Madeleine Hamilton madeleine.hamilton@feedlots.com.au
US supermarket giant Costco continues Australian expansion
Recent documents filed with ASIC show Costco Wholesale Australia took in $612 million in revenue from shoppers in 2012-13. Since its entry into Australia a few years ago, Costco has opened five warehouse stores in Australia in Melbourne, Sydney and Canberra. A sixth store is being built in Brisbane, with another one to follow soon in Adelaide. It is believed that Costco is also scouting possible locations for its third store in Melbourne. Costco charges $60 for membership and Costco Melbourne and Sydney are believed to have more than 100,000 members each already. Costco's US parent has more than 500 warehouse stores in the US, Canada, Mexico, Britain, South Korea and Japan.
Japanese cattle prices reach record highs
Trading prices for Wagyu slaughter cattle in Japan have reached record highs recently, as a growing number of breeding farms close down in the face of soaring feed prices and other challenges. Cattle prices are rising at a faster rate than domestic wholesale prices for beef, meaning the profitability of beef producers is coming under pressure, reports the business newspaper, Nikkei. According to figures compiled on January 15, in December last year the average trading price of a Wagyu in Japan was 548,776 Yen, 24pc higher than in December a year earlier. That's the equivalent of about A$6000. Meanwhile production and slaughter of domestically-produced beef in Japan continues to fall, and the trend may continue in 2014, Japanese reports suggest. At the present point in time an estimated 1.15 million head of cattle are forecast to be slaughtered in Japan in 2014, down 2.8pc on last year. That figure includes Japanese Black Wagyu and other breeds, as well as calves.
Quad bike safety film launch
A new workplace safety film on quad bike use will be launched at the University of Queensland's Gatton Campus next Monday. The short film, "A rush of blood: The Miles Paterson story," shows how even the most experienced quad bike users can be severely injured if they don't use the vehicles correctly, or select the wrong vehicle for the job. Miles Paterson, an experienced cattleman, was herding cattle in steep terrain on a quad bike when it flipped and rolled on top of him. "It happened that quick – one minute I was sitting on the bike and the next minute I had a bike on top of me," Miles said. "I knew I was fairly badly hurt … the only way out of there was to walk home, because nobody had any idea where I was." Miles sustained broken bones and severe bruising and couldn't return to normal duties for six months. Attendees at Monday's launch will also hear from Brent Kinnane, executive director of the Australian Agricultural College Corporation, who will talk on rural quad bike safety. The launch happens at 9.30am pn February 3 in the Gatton Campus's main lecture theatre.