Aussies stand proud in US BBQ challenge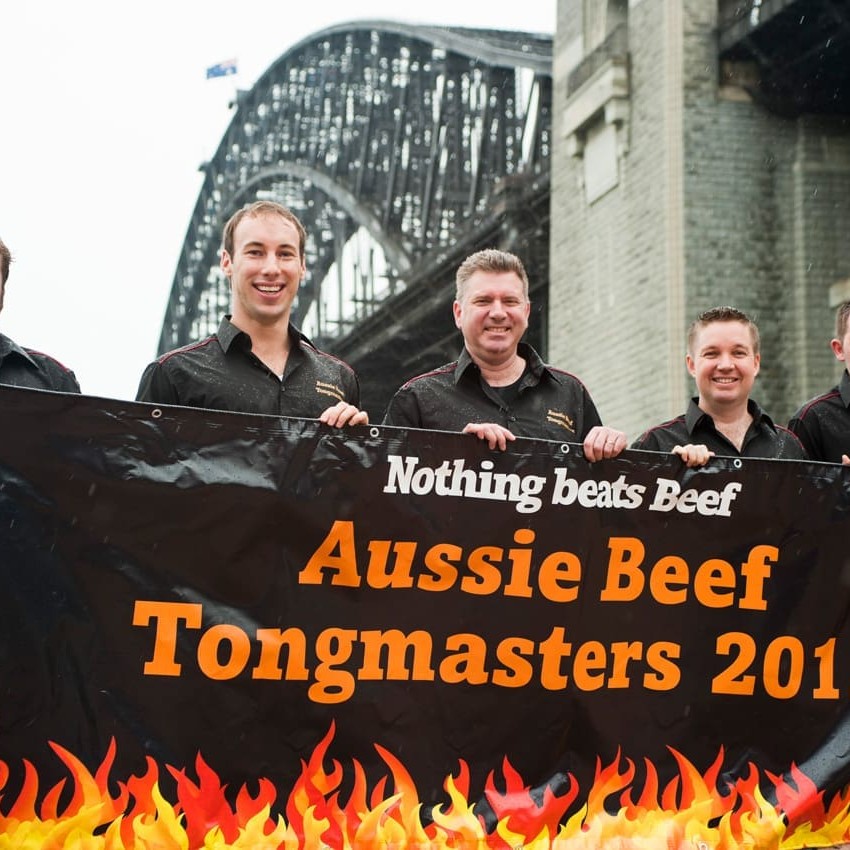 Competitive cooking teams from all over the US southwest were joined by a national team from Australia to perfect the 'Thrill of the Grill' at the annual BBQ Capital Cook-off in Lexington, Kentucky last weekend. Competing teams were vying for the title of Grand Champion and a share of the prize purse worth about $16,000. Joining teams from Kentucky, Virginia, Tennessee, Georgia, South Carolina and Florida was an Australian national team, the Tongmasters, a group of five state cook-off winners from a competition sponsored by Meat & Livestock Australia. They competed in the beef category of the contest, promoting high-end Australian Wagyu beef. The event attracts about 15,000 people live, and features on the nationally televised US cable TV show 'BBQ Pitmasters' (Destination America channel). Georgia's Myron Mixon, three-time world barbecue champion and a legend of the US competitive barbecuing circuit, played an active role in the proceedings. Other BBQ Pitmasters judges joining him included Aaron Franklin, owner of Franklin Barbecue in Austin, Texas, which was named Best BBQ Restaurant in America in 2011.
Wagyu steak costs $380
According to a recent lifestyle article in Melbourne's Herald Sun, the city's most expensive steak, a Mayura Wagyu sirloin, costs $380 for 300g at the Koko restaurant in the Crown Casino complex. That price equates to $1260 a kilogram, or $25-plus a mouthful the Herald Sun reported, but the price does not stop about 20 "high-rollers" a week from indulging. Scott de Bruin and family operate a specialist fullblood Wagyu breeding and feeding enterprise on their property, Mayura, in South Australia, aiming for marbling score 8-9+ bodies on a consistent basis. The business includes a specialised Wagyu feedlot feeding a Japanese style ration, with many of the feeding functions automated.
Burgers go against restaurant trend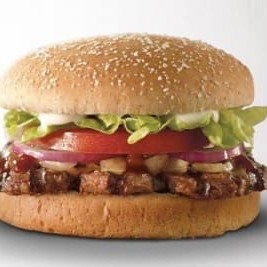 Burger style restaurants have gone against a national declining trend in overall restaurant numbers in the US according to a recent survey. Chicago-based NPD Group reported recently that total US restaurant numbers declined by 6483 units, or 1.1 percent during 2011. The drop was primarily due to independent-restaurant closings, rather than chains. In contrast, the quick service burger restaurant segment managed to deliver a small gain during that period.The number of QS burger chain restaurants increased by 275 or 0.6pc and the overall burger category was up 0.7pc. Worst hit along all US restaurants were full-service restaurants (higher priced, and including casual, mid-scale and fine dining), down by 2pc. Independent restaurants had been hit especially hard by the US economic downturn and slow recovery, the survey suggested. Data released in February showed the overall number of US restaurant visits declined from 62.7 million in 2008 to 60.6m in 2011. Independents accounted for 87pc of that loss.
Pilot dies mustering cattle near Bourke
New South Wales police have reported the death of man in a plane crash while mustering cattle in the state's north-west. About 8.15am yesterday police and emergency services were called to a property on Weilmoringle Road, 60km north-east of Bourke. Upon arrival emergency services found the pilot's body. The pilot was the sole occupant of the aircraft and is of this morning was yet to be formally identified. The Australian Transport Safety Bureau (ATSB) has also been notified about the incident and investigations into the matter are continuing. Media reports have stated the pilot was flying a two-seater Cessna 150 aircraft, which police described as heavily damaged.
Drilling fluids released into Condamine River
The Queensland Government is investigating the release of drilling fluids into the Condamine River in the Southern Queensland. Minister for Environment and Heritage Protection Andrew Powell said the investigation followed notification of the incident by QGC contractors who are constructing an underground pipeline beneath the river. "Although EHP officers who inspected the site did not see any significant water quality impact, they are taking steps to address the risk of future potential impacts," Mr Powell said. The release occurred when contractors were drilling to run a pipeline underneath the Condamine River, about 12 kilometres downstream of Chinchilla Weir. A limited amount of the drilling fluid seeped from the drill hole up into the banks of the river and made its way into the river where it was contained within a wall of sandbags and pumped out, Mr Powell said.The contractors have stopped drilling work at the site.
Funding to improve Australia's risk preparedness
The Federal Government has announced $7.8 million in funding for applicants to operate a Centre of Excellence for Biosecurity Risk Analysis for a period of four years, commencing 1 July 2013. Assistant Secretary, Biosecurity Policy, Dr Vanessa Findlay said the centre will play a key role in furthering Australia's capabilities to analyse and manage potential risks to Australia's biosecurity. "It will allow researchers to identify and develop advanced risk analysis techniques and methods in line with the strategic objectives for Australia's biosecurity system", said Dr Findlay. The new centre will build on work conducted by the Australian Centre of Excellence for Risk Analysis (ACERA), whose methods and procedures for risk management have been adopted and utilised by the government and the wider community. Submissions for applications are due by 15 June 2012. An information session will be held in Canberra for potential applicants on Monday, 30 April 2012. Further information is available on the DAFF website.