McDonalds focus on more chicken, less beef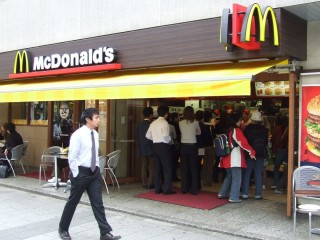 US media outlets have reported that McDonalds is looking to increase the number of chicken-based items on its menu at the expense of beef items to attract cash-conscious consumers amid a shaky global economy. McDonalds, like other fast food chains, is facing government austerity programs in Europe, declining consumer confidence in the US and slowing economic growth in Asia. A food industry analyst quoted by Newsday said McDonald's, under new chief executive officer Dan Thompson, is betting on lower-priced chicken items to draw budget-minded consumers. "The consumer is expressing some recent signs of distress", Bryan Elliott, an analyst at Raymond James and Associates in Florida said. Chicken is "cheap relative to beef right now by a lot." He added that chicken was also "perceived to be healthier", with a Big Mac containing 550 calories compared to a six-piece order of Chicken McNuggets at 280 calories. Meanwhile USDA data says chicken consumption in the US is expected to increase by 1.7pc to 82 pounds (37 kilograms) per person in 2013, while beef consumption may decline 2.2pc next year to 54.5 pounds.
US Country of Origin Labelling found to violate WTO rules
The World Trade Organisation (WTO) Appellate Body has ruled that Country of Origin Labelling (COOL) introduced by the US is not compliant with a US-WTO agreement on technical barriers to trade, and provides "less favourable treatment to imported Canadian cattle and hogs". The COOL measure, launched in the 2008 Farm Bill, covers muscle cuts and ground beef and a range of other agricultural products. Canada and Mexico challenged the measure in November 2008, on the grounds it was discriminatory and unjustly harmed agricultural commerce. The US Trade Representative appealed the ruling in March this year. In its final ruling handed down last Friday, the WTO Appellate Body agreed that the COOL measure had a detrimental impact on imported livestock because its recordkeeping and verification requirements created an incentive for processors to use exclusively domestic livestock, and a disincentive against using like imported livestock. The Appellate Body also found that the COOL measure lacked even-handedness because its paperwork and process requirements imposed a disproportionate burden on upstream producers and processors of livestock, as compared to the information conveyed to consumers through the mandatory labeling requirements for meat sold at the retail level.The ruling also stated "only a small amount of this information is actually communicated to consumers in an understandable or accurate manner, including because a considerable proportion of meat sold in the United States is not subject to the COOL measure's labeling requirements at all."
Herd rebuilding curbs UK beef exports
The United Kingdom is experiencing a shortage of beef for export as farmers retain more heifers for breeding, a conference in England was told last week. Jean-Pierre Garnier, head of Eblex export services, said that although exports were down, the UK still exported 18.6pc of production in the first quarter of 2012, and the outlook was better for 2013, UK meat industry website meatinfo.co.uk reported. Mr Garnier also revealed a new strategy to boost beef exports further and help producers compete with US beef through "positioning English beef as a premium grass-fed, matured product". In order to do this, Eblex will focus on the heritage behind the meat and build a strong English profile by marketing the connection between meat and the English countryside.
More than 100 nations support FMD strategy
A new global strategy launched by the Food and Agriculture Organisation of the United Nations (FAO) and the World Organisation for Animal Health (OIE) to control the spread of Foot and Mouth Disease has been has been endorsed by representatives from more than 100 countries at a conference in Thailand. More than one billion smallholder farmers around the world depend on livestock for their livelihoods, but outbreaks of Foot and Mouth Disease (FMD) inflict an estimated annual global loss of US$5 billion. The global strategy advises countries on their risk management policy for controlling FMD outbreaks, allowing them to take early steps to prevent the disease from spreading to other farms, communities and across borders. FAO's assistant director-general Hiroyuki Konuma said the support of livestock-producing countries as well as veterinary services, pharmaceutical and vaccine companies and financial institutions was essential for the strategy to succeed. The OIE says that as the world population grows from 7 billion people today to more than 9 billion in 2050, demand for meat, milk and animal-based products will rise steeply, particularly in developing countries and emerging economies. The growth will be also driven by steadily improving incomes in the same areas, which is expected to underpin a 76pc increase in global demand for meat. The global strategy is expected to produce three results: the control of FMD is controlled in most countries and its elimination in some of them; the improvement of veterinary services and association infrastructures; and, improved prevention and control of other major diseases of livestock. As of today, 66 out of 178 OIE member countries are free from FMD.
Brazilian cattle firm gains Rainforest Alliance recognition
One of the largest organic meat producers in Latin America has become the first company in the world to be awarded Rainforest Alliance certification for sustainable cattle production. Global Meat News reported this week that four ranches covering 79,000 acres in western Brazil belonging to Fazendas São Marcelo, part of Grupo JD, have met the strict criteria set out by the certification scheme to promote the humane treatment of livestock and conservation of natural resources in response to deforestation. The ranches, which run 60,000 grassfed cattle, include a 32,000 acre reserve within the Amazon protected area which acts as a wildlife habitat and buffer for the forests. Pasture land is sustainably managed to prevent soil degradation and tree cover provides shelter from high temperatures, wind and rain. Tensie Whelan, president of the Rainforest Alliance, was quoted as saying that agricultural conversion for cattle production was the leading cause of deforestation in the Amazon, and that the achievement of Fazendas São Marcelo set "a shining example to ranchers across Latin America, demonstrating that cattle, wildlife and the environment can co-exist."
Russia flags partial lift of EU livestock import ban
Russia has flagged its intention to recommence imports of cattle and their genetic material from Italy, Spain, Belgium and Luxembourg once it receives official confirmation that no cases of Schmallenberg Virus have been detected in those countries for more than two months. Russia's veterinary authority Rosselkhoznadzor imposed temporary restrictions on the import of cattle and small ruminants and breeding material from Germany, the Netherlands, Belgium, Great Britain, France, Luxemburg, Italy and Spain earlier year in the wake of numerous outbreaks of the virus throughout the European region. "Taking into account that there haven't been any new outbreaks of this disease in Italy, Spain, Belgium and Luxemburg during the last two months, Sergey Dankvert (the head of Rosselkhoznadzor) put forward a proposal to perform the regionalisation when the confirmation from the OIE on absence of new outbreaks was received and to permit the export to Russia and transit through its territory of cattle and small ruminants as well as of genetic material thereof," it said in a media release. The authority said it is also considering allowing the import of livestock and genetic material from France and Netherlands where veterinary certificates can prove the animals are from areas free of the virus. However Rosselkhoznadzor said it would not allow the import of heifers, and said it was necessary to keep in force remaining restrictions on Great Britain and Germany.
QRAA cuts loan interest rates for Queensland's agricultural sector
Queensland's minister for agriculture, fisheries and forestry John McVeigh has announced interest rate cuts for the Queensland Government's First Start and Sustainability Loans. The new fixed interest rates on First Start and Sustainability Loans drawn down from 1 July 2012 to 31 December 2012 are: 1 year fixed 4.24pc (down 0.98pc from 5.22pc as at 1 January 2012); 3 year fixed 4.26pc (down 0.80pc from 5.06pc as at 1 January 2012); 5 year fixed 4.52pc (down 0.81pc from 5.33pc as at 1 January 2012). First Start Loans of up to $650,000 are available for applicants who want to enter primary production or become a partner in an existing family operation. Sustainability Loans of up to $650,000 are available for primary producers wanting to improve their productivity and sustainability. The First Start and Sustainability Loans have no set up or exit fees, repayment terms of up to 20 years and offered the option of joint lending with commercial banks. In 2011-12 QRAA approved more than 180 First Start and Sustainability Loans valued at more than $58 million. Mr McVeigh said the cuts will help Queensland producers to invest in infrastructure improvements, land purchases and equipment, leading to more sustainable primary production. For further information go to www.qraa.qld.gov.au.
Land Audit committee appointed
The Queensland Government has announced the makeup of a new committee to oversee its audit of Queensland's agricultural land to determine future food production potential. The Queensland Agricultural Land Audit will identify land that is important to current and future agricultural production across the state. The committee includes AAco CEO David Farley, Lockyer Valley vegetable grower Linton Brimblecombe, Canegrowers CEO Steve Greenwood, Queensland Farmers' Federation President Joanne Grainger and AgForce General President Brent Finlay. "We've focused on the task of compiling all the existing information since the election ready for this committee so it can get straight down to business," Queensland agriculture minister John McVeigh said. "The audit will involve producing a technical report including information and maps based on the best available data."