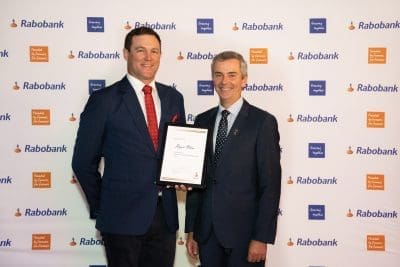 Third-generation Brahman breeder Ryan Olive has been recognised as a trailblazer in the beef industry being named 2021 Rabobank Young Beef Ambassador at Beef Australia.
Mr Olive, 33, from "Raglan Station" in Central Queensland, was presented with the award in front of more than 450 guests, including Prime Minister Scott Morrison and Minister for Agriculture, Drought and Emergency Management David Littleproud and beef industry leaders, at the Rabobank Beef Industry Awards Dinner at Beef Australia 2021 in Rockhampton last night. 
The award – which is presented every three years at Beef Australia, the nation's largest beef expo – recognises young, forward-thinking and high-achieving beef producers. This year saw a record number of nominations from across the country.
Presenting the award, Rabobank Australia CEO Peter Knoblanche said Ryan Olive's leadership and vision extended beyond his family's own extensive Brahman operation – with his development of a feedlot and live-export facility on the Raglan property creating additional markets for beef producers throughout Central Queensland.  
"To get both developments off the ground since returning to the business 15 years ago shows how proactive and effective Ryan is as a leader, "Mr Knoblanche said. "And with his track-record to date, it will be exciting to see where he is in another 15 years."
Recognising the important role and contribution of young, up-and-coming producers in the beef industry, Mr Knoblanche said Mr Olive was also fast becoming a strong industry leader as treasurer of the Young Livestock Exporters Network and as an executive of the Queensland Livestock Exporters Association (QLEA). And just recently, Mr Olive was selected to participate in the 2021 Graeme Acton Beef Connections mentor program. 
This industry leadership, Mr Knoblanche said, would be further boosted by receiving a scholarship – as part of Mr Olive's Young Beef Ambassadorship – to attend this year's Rabobank Executive Development Program (EDP) – designed to develop the strategic planning mindset and commercial management skills of progressive farmers.