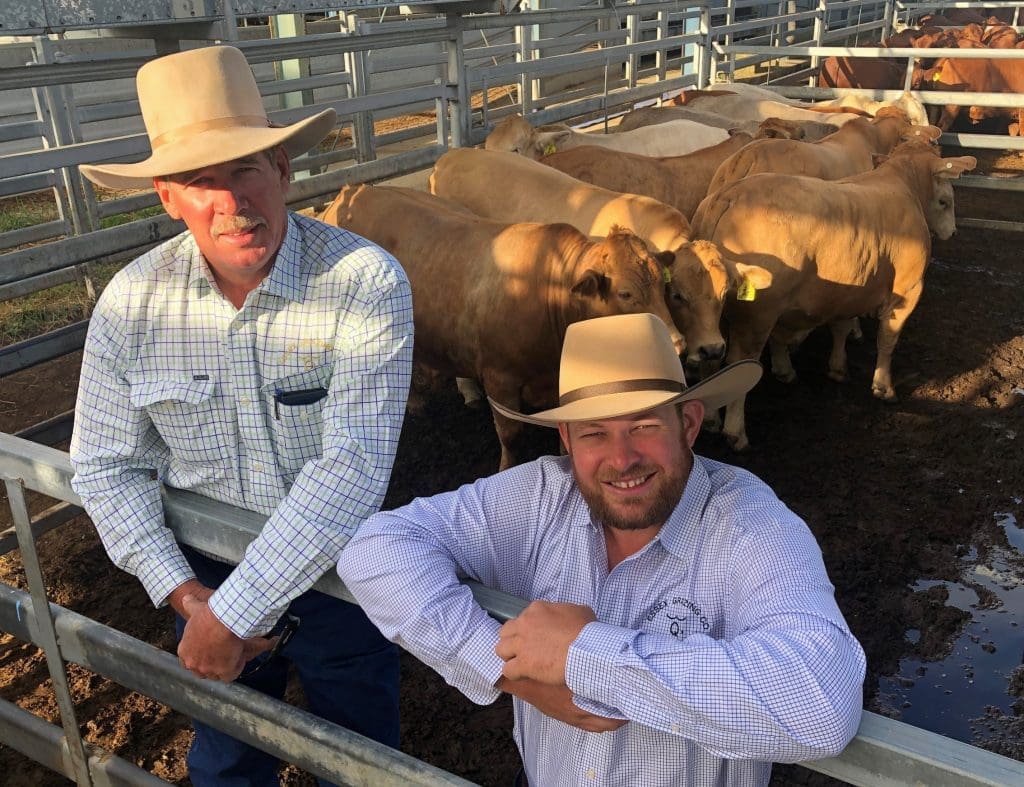 A DROUGHT-induced foray into custom grain feeding was a winning formula for the Quinn family at the Beef 2021 commercial cattle competition at Gracemere.
Peter Quinn, wife Bev and son Matt, operate Essex Grazing Company at Middlemount and entered nine pens in the competition, scooping the pool with two firsts, two seconds and a fifth placing as well as the grand champion sash for their grainfed Charbray steers.
While they are unashamed grass producers, a tough few years encouraged them to try custom feeding cattle.
The move paid off with their pen of Charbray steers judged the best of all entries by Geoff Teys and Robert Barnard.
While the Quinns have been regular supporters of the commercial competition, Peter said it was the first time they had entered the grainfed classes and the first time they had won the ultimate prize.
Their grand champion pen was 18 months old, weighed 696.5 kilograms and sold for 423c/kg ($2942) at the commercial auction, a feature of the first day of Beef 2021. The steers had been grainfed for 100 days.
The Quinns run a three-way crossbreeding operation using a mix of Charolais, Brahman and Shorthorn cattle.
They have country at Middlemount as well as Charters Towers.
The win was especially sweet for the family who have only recorded 150mm to date this year on the back of two tough years prior to that.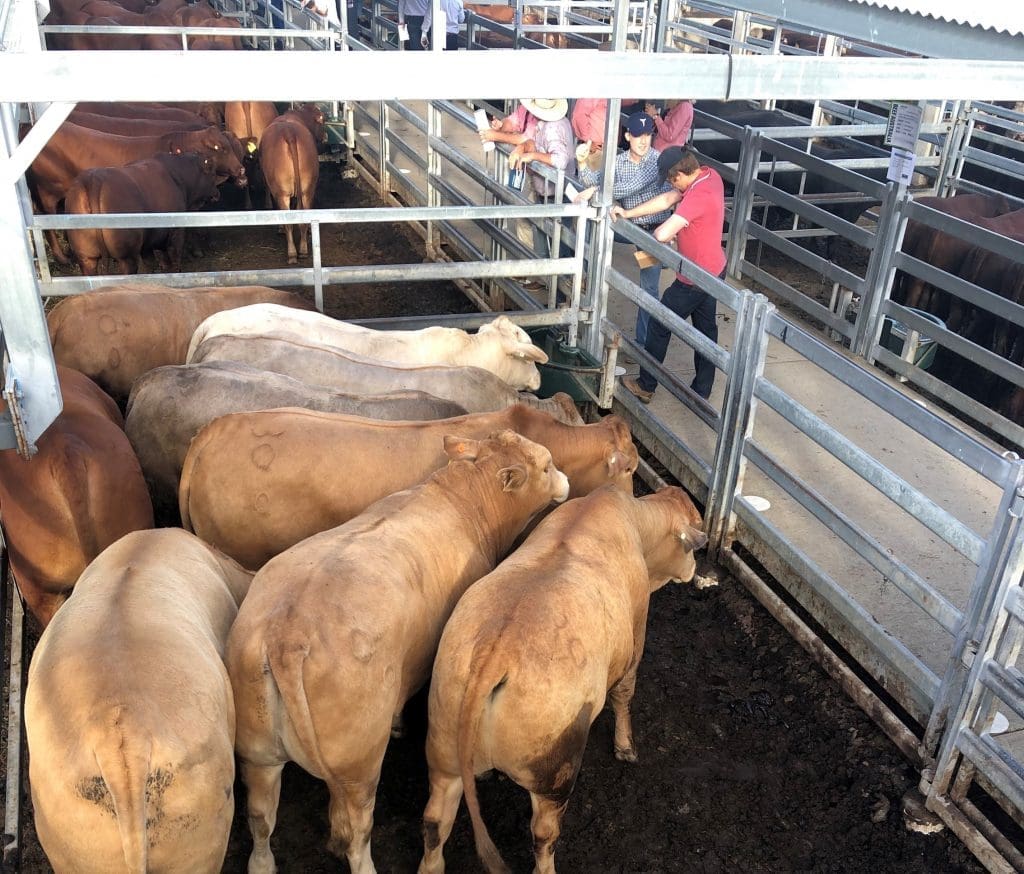 Peter said this had forced them to reassess how they ran their operation, which ideally turns off grassfed bullocks.
"It's about matching mouths to grass," he said.
"We like to grow our cattle out to bullocks at about 330kg dressed weight, but we've been forced to sell before we can get them to the weights due to a lack of feed and often, they have been bought for lot feeding."
The herd of about 2500-3000 cows is joined to bulls "from no specific stud", and estimated breeding values are used to help select cattle. Shorthorns have been infused to improve carcass quality and particularly intramuscular fat.
"The cattle have been running on buffel grass country and with the tough seasons, we've had to cut back our numbers to manage the grass we had," Peter said.
"The seasons have forced us to think differently and that's why we have either sold to feedlotters or had them custom fed."
Molasses mix
Maintaining the growth of production cattle despite poor seasons has been key, Peter said, and this has been achieved by feeding their own molasses mix which comprises molasses, urea, ammonium phosphate and ammonium sulphate. This comes out at less than $1/head/day, much less than commercial mixes on the market.
"Feeding the molasses mix is labour intensive and it takes one man two days a week, but we concentrate on keeping our production cattle going forward," he said.
Weight gains of the steers average about 0.6kg/head/day year-round.
"We can peak at 1kg/head/day when things are really good and can drop back to 0.3-0.4kg/day when things are really dry," Peter said.
Judge Geoff Teys, executive director of Teys Australia, judged the first commercial cattle competition at Beef 1988 and described the change in the cattle between then and now as "astounding".
"The genetics has allowed producers to grow better beef," Mr Teys said.
"The grand champion steers were a superb pen of cattle with great structure, evenness, weight for age and temperament and their boning room yield would be exceptional.
"Yet there were many other worthy cattle.
"I was really impressed with the grassfed cattle – for the seasonal conditions they have had, they, too were exceptional."
Mr Teys said the competition had value to commercial producers who could benchmark their herds and get feedback on their operations.
"It helps them to know where they are in the industry."
And while the Quinn family was thrilled with their grainfed win, they have no intentions of swapping their grassfed operation in another direction.
"We will stick to pasture fed cattle," Peter said.
"We are PCAS-assured, and I had hoped that PCAS would have gained more traction.
"It used to be that grainfed beef gained the premiums but now it is grassfed that is becoming the premium market and we want to be a part of this."