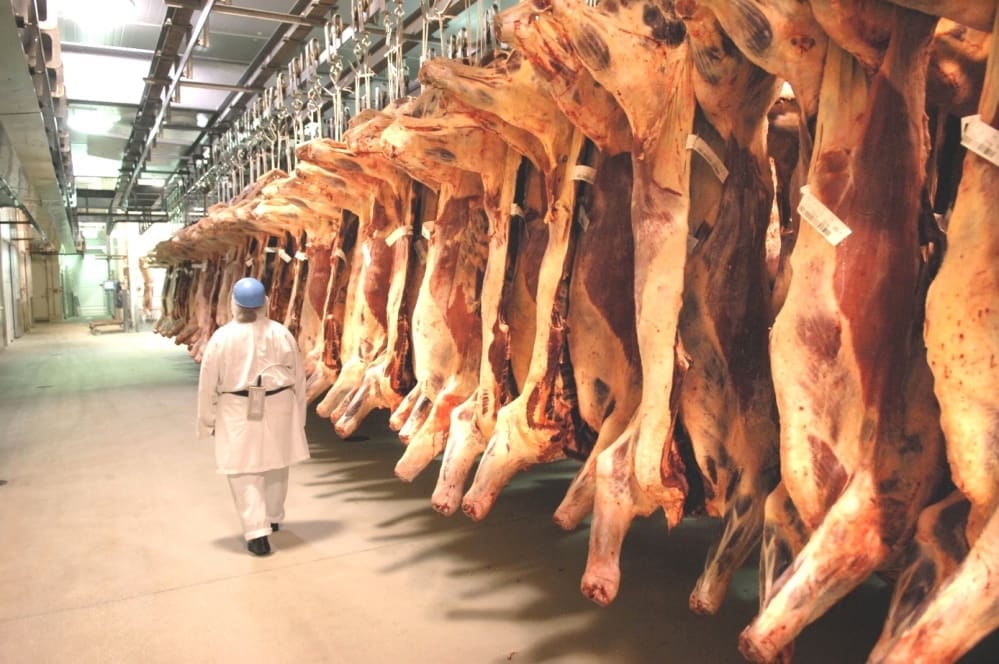 The ANZ National Beef carcase competition being held as part of Beef 2021 in Rockhampton is entering its final stages, with almost 730 grain and grassfed steer and heifer carcases already assessed since the competition started last year.
With almost a month of judging still to take place, organisers are hopeful of getting close to the Beef 2018 record total carcase entry of 1041 head.
Exceptionally dry conditions across some parts of Central Queensland have put a handbrake on some local entries this year, and the absence of regional carcase competitions across Australia over the past 12 months due to COVID has also limited access to some carcases that would otherwise have also been eligible for this competition.
Nevertheless, by the end of February, some 726 carcases had been assessed in all Australian states for the 2021 competition. Some of the more popular classes, such as export grainfed and heavy domestic grassfed, have had up to 77 entries (each pens of three).
The deadline for nominations, originally scheduled for the end of February, has been extended to March 15 to allow late entries to qualify, but all cattle must be slaughtered and MSA-graded by 31 March.
Here's a list of some plants that still have grading days planned before the end of March:
JBS Scone (NSW) – 8 March
JBS Brooklyn (Vic) – weeks commencing 8 March and 15 March
Teys Biloela (Qld) – 17 March
Teys Rockhampton (Qld) – 24 March
JBS Dinmore (Qld) – 19 March
Australian Country Choice (Qld) – 25 March
Greenham, Smithton (Tas) – 26 March.
Carcase committee chair David Hill said entries this year were particularly strong, given the seasonal challenges in some local areas, and the absence of regional carcase competitions where cattle can be dual-entered. For example in 2018, there were almost 80 entries garnered out of the annual Mackay Show carcase competition, but the show was not held last year due to COVID.
Carcase judging got off to a slow start last year, because the 2021 event was only given the official green light in early December, over COVID concerns. Normally, the first carcases are assessed from July the previous year.
"We may not quite crack the 1000 entries mark this year, but it will still be the largest, and most geographically-diverse carcase competition in Australia," Mr Hill said.
"It's been a great response, especially given the challenges that Victorian producers have gone through, so far as COVID regulations were concerned last year."
Competition kills have taken place so far across Queensland, NSW, South Australia, Tasmania, Victoria and Western Australia.
Camera grading working well
For the first time in the beef industry, camera-based grading is being used to judge all entries in the Beef 2021 Carcase Competition.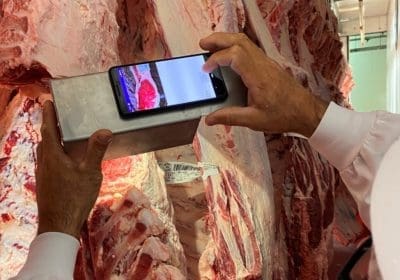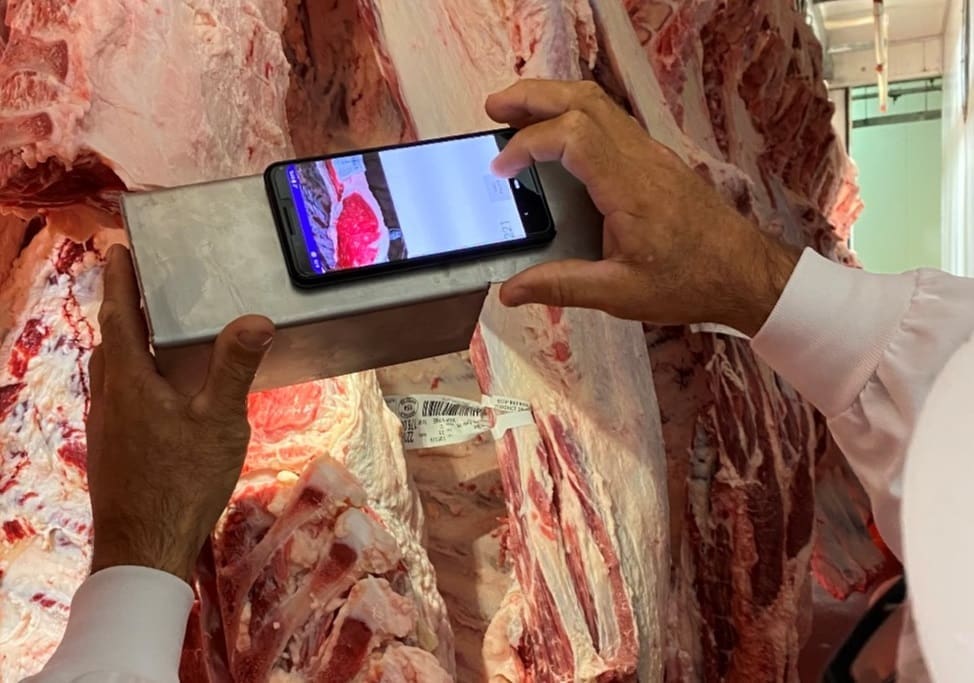 Beef 2021 has purchased four of the new Samsung smartphone-based MasterBeef grading cameras for use in the competition. Click here to view an earlier Beef Central story on the SmartBeef grading technology, developed by Central Queensland Wagyu cattleman and engineer, Darren Hamblin.
The portable, lightweight and easy-to-use chiller assessment grading cameras are being used to capture images of all entries, in conjunction with the plant MSA graders at each processing facility.
One of the four cameras is despatched to each processing site for use during the judging period, with individual carcase data and digital images captured and stored on the MasterBeef system database. MasterBeef has donated the use of the software. At the completion of each judging round, the cameras are returned to the Beef 2021 committee for re-distribution for the next judging round.
Master judge Janine Lau then reviews the digital data and images collected at each site, as well as slaughter-floor data, to ensure consistency in grading across all sites.
One of the big advantages in the use of the camera is that judging times are now far more flexible at each plant, without the need for a master judge to physically travel to each of the 22 participating plants multiple times throughout the six-month judging period.
The appraisal system utilised in the competition was specifically designed to meet both export and domestic market requirements and employs the latest technology available to the beef industry, organisers said. This will allow the competition to proceed without impacting plant operations and biosecurity.
Mr Hill said the new MasterBeef cameras had proven to be a great advance in judging, especially during this year's challenging circumstances.
The MasterBeef grading camera, and the science and IT smarts that drive it,  will be showcased during the Beef 2021 Tech Yards activity, and the international seminar program  – the beef expo's gathering point for all things agtech.
About the ANZ National Beef Carcase Competition
Beef producers from around Australia have a unique opportunity to benchmark their product on a national level by entering cattle for the 2021 ANZ National Beef Carcase Competition.
Seven classes are open for competition – three each for grassfed and grainfed entries, and a seventh for unrestricted feeding. Both grassfed and grainfed divisions include lightweight and medium weight domestic trade classes for steers or heifers, and a heavy export steer class. (click here for details).
Winners will be announced at a Beef 2021 awards dinner on the night of Tuesday 4 May.
Entries will be judged using a modified ABCAS carcase grading formula based on market specifications (weight, dentition, fatness, meat and fat colour – 10 points), lean meat yield (30 points), and predicted eating quality (MSA index – 40 points).
Twenty two beef processing plants are acting as competition venues for this year's competition. They include 11 in Queensland, five in NSW, two each in Tasmania and Western Australia, and one each in Victoria and South Australia.
Click here to access Beef 2021 ANZ National Beef Carcase Competition entry form. Entries close in time for final slaughter on March 31.