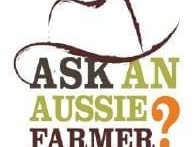 A proactive group of farmers who met through social media now plan to use the same technology to connect to city-based consumers and families as well.
The group, which consists of farmers and graziers from all corners of Australia, will today launch the "Ask An Aussie Farmer" page on Facebook, and a supporting account on Twitter.
The voluntary initiative is designed to provide consumers with a central place to have their questions about food and fibre production answered by the very people who produce it.
The site will also seek to counter misinformation spread about agriculture on social networking sites and in the general media, and to promote the many positive stories the farming sector has to tell.
A group of eight moderators and 'conversation starters' will oversee the site, backed up by a network of more than 100 farmers from all commodity sectors who have agreed to answer questions and to provide information in response to public requests.
Public debates about agriculture are often dominated by members of groups with an anti-farming, anti-meat agenda, while many farmers tend to focus instead on quietly getting on with the job of producing food and fibre, in the hope that the broader public will recognise mis-information about agriculture for what it is.
However, as US agvocates Troy and Stacy Hadrick warned last year, with every incorrect statement that goes unchallenged in the public domain, consumer perceptions about agriculture are shifted further and further from reality.
The group is hoping that people with a hunger for knowledge about how their food and fibre is produced, but with no farming friends or family to ask, will take the opportunity to Ask An Aussie Farmer.
"We are a group that is passionate about Australian farming, with expertise and first-hand knowledge across a broad expanse of agriculture in Australia, including access to experts and professionals," the group explains.
"We reside all over this country and some even live far away from our shores but are still involved in the diverse industries of Australian agriculture.
"The reason for hosting this page is so those that live, breath, know, and are enthusiastic about Aussie Ag can answer your questions and tell their stories…"
Connecting via social media
Only two of the eight moderators, North Queensland cattle producer, stock and station agency manager and childcare worker Kylie Stretton and western Queensland cattle producer and landscape photographer Ann Britton, have met each other in person.
Like the others, they 'met' each other via the growing agricultural communities on Facebook and Twitter, but only met face to face when they attended the PBR rodeo in Townsville last year.
Both are active agvocates and work hard to keep other farmers connected and informed via Facebook, Twitter and email, and via their own blogs about agriculture (which can be found here and here)
Last year Meat and Livestock Australia flew Kylie to Brisbane to talk to school children about what life is like for an Australian cattle farmer.
The trip involved overcoming a long-held fear of flying, but, determined not to miss the opportunity to tell a positive story about agriculture, Kylie accepted MLA's invitation and made her first flight on a passenger plane.
"I was really nervous, but I loved it," she said. "It was a really positive experience, I really love kids, and the visit really made a positive impression, they were so receptive." (you can read a detailed account of experience on her blog here)
A key message that she impressed upon the school children was the reality that something always had to die for something else to live.
"You just have to be grateful for whatever you get on your table because something has died for that," she explained.
"It is the circle of life, and I think that is what a lot of people are missing.
"They were very interested in that message."
Kylie hopes Ask An Aussie Farmer will help to spread a positive understanding of agriculture even further.
"We're across great distances but now we have social media, there is no excuse now for not being able to connect with people, we can't go and hide in the sticks anymore like we used to," Kylie said.
"We really need to let people know how we are being environmentally friendly, how we are managing our animals responsibly, so they have a better understanding, because if they understand us they are going to support us, and we really need that at the moment."
Ask An Aussie Farmer can be found on Facebook here
The group's Twitter account is @AAAFarmer
The group can be contacted by email at askanaussiefarmer@gmail.com