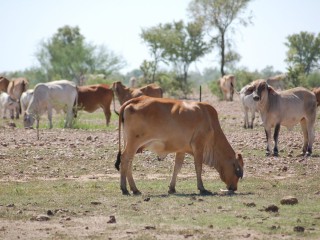 Queensland's State Government and MLA are investigating the potential to develop smartphone 'apps' for forage budgeting calculations in the northern beef industry.
Apps are simple, visual software programs commonly used on smart phones or tablets, often designed to make users' decision-making more efficient and effective.
With apps now commonly available in the market, MLA and DEEDI are examining the value in developing an app to streamline existing paper and computer-based forage budgeting and land condition monitoring programs such as Stocktake.
The app would help producers match feed in their paddocks with stock numbers, estimate ground cover to help minimise degradation and assess the productivity of their land for both management and compliance.
The proposed app will run on the user's smart phone/tablet or a hand-held device that fits in their top pocket or in the glove box of their Toyota.
This preliminary investigation will not only look at the technical feasibility but also the viability and likely uptake of a new app.
Early indications are that for such an app to be successful, it would need to visually and logically prompt the user to enter a field, tick the box, compare photos, and enter a number in a step-by-step process.
The app and the device would also provide inbuilt photo-standards for the user's region, provide useful answers while in the paddock, take photographs, record the GPS location and store all the information for the user's records.
Given the influence of pasture quantity and quality on stocking rates and animal performance, estimation of animal daily live weight gains may be integrated into the proposed application.
The proposed app would not be dependent on real-time connectivity to the internet – an important feature given many of the remote locations in which it would be required to operate.
Producers interested in knowing more about the proposal or wanting to have a say on the practicality and usefulness of the app can contact DEEDI's Jane Hamilton, email
jane.hamilton@deedi.qld.gov.au