WHEN you live in Antarctica, your choices are naturally limited when it comes to beef.
"Frozen" is the obvious option.
But to suggest that the 100 or so expeditioners, scientists, tradesmen and support personnel who call Australia's four Antarctic base stations home each year are hard done by when it comes to dining options would be to create a highly misleading impression indeed.
Noel Tennant is the Chef Advisor of the Australian Antarctic Division (AAD), and the man responsible for keeping dozens of hungry researchers and workers well fed for an entire year in one of the coldest and most inhospitable environments on the planet.
The challenges of delivering food to such a remote location means that Noel and his team can only re-supply each station with food via the Aurora Australis supply ship once every 12 months.
That amounts to a lot of pressure to get his annual shopping lists just right.
Beef Central spoke to the affable chef in early June to ask a few questions about how and from where the Australian Antarctic Division sources its annual beef supplies.
As the spokesman for a Federal Government department Noel was limited in his ability to discuss or promote specific brands, but was more than happy to talk beef and the role it plays in Australia's Antarctic operations.
He said large quantities of high protein, lean Aussie beef were an essential component of each AAD food order.
"Food takes a central role in not only maintaining health but maintaining good morale," he said.
"I can tell you that when we pull out the eye fillets on Saturday nights, people tend not to be late for dinner."
Many of the people based in Antarctica work outdoors in extreme conditions and burn a lot of energy in the process.
"We have to be mindful of limiting fat intake and a keeping lot of cuts fairly lean, but a lot of people have a high calorific requirement and beef plays an important role in managing that.
"And beef is a real comfort food as well.
"When it's cold and miserable outside and you can come in and tuck into a good beef curry, it really hits the spot.
"It ticks a lot of boxes on a number of fronts."
Last year alone Noel sent 5292 kilograms of beef to the AAD's four base stations. All was sourced via a third-party providore from Tasmania to Noel's specific quantities and requirements – and all was "frozen of course".
Noel said a key role of kitchen staff in the remote base stations was to keep food as "familiar" as possible, with lots of home style meals during the week and fancier offerings on weekends.
Noel said each order typically included the following cuts:
Diced chuck – "Convenient and easy to use, rather than sending a large primary cut which takes the chefs a while to break down, a ready-to-use type product.";
Rib eye – "We order a fair few of those in five point clusters, they will generally end up on a spit roast or as a slow roast, or sometimes chefs will split them into individual ribs as a huge steak for a special occasions";
Whole beef rumps – "A good versatile cut";
Scotch fillet – "We send them in whole because it gives us a bit more versatility, you can cut it up into steaks or a roast or braise them whole";
Corned silverside – "Always a favourite";
T-Bones, each around 350 grams;
Beef Sausages (from a 'Sausage King' winning butchery in Tasmania)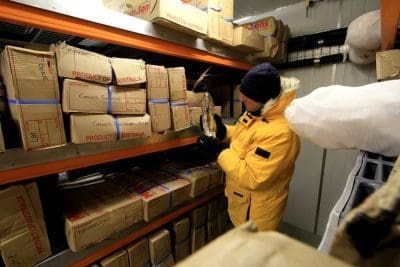 A question he was often asked, naturally enough, was whether the base stations require cold rooms and freezers, given the obvious abundance of ice to store food.
While technically food would keep in containers stored outside in winter, controlled-temperature storage was still essential, particularly in summer months when the continent received six successive weeks of sustained daylight and temperatures a few degrees above freezing.
Strong ultra-violet light also posed a problem year-round.
"Even though the temperature may be well below zero, if food is in the sunlight it doesn't last long," Noel said.
"We send amounts of fresh meat out to people in deep field parties, and send them instructions to make a snow cave and bury it. We tell them to keep the light off it, because if the UV hits the meat it tends to have a detrimental effect, even if it is frozen."
When Beef Central spoke to Noel in early June, the thermometers at the AAD's four base stations were reflecting the recent plunge into winter – Mawson was -22 degrees Celcius, Casey -21, Davis was a relatively mild -13, and Macquarie Island, about halfway between Tasmania and Antarctica, was "a downright balmy" 1.3 degrees.
While conditions were rarely ever appropriate for an outdoor barbecue – even in the middle of summer it was difficult to generate enough heat on the bbq plate to cook efficiently outside – Noel said indoor barbecues in workshop or store areas were a favourite past time, particularly on Australia Day.
Some expeditioners had even been known to fire up the barbie on the trawl deck of the Aurora Australis in minus 15 degree Celcius temperatures on the way south, in ritual celebration of the crossing of 60 degrees south latitude.
"You know Australians, any excuse for a barbie."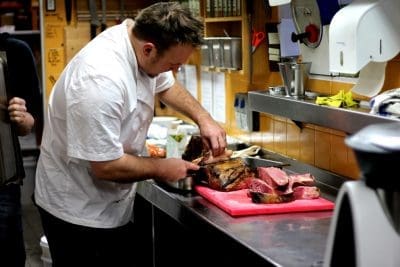 Noel is also in charge of recruiting kitchen staff. Chefs are typically stationed on the continent for six to 15 month periods and had to be able to satisfy a range of diets.
Applicants are put through a 24 hour workshop in selection centres to assess their suitability for an expedition.
"It has a big effect on station morale, so there quite a strong emphasis on finding the right people and sending good quality food.
"We're really looking for really good all-rounders – there is not much point sending a michelin five star chef if they are no good at bulk catering or no good at not having access to fresh product all the time.
"And we're certainly looking for people that are not too hot under the collar, as chefs can have a reputation for at times."
Noel admits he has ice in his veins and that there is something about the southern continent that keeps drawing him back.
As a chef he did three expeditions to Antarctica and Macquarie Island, and now returns regularly in his role as AAD Chef Advisor.
"I think it is the sense of adventure, the fact you are doing something different," he said.
"It is not just the place, it is the people also, the whole experience that you want to recapture."
• If you would like more information about applying for a job on an Australian Antarctic Division expedition, visit the website here: http://www.antarctica.gov.au/