LIVESTOCK and genetics company Austrex is seeking collaborations with Angus cattle producers as part of an innovative large-scale F1 Wagyu breeding project designed to custom-produce stock for Japanese live export and domestically-fed Wagyu F1 beef programs.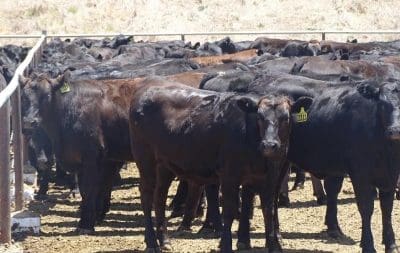 Launched in March, the program will use sexed semen to tailor production of F1 steers to feed into Austrex's supply chain networks including its Japanese Wagyu live export business and branded beef trading business.
To meet growing market demand, Austrex is aiming to secure around 2500 Angus females from vendors on a contract-breeding basis for artificial insemination of maiden heifers or breeders for the 2022 calving season.
In addition to steers for live and boxed beef export, standout bull and heifer progeny bred through the program will be retained for sale to both domestic and international customers.
Already, 400 Clerkness Pastoral Co females out of Central Queensland have been used to kick-start the program, an initiative of Austrex's Wagyu operation, Shima Wagyu (formerly Stocklink).
Austrex operations coordinator – Japan Feeder, Rob Cameron, said the large scale use of semen-sexing to increase production of steers was a relatively new concept for the Australian beef industry.
"Most often, this technology has been implemented to increase female numbers for breeding so using it in this way, we believe, is a very new approach," Mr Cameron said.
"We are hoping to achieve a 75 percent male calving rate, which will mean a greater rate of return for the vendors at time of selling given the superior price achieved for steers suited to our high-value markets.
The project is particularly targeting Angus producers in NSW and Southern Queensland, an area renowned for their high-quality Angus cattle, and geographically close to Austrex's operations at near Toowoomba.
"We have well-established buy-back programs available to the producers who partner with us as part of this new initiative," Mr Cameron said.
The sexed-semen used for the program will be from DSWFN7171, one of SHIMA Wagyu's leading Tajima-type sires for F1 programs, and a son of ADBFA0139, considered one of the most popular Wagyu bulls in the world, whose semen has sold for up to $60,000 per dose.
Founded in 2013 as StockLink, Shime Wagyu is Austrex's base herd of elite Wagyu which are held in Tasmania to take advantage of some of the most reliable pastures in the country, and superior biosecurity and disease control. While strategic investments are in place to extend this herd to 500 purebred females for seedstock purposes, growing demand for Wagyu-infused beef has led Austrex to identify new pathways to increase stock numbers across Australia, to funnel into both Japanese and domestic markets.
"This unique initiative will help us to grow the size of our herd and its elite genetic footprint, which we will continue to promote throughout Australia and the world," Mr Cameron said.
"We're looking forward to collaborating with a number of Australian producers throughout this process to capture the value of our growing market opportunities, and are excited to integrate this new technology and unique model into our operations to meet rising demand for premium genetics and beef."